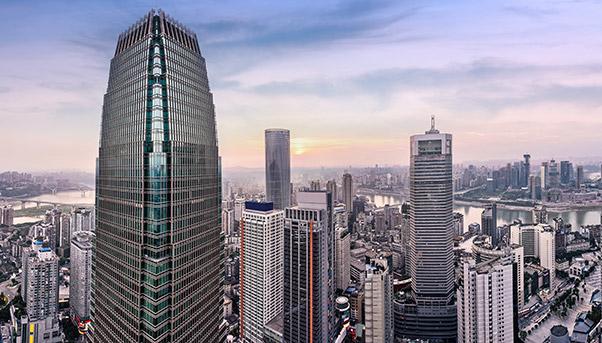 Its name is "The Crystal" it will sit astride four 250-metre-high towers, and it will be the highest sky bridge in the world. China's third largest city Chongqing intends to break all the records with its new sky bridge, which easily overtakes the reigning record-holder at the Marina Bay Sands in Singapore, the worldwide tourist draw that stretches across three towers at a height of 200 meters, or 60 stories.
"The Conservatory" is more ambitious than its smaller predecessor, because the infrastructure that links the towers of Raffles City Chongqing (a completely new vertical city) will be 300 metres long, 30 metres wide and 22.5 metres high. Its 10,000-square-metre surface space will include an infinity pool, an observation deck, hanging gardens, bars, and restaurants.
The hydrogeological challenges of building such a huge structure and the ambitious plans needed to take on the project made it unique, said developer CapitaLand Chairman and CEO Lim Ming Yan: «Some of the world's most advanced construction and engineering techniques have been deployed to install this megastructure on Chaotianmen, known as the crown jewel of Chongqing».
The Raffles City project in Chongqing
Singapore-based real estate giant CapitLand is building Raffles City, one of Chongqing's largest infrastructure projects, at the exact point where the Yangtze and Jialing rivers meet. Construction started in 2012, led by Moshe Safdie, the same architect who designed Marina Bay Sands and Sky Habitat in Bishan. Safdie's idea was to take inspiration from the thousand-year history of river transport, creating a group of skyscrapers that together look like sails billowing in the wind.
The nine towers are rising on a 9.2-hectares site that is really a city within a city: there are 1,400 housing units, 160,000 square metres of office space, and 230,000 square metres for shopping malls, plus a residence and a luxury hotel.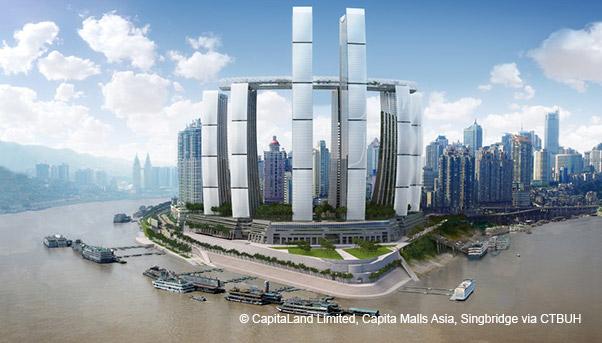 The gargantuan project's price tag is costly, reaching $4.9 billion. But it is also an investment. Currently 70% of the 215 housing units in the Jialing One tower on the market have been sold, according to CapitaLand.
«More than just a building, Raffles City Chongqing is a landmark urban renewal project that expresses and shapes Chongqing's global city aspirations», Lim said at the presentation.
«Our goal is to create a vibrant riverfront urban district that serves as a dynamic city gateway befitting of Chongqing's growing economic influence».
Betting on Chongqing
This futuristic new real estate development going up on the junction between the Yangtze and Jialing rivers sends a message to all of China, and perhaps the world, from the city of Chongqing: the mega-city is saying it has everything it takes to become one of the most modern and productive urban centers anywhere in the world.
Chongqing is one of China's ten largest cities, with a total surface area equal to the size of Austria. Its GDP grew 9.3% last year, compared to a 6.9% growth for China at large.
This economic growth has been accompanied by a policy of massive investment in the city's infrastructure. Last week the municipality of Chongqing said it would spend $14.2 billion in transport infrastructure. According to state news agency Xinhua, these investments are mainly earmarked for streets, railways and civil aviation.
The city's announcement is part of a broader plan announced in December by China's Transport Ministry, which calls for building 5,000 kilometres of new expressways and 216,000 of new roads.