Beijing's new airport construction: behind the scenes of a complex project
The construction of Beijing Daxing international airport took only five years, costing over $13 billion.
Prior to its opening, the airport underwent several operational tests.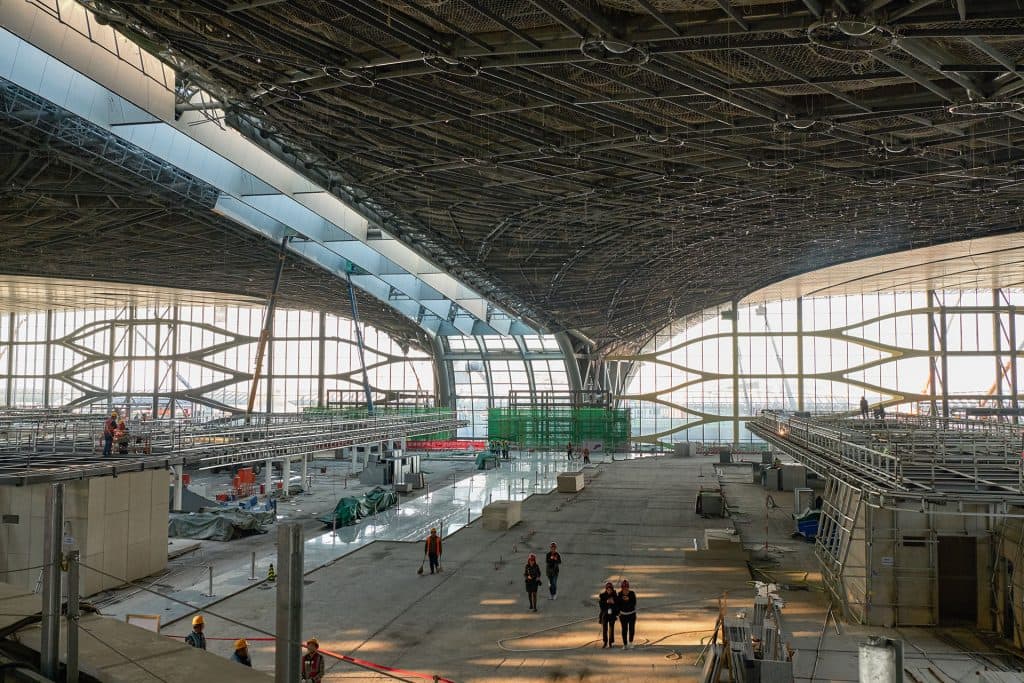 The most important test was held on May 13th,2019, when Air China, China Southern Airlines, China Eastern Airlines and Xiamen Airlines aircraft flew out of the new airport.
The project was complex, because in addition to the airport, it included construction of all the transport infrastructures to connect it to the city, including a traditional railway line, a motorway and a high-speed underground train.
According to reports in newspaper China Daily, this high-speed underground train was tested successfully in mid-June. Trains cover 41.1 kilometres (25 miles) in just 19 minutes reaching a speed of 160 km/h (100 mph). It intersects with three subway lines.
Beijing Daxing international airport: harnessing sustainable energy
Despite its enormous size, the Daxing International Airport (designed by British architect Zaha Hadid) was planned to be sustainable in terms of energy and water consumption.
Renewable energy will account for 10% of the energy consumption; many areas of the airport, including parking lots and hangars, are covered by solar panels, while 100% of rainwater will be treated and reused. The heating and air conditioning systems are also partly powered by geothermal heat pumps located in the Yongding river basin.
As a whole, the airport is committed to efficiency. Inside, facilities have been set up so that 86% of passenger check-ins and 76% of baggage drops are done automatically.
Daxing and Beijing airports
The construction of the new airport is not only China's latest demonstration of strength but answers a real need. According to the International Air Transport Association, from 2022 China will become the largest civil aviation market, surpassing the United States.
Beijing Capital International airport handled over 82 million passengers every year, but according to official calculations it would have reached its saturation level in two years, with over 205,000 passengers passing through the terminals of the airport every day.
Even the new Terminal 3, the airport's latest — which alone is as big as Heathrow airport — was no longer able to respond to the growing demand for traffic.
Hence the idea of creating a new, larger airport. The Chinese government made the announcement in January 2013 and Daxing, a suburb south of the city (46 kilometres from Tiananmen Square), was chosen as location. Work began in December 2014 and by June 2017 the structure of the main terminal was already completed.
Now, just five years later, China's latest mega-project is ready to open its doors.