When strolling through the streets of Singapore, one's natural inclination is to look upward and expect to see flying cars. Innovation is a hallmark of the small city-state: it's become a global finance center over the course of just a few years, as well as a benchmark for modern urban development.
Unsurprisingly, then, Singapore has been recognised for years as one of the world's top three smart cities. The city-state constantly experiments with urban development customs, built around the principles of sustainability and innovation.
As a city-state, Singapore was the first to earn the "smart nation" title. Today, it enjoys its status as a living, breathing laboratory where over 5 million people live and work.
It's a 721-square-kilometre (278 square mile) hub where new traffic control systems, data analytics models, and centers specialized in everything from health to digital commerce are tested out daily. This all happens in a context where sustainable transport is the primary motor for keeping both people and the economy moving.
Singapore smart city: a traffic-free city
Is it possible to reduce traffic to zero in a metropolis with millions of residents? Singapore is taking a stab at it. The city-state is relying on digitalisation and developing an efficient public transport network as it works toward this achievement.
Innovation gets filtered through the "Vehicle-to-Everything" (V2X) project, probably one of the most technologically advanced systems of its kind in the world. If the city-state government's plans come to fruition, by 2025, all cars on city streets will be self-driving.
But this is just the first step. Experiments are underway on the island to enable vehicle-to-vehicle and vehicle-to-infrastructure communication. In addition to car-to-car dialogue, traffic light dialogue, for example, will keep drivers informed more quickly, alerting them if a pedestrian is passing at that moment, or if an emergency vehicle is about to pass and the road must be left clear.
Reducing traffic congestion and increasing road safety will combine the potential afforded by artificial intelligence with investments in sustainable infrastructure, helping Singapore to significantly reduce the number of road vehicles.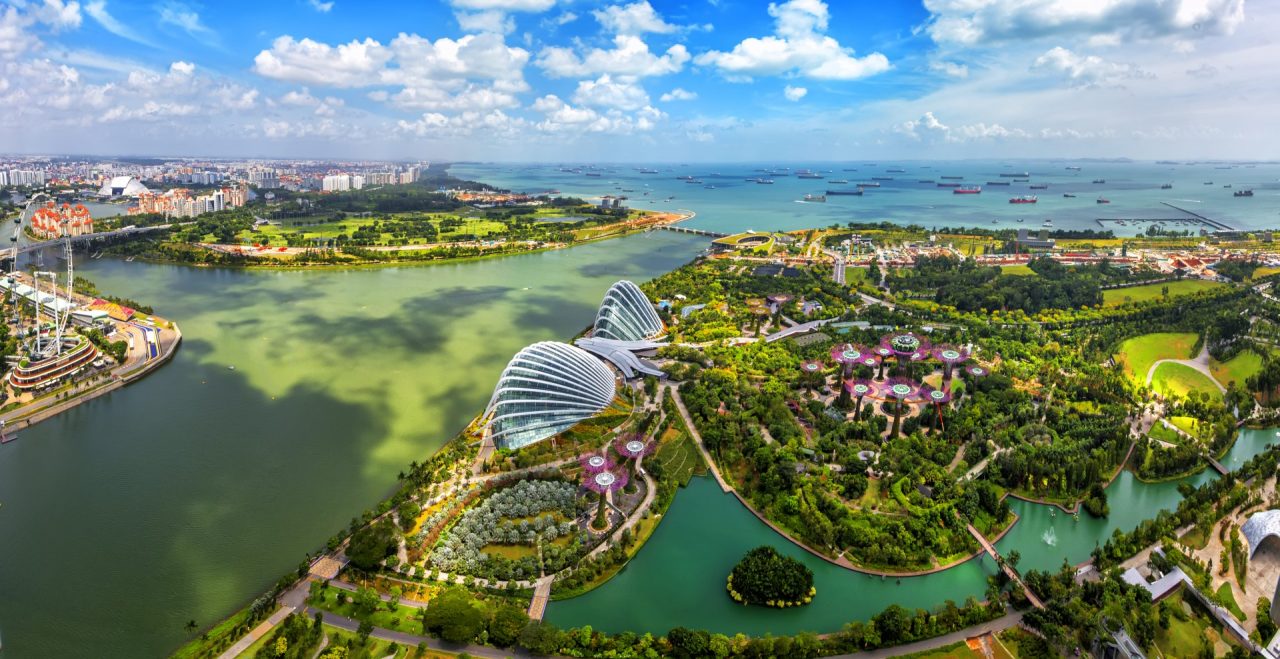 Sustainable mobility to make Singapore smarter
Innovation and large-scale infrastructure go hand-in-hand, and the Singapore government knows it. First in March 2020, then again in recent weeks, the government confirmed its intention to move forward with a ten-year, $43.5 billion (€38.5 billion euro) investment in sustainable infrastructure, subways and light rail.
The plan calls for new additions to two subway lines, the North East Line and the Downtown Line, to be completed between 2023 and 2024. This will be followed by an expansion of the Circle Line, the line connecting Marina Bay with Harbour Front.
"This final stretch (of the Circle Line) at Keppel is the most challenging to build and also the most costly," said Transport Minister Khaw Boon Wan. "But when completed in 2025, it will significantly raise the resilience of our MRT network and the travelling experience of our commuters."
Two additional lines will be finished by 2029: the Jurong Region Line and the Cross Island Line. At the end of this development plan, the city's metro network alone will increase from the current 230 (143 miles) to 360 kilometers (224 miles).
"By 2030, around 80% of Singaporeans will live within walking distance of a train station. We would have achieved or exceeded the level of train connectivity enjoyed by the residents in Hong Kong, Tokyo and New York today."
Traveling in a human-scale city
The evolution of the transportation system, combined with the benefits of artificial intelligence, is just one facet of Singapore's ongoing progressive changes. There are a number of factors contributing to its title as one of the most advanced smart cities in the world.
Futuristic projects in the pipeline for the city-state's government include, for example, the creation of a multi-route, aerial network for drones, tasked with carrying packages, letters and information. Automated walking projects for the elderly are also being examined. Self-driving wheelchairs are expected to be better designed and integrated into the traffic system, for example. Finally, digitisation of information and big data are being put at the service of road safety as well as the working world, with the adoption of facial recognition systems to access offices or identify customers (as they enter banks, for example).
It may sound like we've been catapulted into a sci-fi film, but that's just 2021 in Singapore for you.