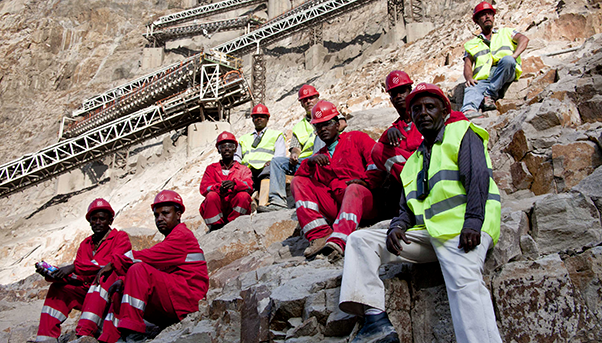 Farmers and artisans transformed into masons, carpenters, mechanics, drivers and technicians.
They are the Ethiopians who work on the construction sites of Salini Impregilo across their country, where the Italian infrastructure group for years has been training a new class of professionals. Between 2013 and 2015, Salini Impregilo offered 150,000 hours of training to local residents at Gibe III and the Grand Ethiopian Renaissance Dam (GERD), the two biggest projects in the country. Salini Impregilo has been present in Ethiopia since 1957, taking part in the construction of 20 public works for a combined value of €9 billion. The completion of each of these works was thanks to the labour of thousands of Ethiopians. Between 2005 and 2015, Salini had an average of 11,000 people on its payroll a year, at one point reaching a peak of 15,000. Of the total, 96% were Ethiopian, emphasizing the importance of training in order to prepare the workforce to face complex projects like the series of Gibe dams or the GERD.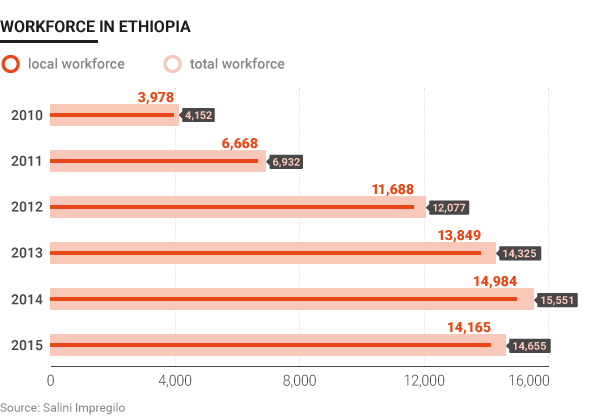 Eugenio Zoppis, project manager of Gibe III, cannot emphasize more the value of training. «When we arrived at the Gibe III site, the cement produced in Ethiopia was not of sufficiently high quality for what we had to do here. This obliged us to import it from Italy. Then we started training people from the area and we taught the local cement makers how to make high quality cement. The result is that we are buying Ethiopian cement and we can say that we have left know-how that will stay forever with these people.»
The benefits that many among the local populace earned from training went beyond getting a job at one of the group's sites. After years of developing a skill and setting aside some savings, workers have taken the initiative to open their own businesses and become suppliers of Salini Impregilo. Belachew Solomon is one such case. After 15 years on Salini worksites, he opened 12 years ago a small business to lend services to the group at Gibe III. Today, it has come to employee 300 people, many of them women.
«Salini Impregilo's main strenght – says Belachew Solomon – is its commitment in helping employees to grow through important investments in training, contributing in this way to economic and social growth of the entire Country».
This highlights a key element to developing a productive base in the local territory: the role of suppliers. Figures from the 2015 Sustainability Report show how in 2015, 53% of the money spent by Salini Impregilo for services went to local businesses for a total of €251 million. The amount is the highest since 2010 and confirms a recent trend of steady growth.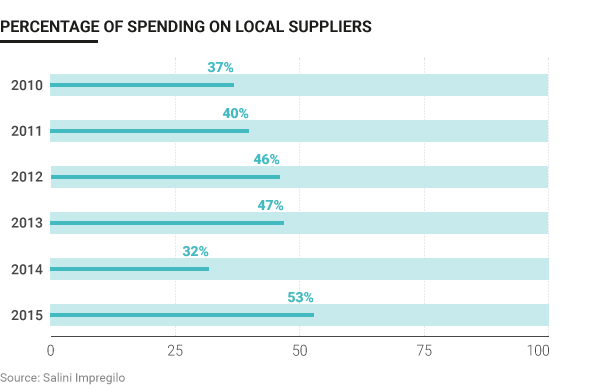 «Many made the most of the advantages on offer on site – declares Eugenio Zoppis – getting training, learning a craft and putting aside a bit of money with which to start a business. That is how someone bought a small truck or opened an office. We can say without exaggerating that an economy has grown around us».
This is the sustainability model that the group has pursued since its arrival to the country years ago: offering the chance to learn a new skill and get a job in order to escape poverty. Its success has seen the group's classes become fuller with trainees year after year, eager to contribute to the country's industrial development.
It is thanks to their involvement that Ethiopia is becoming one of the energy leaders of the African continent. Once the GERD is complete, energy production will grow by 270%, enabling the country to export electricity to neighboring countries.