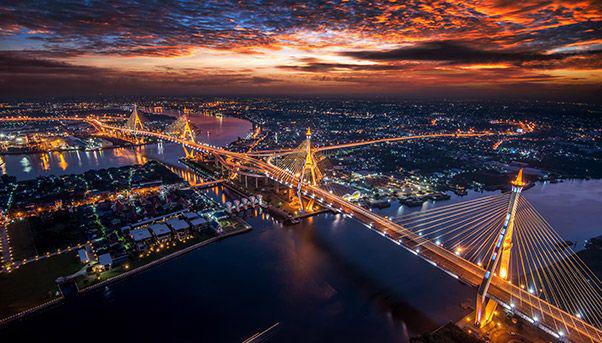 Thailand is the latest country to jump aboard a high-speed train. Its choice fell on the capital of Bangkok, home to more than eight million people, where economic and demographic growth are growing at the same pace.
That is why the government has decided to invest in building a bullet train connecting the capital's two airports with a third one, U-Tapao Rayong-Pattaya International Airport, located in the Rayong province. The $7.2-billion price tag will be financed partly by the government and partly by the builders of the project in a public-private partnership model.
The plan calls for the trains on the nine-station, 220-kilometer line that separates the three airports to have a top speed of 250 kilometers per hour, while they will slow to 160 kilometers per hour when travelling through Bangkok. From there it will pass through four provinces to reach the coast to the south.
But Bangkok's high-speed line will not be the only one in Thailand. A second project calls for building a cross-border bullet train connecting Thailand with China as part of the latter's "Belt and Road Initiative." The first phase is scheduled to go into operation by 2021. Meanwhile Bangkok is already halfway finished with a huge train station, which should also function as a strategic transport hub for both of the new lines, which will handle the new traffic flows created by the new railways.
An infrastructure master plan
The high-speed railway investments are only a part of a larger and more ambitious plan put together by the Thai government to support economic growth through infrastructure.
In 2017 the government launched an infrastructure plan that pledged $25.5 billion for 36 large projects. Among the projects selected, the top priority is rail transport, which will receive $11.6 billion in spending; over $6 billion is destined for urban subway lines; $4.7 billion will go to building streets and highways, and the rest is earmarked for general maintenance, shipping and air transport.
These new works will be paid for in part by public spending, in part by public-private partnerships and in part by new financial instruments recently launched by the government. In July 2018 the Thai government announced plans to create a $1.5-billion sovereign infrastructure fund that will make its first investments in early 2019. The fund will yield a forecast 5%, which according to the Thai government should make it attractive also to foreign investors. In addition to this fund, the government launched the Thailand Futures Fund a few weeks ago, with the mandate of raising funds to invest in building and maintaining the road transport system.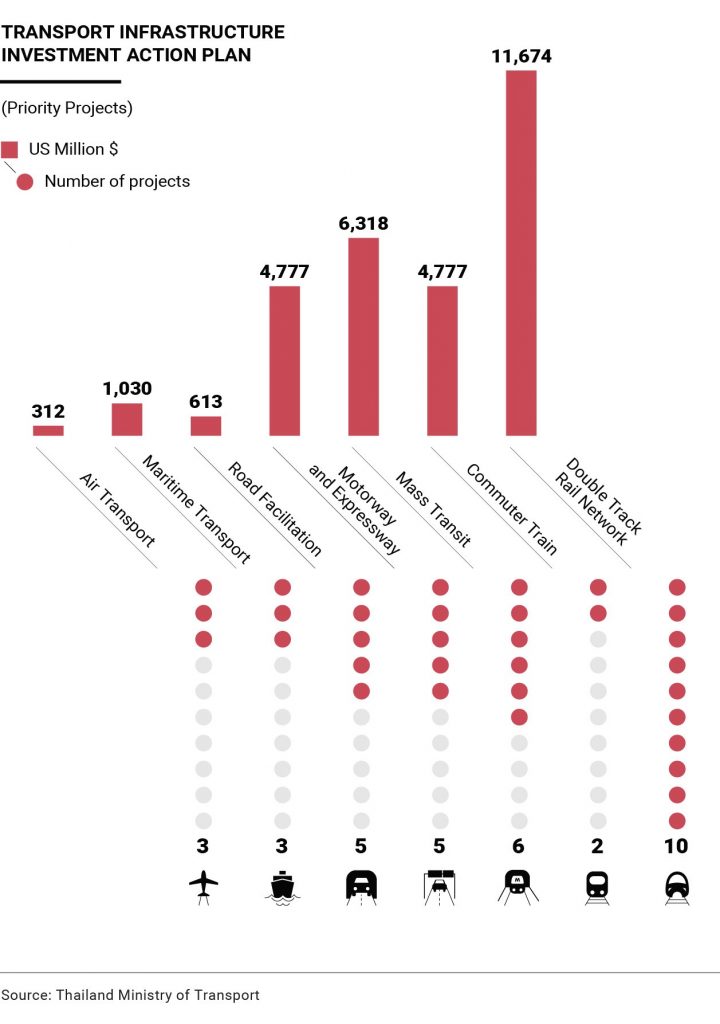 Helping the economy grow through infrastructure works
Building a major infrastructure project requires a long-term vision, and that is not an easy thing to accomplish in a country accustomed to living with political instability. Thailand has had 12 prime ministers over the past 18 years, six of which served between 2006 and 2008.
This instability makes it more complicated to carry out the sort of strategic planning that the country's needs to develop its infrastructure and remain one of South East Asia's leading economies.
In the World Economic Forum's ranking on infrastructure, Thailand placed quite far behind neighbours Singapore and Malaysia, which have been climbing up the chart for years.
Closing this gap with other South East Asian countries can boost economic growth, which in any case has not suffered in recent years despite political uncertainty. Thailand's finance ministry recently said the country's gross domestic product would grow 4.2% in 2018, after posting 3.9% in 2017. This strong performance has enabled Thailand to consolidate its position as the region's second largest economy.
The goal of improving economic growth can be met by investing in infrastructure projects, which are strategic not only for Thailand's citizens but also for the over 30 million tourists that visit the country each year, spending the equivalent of 12% of Thailand's gross domestic product.