Who finances infrastructure? Which are the private investors, funds or trusts that participate in the development of a sector with billions worth of investments?
"Infrastructure Investor", a publication specialized in the financing of public works, recently published its seventh annual ranking of the 50 biggest infrastructure investors in the world based on the amount of money raised in the last five years, from January 1, 2011 to August 31, 2016.
Combined, these investors raised $282 billion, highlighting their size of their role after having identified infrastructure as an asset with attractive yields.
Leading the 2016 ranking is Macquarie Infrastructure and Real Assets, an Australian fund with 20 years of experience in construction, agriculture and energy and a focus on the Asian Pacific. It raised $32.8 billion. Canada's Brookfield Asset Management comes in second after raising $31.9 billion. It has interests in the United States, United Kingdom, Chile and Colombia. In third place is Global Infrastructure Partners with $20.7 billion. Geographically, the United States leads in the rankings: apart from occupying six of the top 15 rankings, the country is present with some of the most prestigious financial institutions such as BlackRock, Goldman Sachs, J.P. Morgan and Morgan Stanley.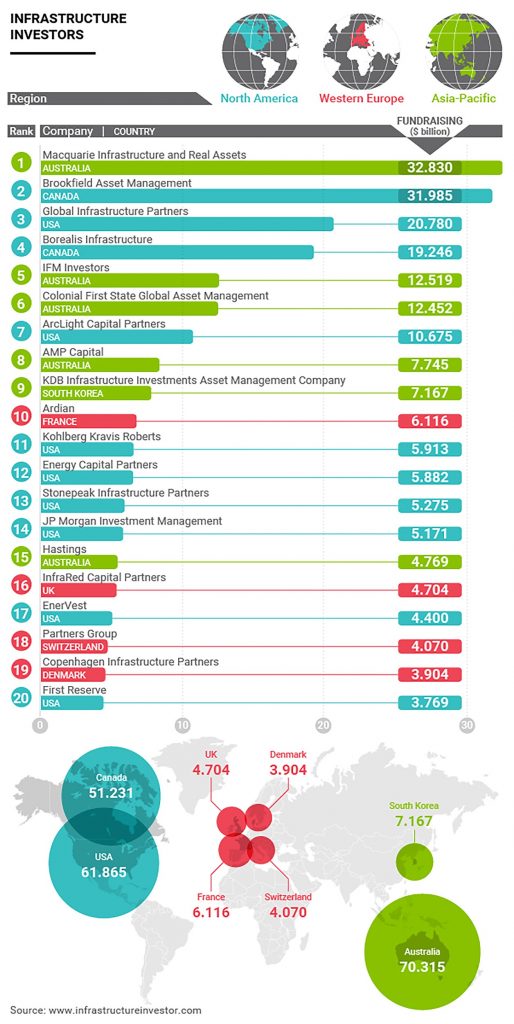 U.S. funds that made the ranking raised $91.9 billion. Then comes those in Canada with $55.7 billion, followed by Australia with $39.1 billion, then the United Kingdom with $20.5 billion, France with $14.4 billion, South Korea with $7.1 billion and China, where the state still plays an outsized role in financing infrastructure, with $3.4 billion.
New infrastructure can help boost economic growth but the economic troubles faced by some countries has seen governments seek the help of private investors. The International Monetary Fund (IMF) sees the global economy rising by 3.1% in 2016, slightly lower than 3.4% in 2015.
In its latest annual report, an Italian research centre known as Cresme describes 2016 as the worst year for investment in construction since 2009, having grown by an estimated 1.6% against 3% in 2015. Only next year does it expect to reach to a stronger 2.7%.
The role of private investors is becoming more important with the gradual adoption of hybrid models that allow them to join forces with public entities.
Some of these financial experiments are covered by "We Build Value" in this special edition entitled "Who Invests in Infrastructure". Infrastructure banks proposed by both Canada and the United States, public-private partnerships for large public works and institutions like the Asian Development Bank supported by China all point in the same direction: bringing together private and public interests to support economic development and meet the needs of citizens everywhere.
The edition is completed with an interview with Aaron Klein, an expert in the sector whose works as policy director of the Center on Regulation and Markets of the Brookings Institution, an influential U.S. think tank.