When mapping out its sustainability strategies, the Webuild Group has to keep its larger context in mind: hundreds of construction sites are open, dozens of countries are involved, thousands of workers are employed, and millions of people are affected by the group's ongoing projects.
Sustainability is no longer just an add-on to construction models. Instead, it's the very foundation of new approaches to building large, complex infrastructures.
Webuild projects currently underway around the world will improve the quality of life of 87 million people. For the countries of interest, the projects will also be a useful step toward achieving the Sustainable Development Goals drawn up by the United Nations.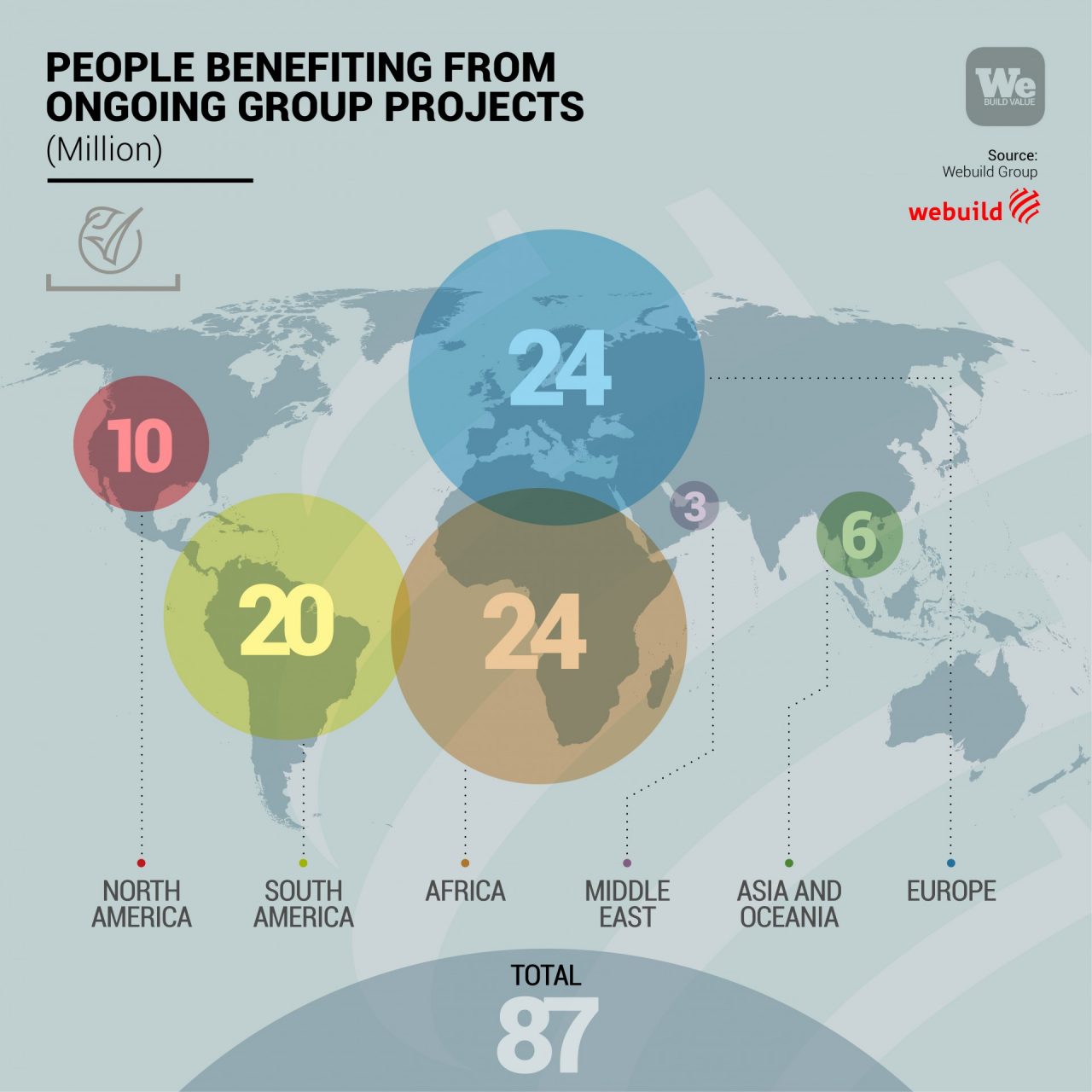 From clean energy to water treatment plants and civil construction to sustainable mobility, Webuild is carrying out projects that contribute to sustainability-oriented objectives. These large-scale works are now considered one of the most effective tools to emerge from the Covid-19 crisis and begin a solid recovery.
Across North America, Africa, Europe and Australia, the open construction sites are set to guarantee 7,000 new hospital beds, daily treatment of 857 million cubic meters (226 billion gallons) of water, the installation of 14,400 MW of renewable energy, an average of 55% reduction in travel time on new high-speed railway lines, and an annual cut of CO2 emissions by of 21 million tons.
This is a new model of development that looks to large-scale works as a key tool in creating a more sustainable society.
The creation of "sustainable construction sites"
Between 2014 and 2020, Webuild Group's global operations saw a steady reduction in Co2 emissions by 56%.
This was made possible by increasing investments in low-carbon solutions, such as using power plants to control and stabilise electrical loads; using automated conveyor belts to move soil, thereby eliminating the need for trucks and semis; and applying high-efficiency ventilation systems in tunnels, ensuring better air quality as well as a reduction in energy consumption.
The idea behind these changes was to create "sustainable construction sites" with minimal environmental impact. This goal challenges the traditional image of a construction site, generally thought to be a negative environmental impact. In reality, new technologies and applying increasingly modern working models have made it possible for construction sites to achieve excellence in their own right. These practices include using hybrid vehicles, using renewable sources to power worksites, employing artificial intelligence sensors to predict outages, and optimizing systems used aboard heavy machinery, such as mechanical cutters that dig underground.
Can a 100-meter (328 foot) giant that is digging kilometer-long tunnels by eating away at the earth beneath the surface really be sustainable? That's what the TBMs at work are aiming for, on sites ranging from the Naples-Bari high-speed train excavations to the Ponte Gardena project in Trentino Alto-Adige.
Through optimising various systems and devices on board the machines, to date, these TBMs have reduced their energy and water consumption by 20%. A series of energy and water efficiency measures – mainly concerning the cutter head, soil transport and the hydraulic system – were implemented to achieve this.
Thanks to these measures, the TBMs on the Group's sites have not only reduced their environmental impact, but have also increased excavation speed and improved worker safety.
Innovation at the service of sustainability
The most effective way to continue raising the bar for sustainability is to invest in innovation. Only new technologies, innovative materials, and new, never-before-used work models will facilitate reaching otherwise unattainable sustainability records.
Webuild pursues this goal first by investing in theoretical models and then by improving operations in the field.
Research and development are a key component of large-scale works, and are carried out through a series of partnerships with prestigious institutions such as the Politecnico di Torino, with which the company will develop advanced tools for assessing the carbon and energy footprints of works throughout their life cycle. At the same time, the Group invests in research on low carbon materials and the creation of new systems to reduce energy consumption.
Technological innovation in the construction site mainly involves creating monitoring systems for the TBMs and plants. These systems function as technology "headquarters" within which an integrated system selects, processes and displays data in real time. The data comes not only from the mechanical cutters, but from all the equipment used on the construction site, which helps facilitate not just data collection, but meaningful intervention to reduce impact.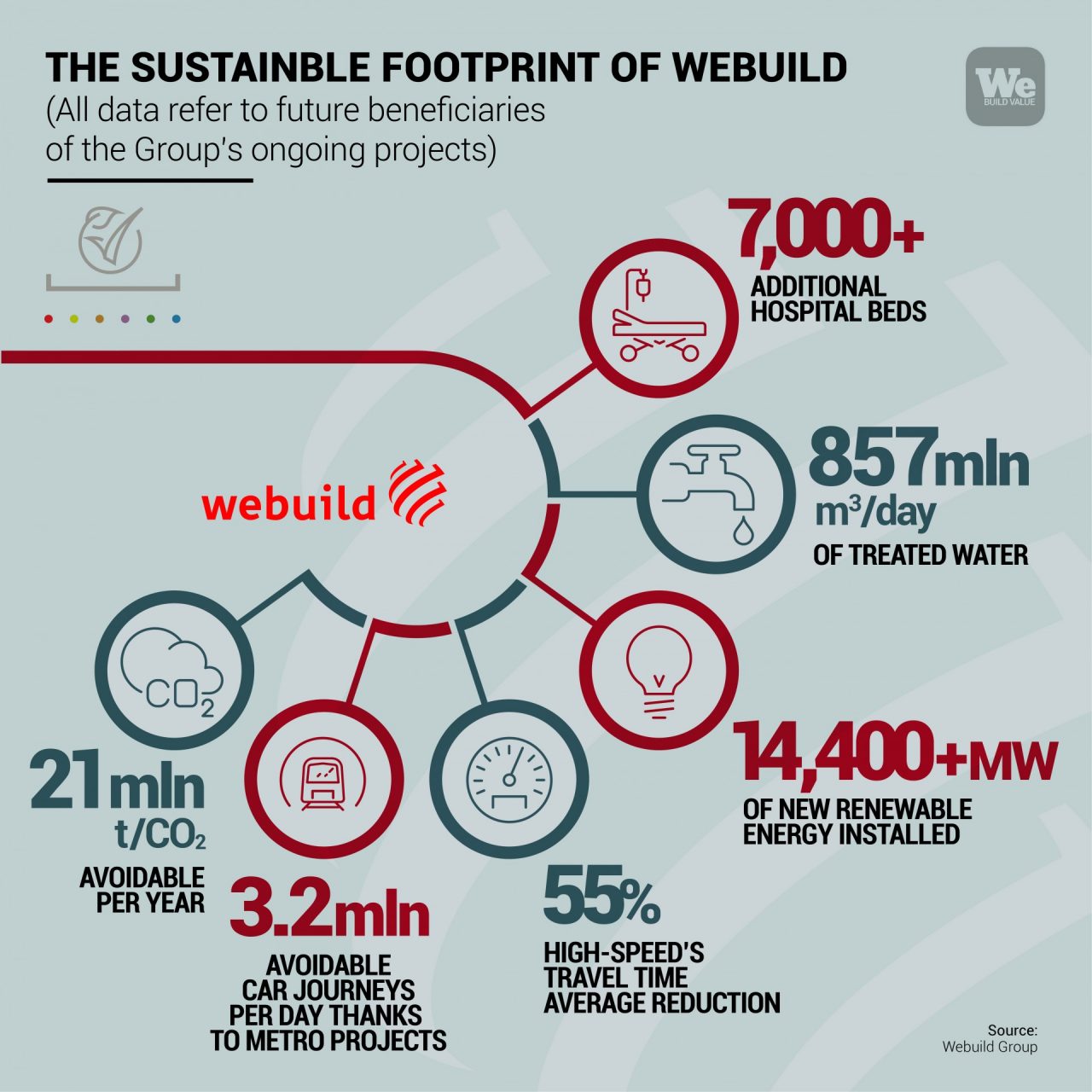 Projects to better serve the public
Sustainability in large-scale projects has a specific objective: improving people's quality of life and safeguarding the environment in which they live. The innovative features tested in the Sydney Metro Northwest (the elevated subway of Sydney, named Australia's most sustainable project), resulted in a roughly 33% reduction in environmental impact of the materials used. These same benefits were reflected in the San Giorgio Bridge in Genoa, built by Webuild Group in record time. In the latter project, all service systems, along with diagnostic robots, were powered by photovoltaic panels.
All these activities, research, investments, and goals derive from a concrete commitment that Webuild has made, called the Five P's manifesto. "P" for protecting the planet, accelerating the climate transition through designing innovative solutions that can improve environmental sustainability; "P" for taking care of People, the real engine behind construction sites and works; "P" for prosperity, the most important value for the end users of large-scale works; "P" for Partnerships, which we foster with institutions, universities, research centers, local authorities, and, above all, with the thousands of companies along the supply chain; and, finally, "P" for Progress, and our belief that the road to progress can be remapped every day based on new rules that are sensitive to humanity's and nature's needs. In short, sustainable rules.