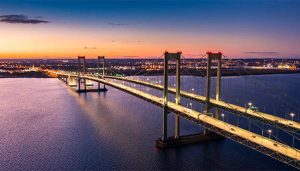 US President Donald Trump's announcement came on February 4, when he delivered the 2020 State of the Union Address, and more details were released on February 10. He repeated his 2016 campaign pledge: $1 trillion to make the nation's decaying infrastructure ready to face the future.
This time the President took the step forward of inserting the ambitious infrastructure plan in his 2021 budget request. This move shows Congress that the plan is crucial to modernizing the country and support its economic development.
The first glimpse of Trump's infrastructure plan
The White House has released a document outlining where the funds will be found – not an easy thing to achieve. The "fact sheet" identifies two main targets for investments. The first, and largest, concerns spending for surface transport, mainly railway lines, roads, and bridges. The eye-popping price tag is $810 billion over 10 years. As additional program of $190 billion is focused on other sectors including water – both hydroelectric plants and urban water management plants. A small amount of spending ($6.5 billion) is earmarked for the Public Lands Infrastructure Fund, in charge of ensuring the management of the US national parks.
President Trump asks for bipartisan support for his infrastructure plan
Trump's infrastructure plan will need widespread political backing, because the investment must be approved by Congress. President Trump in his State of the Union Address openly asked for bipartisan support, considered the only way to complete the project.
«Both parties should be able to unite for a great rebuilding of America's crumbling infrastructurex», said President Trump. «I know that Congress is eager to pass an infrastructure bill, and I am eager to work with you on legislation to deliver new and important infrastructure investment, including investments in the cutting-edge industries of the future. This is not an option. This is a necessity».
The plan has been welcomed by the National Utility Contractors Association, the association that brings together utility contractors. «President Trump recognizes that even in an election year, modernizing our now obsolete infrastructure is an issue both parties can agree to finish», said President Dan Buckley to an industry publication.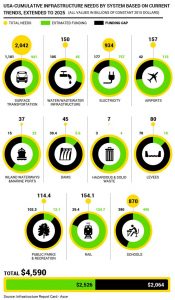 If $1 trillion is not enough
President Trump's appeal was welcomed by the construction sector in the United States, but even this plan's massive budget (assuming that it will be approved by Congress) does not seem to be enough to restore American infrastructure.
The American Society of Civil Engineers (ASCE) believes that $4.5 trillion needs to be spent between now and 2025, primarily for roads, bridges, dams, airports, schools and more, according to its most recent Report Card from 2017.
Airports top the list of emergencies. In the US, 2.7 million people passed through airports each day in 2018, according to the Federal Aviation Administration, demonstrating that the overcrowding of these infrastructures is a central theme. ASCE calculates that at least 24 of the 30 national airports may soon reach peak transit traffic at least once a week, which so far usually only happens on the Thanksgiving holiday.
An equally critical issue regards bridges: of the 614,387 bridges in the United States, and four out of 10 are over 50 years old and require modernization. Just to get the bridges back in shape would cost $123 billion in investments, according to ASCE.
Urgent work is also required for water systems, especially urban pipelines, facing the twin pressures of aging and population growth.
The ASCE calculates that many of the country's more than one million water pipes were laid in the mid-19th century and have a lifespan of between 75 to 100 years of age. The infrastructure is aging and will have to be replaced. Trump's new infrastructure plan is an important response.