Infrastructure for green development is essential for the future. Australia has the right combination of a government willing to invest, and a highly motivated population in favor of green investment. Australia's federal, state and local governments will spend AUD152.2 billion ($96 billion) between 2018 and 2022 on infrastructure projects that go in this direction, according to the study "Reshaping Infrastructure. For a net zero emissions future," published in March by three sustainability advocacy groups.  It estimated 70% of Australia's greenhouse gas emissions were either directly attributable to, or influenced, by infrastructure. 
The root cause of this high figure is pollution from outdated road transport or traditional electrical systems. Investing in sustainable mobility and in clean energy, starting with hydropower, are just two of the many roads suggested by study as routes for the country's development.
Australia's emissions target
Australia's states have all joined the federal plan to achieve zero emissions by 2050. This ambitious goal calls for projects to renew existing infrastructure and reduce its the environmental impact, according to the report, prepared by the Infrastructure Sustainability Council of Australia (ISCA), the Climate Works Australia and the Australian Sustainable Built Environment Council, three authoritative independent organizations committed to supporting the zero emissions challenge. This renewal plan will have to take into account the economic weight of various individual infrastructure sectors.
Road transport infrastructure alone accounts for 36% of the added value produced in the Australian infrastructure sector, said the report. This is followed by energy infrastructure (21%), communications (16%), and rail transport infrastructure (12%).
Looking to the future, and the 2050 target, infrastructure built now must be designed for future sustainability, and to achieve a maximum reduction of environmental impact. Australia is already doing this with some of its latest projects.
Zero-emissions Australia: the case of the new Sydney metro
The "Reshaping Infrastructure" report presents the Sydney Metro NorthWest driverless urban rail transport project as a case study. 
The project, in which Salini Impregilo also took part, was completed in 2019 for a total cost of AUD8.3 billion (USD5.2 billion), and called for construction of eight new stations on a line 36 kilometres (22 miles) long. Construction work reduced emissions by adopting environmental protection measures, starting with low-impact materials like lower-emissions concrete and recycled steel. Energy required for construction was cut by 20% by using renewable sources and carbon offsets.  Large-scale solar energy generation certificates have offset 100% of the operational electricity used by Sydney Metro NorthWest, and sustainable light sources such as LED bulbs were used in stations and trains.
In terms of the environmental impact of the trains themselves, Sydney Metro NorthWest will help reduce air pollution in a city with Australia's highest density of cars. Once fully operational, Sydney Metro NorthWest will reduce the number of car trips to the city by 14 million per year by 2021, and by 20 million by 2036.
The Infrastructure Sustainability Council of Australia awarded this project, carried out with Salini Impregilo's help, with the highest rating and included it among the World-Class Best Practices in Sustainability.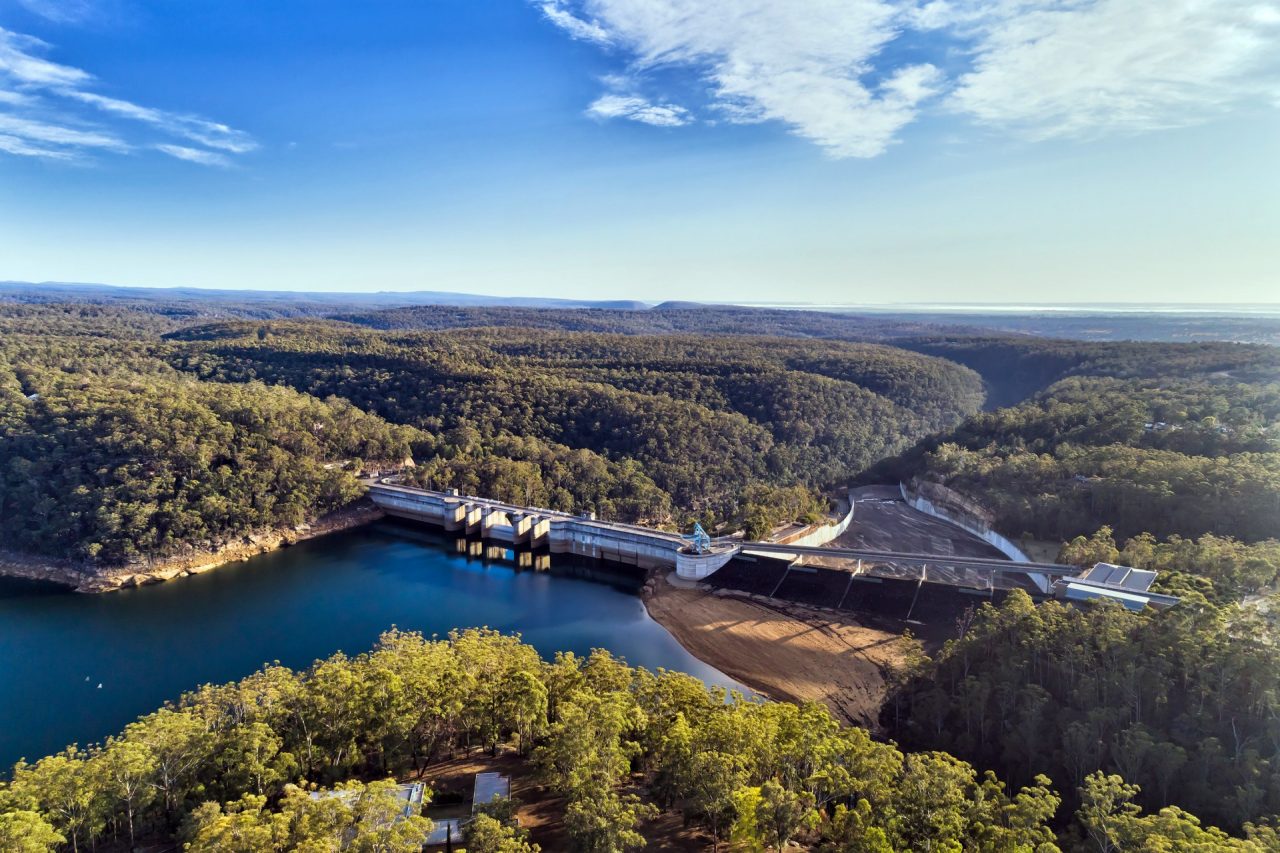 More efficient water management: a look at Victoria and Tasmania
Industrial water management activities also have a significant impact on the environment. In Australia, and particularly in the state of Victoria, 24 of harmful air pollution come from the water sector, which is more polluting than the railway or health sector, because of energy used to operate pumping and water treatment plants.
The Victoria state government, as well as the four public companies in charge of water management, are committed to reversing this trend and achieving the zero emissions target by 2050.
Melbourne Water, the city of Melbourne's water utility, plans to halve its emissions by 2025. To achieve this, the utility is planning several initiatives, including: transitioning to a zero-emissions vehicle fleet; investing in biogas to operate some treatment plants; generating hydroelectricity through its water transfer system, which already produces nearly 70,000 megawatt hours per year.
Tasmania has one of the most significant projects for producing clean energy from water. In the heart of the Snowy Mountains, Salini Impregilo (together with the Australian company Clough) is working on the construction of Snowy 2.0, the largest pumped storage scheme in the world, capable of feeding a network of hydroelectric plants already present in the region and managed by the multi-utility Snowy Hydro. Once completed, Snowy 2.0 will ensure an increase in power generation capacity of 2,000 MW, enough to bring electricity to 500,000 homes.
The risk of doing nothing
In recent years, erratic weather has caused considerable damage to Australia's infrastructure network.
The floods that hit the Brisbane coast in 2011 cost of AUD1 million (USD600,000) in terms of damage to telecommunications infrastructure alone. In Melbourne, super-hot temperatures forced light rail trains to run at slower speeds at certain times of the year. In addition, over AUD10 billion (USD6.3 billion) has been spent in recent years on desalination plants to ensure a constant supply of water even during periods of drought.
More generally, according to Infrastructure Australia – the government body that oversees the country's infrastructure development – if greenhouse gas emissions continue at today's pace, the damage caused to the country's infrastructure by 2100 due to rising water levels alone could amount to AUD226 billion (USD143 billion).
The country needs to take immediate action to ensure its sustainable development. The Australian government has chosen this path by continuing to invest and renew its infrastructure.