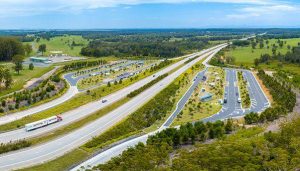 While Australia is still burning, New South Wales — one of the hardest hit states in the country — has already approved a plan to rebuild the infrastructure damaged by the fires.
It has allocated AUD1 billion (almost $700 million) to invest over the next two years with one goal: to protect and rebuild vital infrastructures such as roads, railway lines, bridges, schools that need massive and urgent repairs.
The announcement was made a few days ago by New South Wales Premier Gladys Berejiklian and Treasurer Dominic Perrottet.
«This money will provide an immediate source of funding to ensure key infrastructure is restored so that communities can get back on their feet as soon as possible», Ms. Berejiklian said.
«The bushfire season is far from over but we know how important it is for communities to start the recovery process where possible».
New South Wales Fires: "Confidence in rebuilding"
According to early estimates, the fires in New South Wales alone damaged over 2,000 homes. It is still very difficult to draw up a reliable estimate for infrastructure damage. The government therefore has decided to make a substantial investment in repairing the damaged infrastructure works, which is also important to send a strong signal of confidence to residents.
«This is to rebuild communities and focus on infrastructure that's either been damaged, destroyed or need improving, and it's to ensure that communities can have confidence in rebuilding», Ms Berejiklian told reporters.
«That could be a bridge, road, rail line, school, hospital or also extend to communications and energy infrastructure as well.
We are always standing shoulder-to-shoulder with those impacted by this devastating catastrophe that's come to NSW».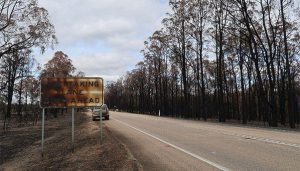 Imperative: block the flames
The recovery plan for the infrastructures affected by the fires is accompanied by a series of immediate steps to cope with the greatest emergencies. The government has allocated AUD33 million ($22 million), in addition to the AUD231 million ($158 million) spent during the tragedy.
These funds were mainly intended for the safety of homes, for removing ash from roads and bridges, and for protecting stores affected by fires.
This work in the field is being carried out by government institutions alongside the National Bushfire Recovery Agency, the national agency set up to combat Australia's fires.
This serious emergency situation worsened in the during the first few days of 2020, according to numbers provided by the Building Impact Assessment issued by the NSW Rural Fire Service. As of January 13, more than 2,162 houses were destroyed and 849 were damaged, while 12,946 buildings were saved from the flames thanks to the intervention of firefighters.
In recent days the situation has slightly improved thanks to rains and a slight drop in temperatures in the area around Sydney. But despite this, there are still 80 active fires in the state as of January 19 the BBC reported, 60 of which are difficult to contain.
Today, most Australians are clinging to a hope of better weather conditions. In recent days, violent rains and hailstorms have hit many regions of the country, from New South Wales to Victoria. It has rained in Sydney, but also in Brisbane, Melbourne and Canberra. The solution to the dramatic wave of fires that hit Australia will hopefully come from the sky.