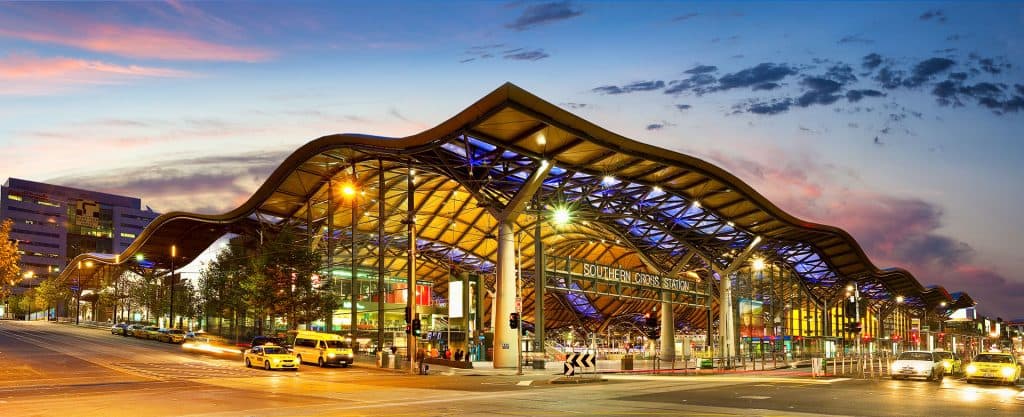 Like the Grand Paris Express, the massive public transportation project that will join the municipalities of Greater Paris by metro and rail line, Melbourne is planning an ambitious infrastructure project to improve sustainable mobility in Australia's second city. The Suburban Rail Loop will encircle to the Central Business District, connect the suburbs and intersect with other metro lines like the Frankston Line and the Werribee Line. It will also make a stop at the airport.
Expected to cost about AU$50 billion (€31 billion), the project envisioned by the government of the state of Victoria should get underway in the second half of 2019, when initial site inspections are to begin.
The Suburban Rail Loop will prove to be one of Australia's biggest infrastructure works.
Melbourne, an unprecedented project
The line will be 90 kilometres long, have 12 stations, and travel almost entirely underground, shuttling 400,000 passengers a day. Its completion is expected to be in 2050, according to government estimates.
Just like the project in Paris, or Copenhagen's Cityringen being completed by Salini Impregilo, the loop's would serve two purposes: make it easier to move among suburbs without having to pass through the centre, and connect to existing metro and rail stations to encourage further sustainable mobility.
So in addition to the 12 planned stations, the Suburban Rail Loop would stop at certain existing stations, creating a radial transport network that would make it easy to travel between the centre and the periphery and beyond.
The route was studied in detail to link strategic points of the city, such as 10 hospitals, five universities, two technological centres and four of the biggest shopping centres.
The Suburban Rail Loop will help Melbourne remain the world's most liveable city – as described by The Economist Intelligence Unit – a title it has enjoyed for seven consecutive years before finally ceding top place to Vienna in 2018.
A sustainable mobility project for Melbourne
The Suburban Rail Loop is the result of a long-term vision whose horizon stretches to 2050 and beyond in anticipation of a profound demographic and economic transformation of the city.
According to the state government, Melbourne will grow from five million people in 2018 to eight million by 2050, bringing with it an increase in urban traffic congestion and air pollution. So the rail infrastructure project will have a positive impact on sustainable urban mobility. According to calculations by Rail Project Victoria, the public entity responsible for some of the state's most important rail-based mobility projects, the loop will be able to remove 200,000 vehicles from the roads every day by 2051.
Work should begin in 2022, creating 20,000 jobs, with the first section being inaugurated in 2032.
"The Suburban Rail Loop will change the way we move around Melbourne forever, and we're not wasting a minute getting this vital project started," Victorian Premier Daniel Andrews said.
"It will create and support local jobs and slash travel times, getting people where they need to go."