In a world where 70 % of transported goods is done by sea, the new Panama Canal is preparing to increase its role as one of the strategic centres of global trade.
It is a role written in its DNA since the signing of a neutrality treaty in 1901 that recognizes everyone's right to cross the waters of Lake Gatun. To this day, that right is exercised to the point that 3% of maritime trade goes through the old canal. And it is a figure that by June 26, the day of the new Canal's inauguration, will belong to the past. The third set of locks will allow for the passage of post-Panamax ships and, according to estimates by the Panama Canal Authority, will contribute to Panama's share of maritime trade rising from 3% to 6%.
It is an achievable result since it starts from a more than solid base. Every year, the total amount of merchandise that passes through the old canal is worth $270 billion. It comprises goods that cross the oceans to reach 1,700 ports in 150 countries. This massive amount of merchandise will grow with the opening of the new Canal in Panama, which is set to reinforce its privileged role in international trade from Europe to Asia passing through the Americas. It will be an epochal change to trade that will inevitably impact the market of big ships as well as the development of ports. Although there are many shipyards around the world that build post-Panamax ships (those that will cross the new Canal), ports are making big investments to make their facilities capable of receiving them.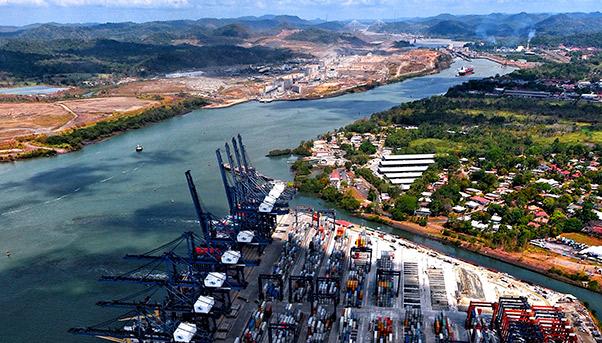 A Shift in Global Trade
In the United States, the ports of Miami, New York, Norfolk are expanding and the same is happening in many ports in the Caribbean and South America like Kingston, Jamaica; Mariel, Cuba; and Cartagena in Colombia. It is a development that Panama's ports of Balboa on the Pacific coast and Colon on the Atlantic have undergone. Both are capable of moving every year an average of three million TEUs (twenty-foot equivalent units) and they have received big investments to prepare for the arrival of Post-Panamax ships.
In recent years, the Colon Container Terminal received $110 million of investment to improve technology and offer more services. Today, the cranes can transfer 34 TEUs per hour, while the port's reserved area can store 400,000 containers.
The Balboa terminal on the Pacific Coast can guarantee services of an even greater scale. In addition to the cranes that can handle cargo from post-Panamax ships, there are two piers for storage, one with an annual capacity of 600,000 TEUs and the other 200,000.
Everything was prepared ahead of time for the opening of the new Canal and now that the post-Panamax will be passing through the Culebra Cut, global trade is ready to write a new and important chapter of its history.
All photos of "The New Panama Canal" Special Issue are copyrighted: Copyright © Edoardo Montaina by Salini-Impregilo