The idea of opening a channel in Panama to link the two oceans dates back to the early 1500s when Spanish conquistador and adventurer Vasco Núñez de Balboa crossed the isthmus with a handful of men. But the idea only started to become a reality in 1879 when Ferdinand de Lesseps, the former diplomat who oversaw the construction of the Suez Canal, founded a company to build a waterway across Panama following a successful campaign to raise the necessary funds in Paris. His failure to achieve his dream led to the United States to take on the challenge after Panama's independence from Colombia in 1903. Under the terms of a treaty signed with the new republic, the United States got exclusivity over the future canal for 100 years. Work began a year later. By 1914, the engineering feat was accomplished, with the Alexandre La Valley, a crane boat, crossing through the locks. (The canal's centennial anniversary was celebrated in 2014.) But the date of the official crossing, held without much fanfare as a result of the outbreak of war, was noted in history books as August 15, 1914 with the passage of the Ancòn, a ship that transported materials across the lake.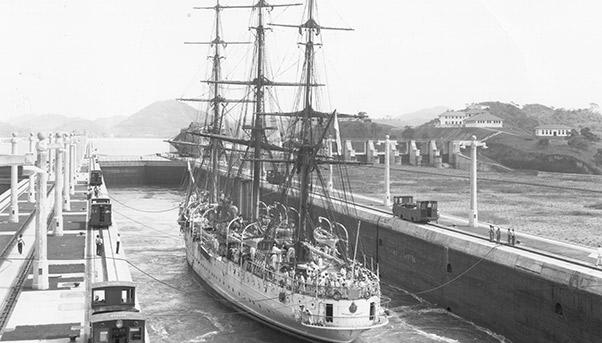 A 100 Years of History
Construction of the canal was an epic endeavor, not only for its scale and complexity but also for its ultimate cost: the death of tens of thousands of workers, most of them falling victim to malaria and yellow fever. The U.S. Army's campaign against mosquitos succeeded in eliminating the spread of yellow fever by 1905. But it was not to be the case with malaria, which kept killing workers in the field, some 200 in 1906. During this struggle against nature, the United States worked out a plan that would guarantee the project's success: the erection of a series of dams along a river to create Gatun Lake. This artificial lake, the world's biggest at the time, would enable ships to cross the isthmus from one set of locks to the other.
Management of the canal remained in the hands of the United States until 1999 when it was transferred to Panama. In October 2006, the Panamanian government invited its citizens to a referendum to decide on the construction of a bigger canal. More than 76% voted yes.
All photos of "The New Panama Canal" Special Issue are copyrighted: Copyright © Edoardo Montaina by Salini-Impregilo