U.S. President Joe Biden's infrastructure spending plans are the most ambitious in decades. The Biden Administration aims to revamp the road and freeway network; restore bridges, viaducts and tunnels to full working order; improve electricity networks; invest in railways; and improve the management of drinking water. Existing infrastructure is old, run-down, and no longer meets the needs of today's Americans. The American Society of Civil Engineers (ASCE) has assigned a grade of "C-" for its 2021 report card on the country's overall infrastructure assets, which on a scale from A to D is clearly insufficient.
Sure, a "C-" is an improvement from the "D" report card assigned four years earlier. But today's list of infrastructure woes is still a long one. There is still a water main break every two minutes, with about 6 billion gallons of treated water lost every day in the United States, according to ASCE. Increasing wear and tear on the nation's highways has left 43% of the network in poor or mediocre condition. Forty-two percent of bridges are over 50 years old and 7.5% are considered structurally inadequate to carry their traffic of 178 million trips per day.
The role of drones in infrastructure surveys
These staggering numbers raise the question: who carried out these surveys, how were the inspections done?
Part of the answer is an acronym, UAVs, and a very important number: $100 billion (€85 billion). The acronym stands for "Unmanned Aerial Vehicles," otherwise known as "drones." And the $100 billion the potential market for drone-related services from 2016 to 2020, according to a recent estimate by Goldman Sachs. Like previous technologies such as the internet and GPS tracking that were developed for military purposes, the use of drones in the civilian field is growing rapidly, with the birth of new professions, the spread of a myriad of specialised contractors and the introduction of increasingly sophisticated and reliable systems.
According to the Goldman Sachs study, drones have already made the leap into the consumer market, so much so that they are used in climate data collection, fire-fighting monitoring, and in construction, which is the top sector of this burgeoning market with over $11 billion (€9.3 billion) in value from 2016 to 2020. While the construction industry is usually considered to be among the most traditional in terms of technology, in actual fact it often an early adopter of technology to design and build buildings, dams, tunnels and works in complex geological situations and hard-to-reach areas.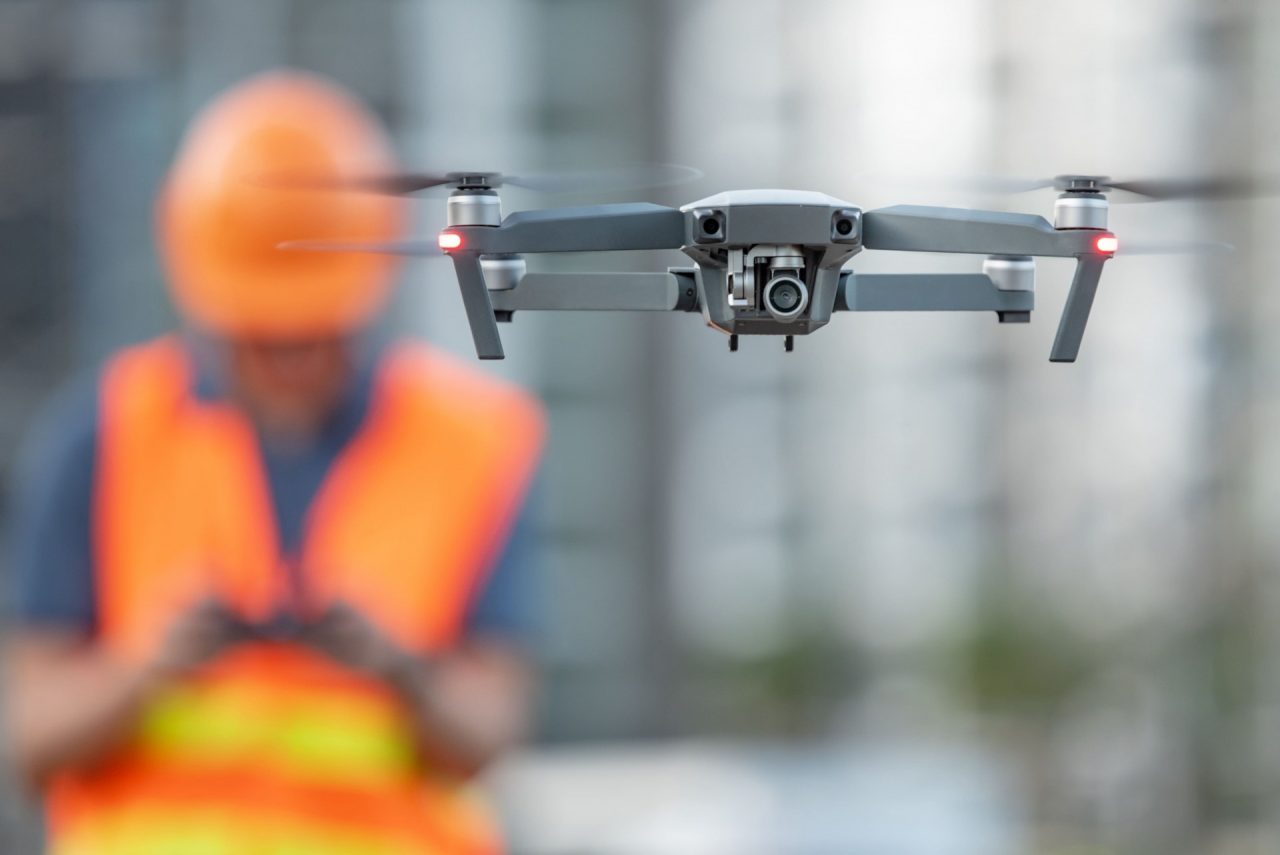 Remote-controlled flights over the Panama Canal
The new Panama Canal, designed and built by Webuild with a consortium of European builders, was a test lab for new technologies, using the first unmanned flights to photograph and survey excavations in the most inaccessible areas of the Panamanian rainforest. But it wasn't just drones that helped get the job done in Panama. In the spring of 2015, the image of an Italian technician holding a console the size of an iPad travelled around the world. That technician, with small, perfectly measured movements of a joystick, managed to install the giant steel gates used by the locks of the new Canal by guiding them into a narrow space, one after the other. Thirty metres (98 feet) high, 58 metres (190 feet) long and weighing over 4,000 tons, they were installed by remote control inside their housings with just a few centimeters of margin for error on either side.
Drones in Lane Construction projects
The role of UAVs is becoming increasingly important in today's ever-more-complex construction projects, both in ecosystems that are difficult to reach with normal working tools, and for long-term jobs that call for continuous and progressive surveys of the construction. Lane Construction, Webuild's U.S. subsidiary, has drones in use on sites such as the C-43 project to build a reservoir in the Caloosahatchee Estuary on Florida's Southwest coast, which calls for a sand embankment with a 26.2-kilometer (16.7-mile) perimeter and a 4.5-kilometer (2.8-mile) separator dam dividing the two reservoirs. In total, the reservoirs will cover approximately 40.5 square kilometers (10.1 square miles) and hold 210 million cubic feet (5.9 million cubic metres) of water. During rainy periods, the reservoir will contain contaminated water from residential and agricultural land in the area and, during dry periods, will provide the necessary water supply to maintain optimal salinity levels.
The project, which made major progress during the dry season, allowing many areas to be put "above ground" so they can continue during the rainy season, is constantly monitored by drones that provide quality control, collect data, photograph the progress of the work, and produce renderings. The C-43 project has completed the phase of subgrade preparation, with drainage now at 50%, clay waterproofing of the core at 30% and the embankment of the dam at 20%. Once completed, it will restore the balance of the Everglades, the green lung of America, and save the Florida beaches threatened every year by the "red tide" caused by harmful algae that spill into the sea, killing fish and protected species such as manatees.
Drones at the service of new technologies
The use of IoT (Internet of things) applications and in particular the ability to track construction sites digitally thanks to the use of drones is changing the various phases of the construction process, both during the survey and in the execution. New technology can be deployed for environmental monitoring, structural control, altitude mapping, laser scanning, real-time data flow, maintenance work, communication between site and construction management, surveillance and safety, and even for the transport of materials. The fields of drone use in construction are progressively expanding, possibly even making that Goldman Sachs estimate too conservative.
There are more than 220,000 commercial drone pilots in the United States registered with the Federal Aviation Administration (FAA), which reports to the Department of Transportation. This number is destined to grow rapidly, also because in order to register as a certified drone pilot, the FAA website says a person must be "at least 16 years of age, be able to speak, read and write English and be in a psychophysical condition suitable for flying an Unmanned Aerial Vehicle." Drone registration costs $5 (€4.24) and is valid for three years.
Of course, there are two sides to every coin, and the use of UAVs has its downside, with national security implications of no small significance. In the United States, the regulation of unmanned flight leaves very little room for the use of drones, especially in areas near airports, ports, military areas, federal buildings (including the postal service), major traffic arteries, prisons, electrical plants and other sites considered to be sensitive targets. State by state, there are further restrictions that go as far as prohibiting the use of drones even over private residential areas because they are considered invasion of privacy or even "stalking."
These rules sometimes make getting the approvals to use these devices into an obstacle course. That's why the Association for Unmanned Vehicle Systems International (AUVSI) has welcomed the appointment of Pete Buttigieg as Secretary of Transportation, who was known to be supportive of new technologies during his time as mayor of South Bend, Indiana. 
"In fact, the city is a member of AUVSI and joined our ranks under Mayor Pete's leadership in 2018. Tools such as drones, autonomous vehicles, and unmanned maritime vessels are continually demonstrating their use, especially as we work through a global pandemic," said AUVSI in a press release.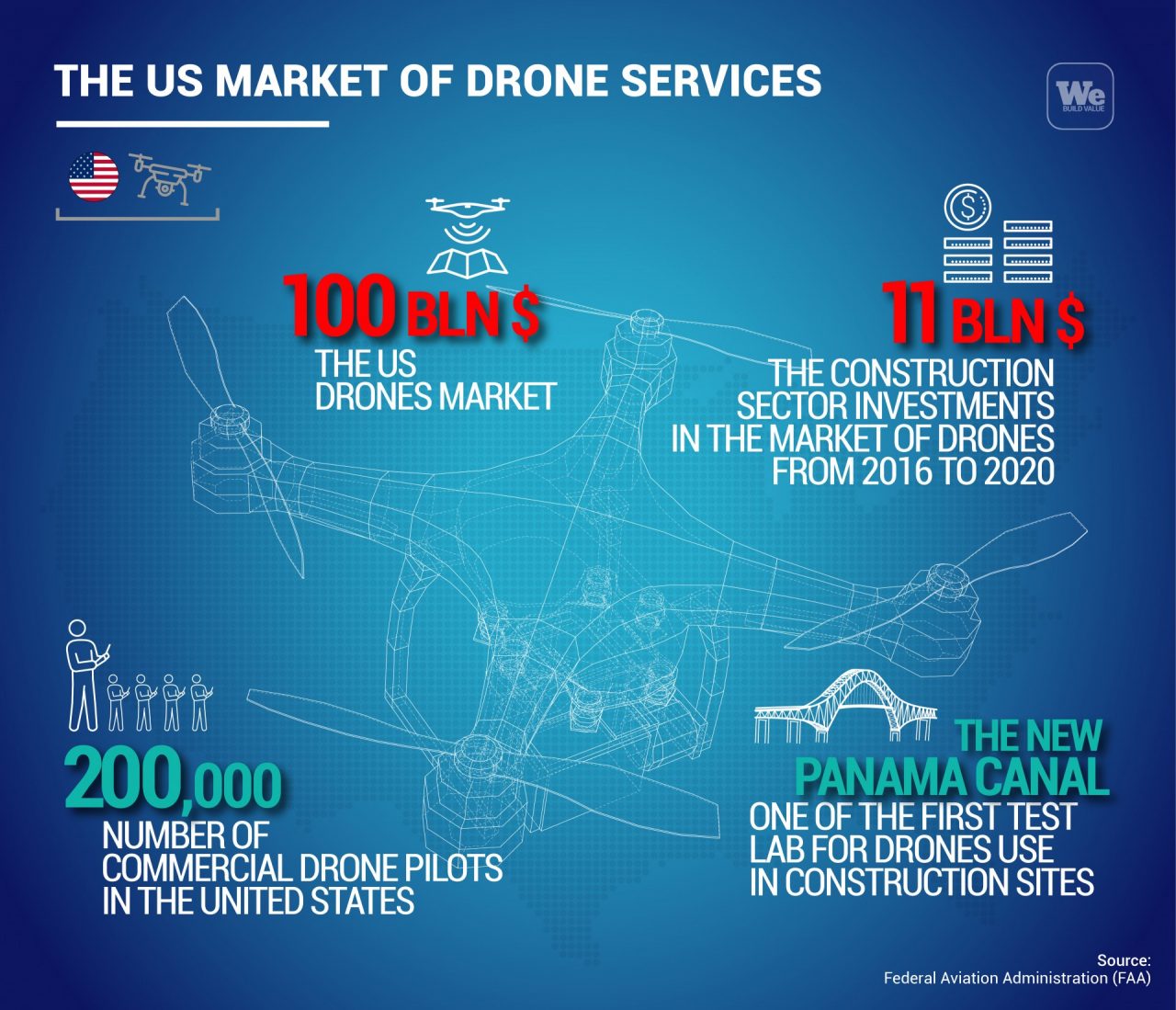 A helping hand in U.S. construction sites
UAVs are proving to be of utmost importance to U.S. construction sites, with a range of previously unimaginable benefits in logistics, progress monitoring, volumetric and quality analysis. Drones can inspect bridges, railroads, power lines, pipelines, cooling towers and cell towers. They can even handle tying the coverings, fly into mines and tunnels, provide data for inventory management, or internet connectivity to underserved or outage-affected areas. Drones, according to UAVSI, can help maintain and improve America's massive infrastructure, which includes over 160,000 bridges, 140,000 miles (225,000 kilometres) of railroads, 4 million miles (6.4 million kilometers) of roads, 835,000 miles (1.3 million kilometres) of oil pipelines, 550,000 cell phone towers, 6,500 large active mines, 90,000 oil and gas wells, about 200,000 miles (321,800 kms) of high-voltage power lines and 5.5 million miles (8.8 million kms) of residential power lines. The old saying that "a picture is worth a thousand words" has never been more accurate than when applied to drones.