After the promises comes the follow-through. President Joe Biden has allocated $2 trillion (€1.3 trillion) to help the U.S. recover from the Covid-19 crisis and to modernise American infrastructure, and has revealed the details of his administration's plan. It provides an urgent response for projects and industries in need of revival, with investments to be diverted to where they are most needed.
In recent days, the Biden Administration laid out the specifics of the American Jobs Plan, one of the largest economic stimulus packages now underway, making sector-by-sector statements on what strategic infrastructures will be part of Biden's plan. The project looks to upgrade and modernise older, large-scale works while simultaneously pushing for innovation, particularly in the area of water resource management.
With parallels to the New Deal, the plan is expected not only to create jobs and get the economy back on track, but to shake up the American production model.
Sustainable mobility: the road to getting the nation's motor running
Whether they opt for trains, planes or automobiles, people in America stay on the move. The current challenge is how to keep up that momentum in a more innovative and less polluting way. Sustainable mobility is a core component of the American Jobs Plan, where one of the central aims is to create new railway lines, beginning with high-speed routes.
On the whole, the plan envisages $621 billion (€509 billion) in transport infrastructure investment. Among the packages recently announced by the Biden administration, this is one of the most substantial.
The breakdown: $115 billion (€94 billion) will be invested in bridges, highways, roads, and main streets. This includes upgrades to 20,000 miles (32,187 kilometres) of highways and roads, the ten most economically significant bridges in the country, and some 10,000 smaller bridges.
Another $85 billion (€69.7 billion) will be invested in sustainable mobility, specifically trains and metros, to which another $80 billion (€65 billion) will be added toward expanding Amtrak lines and on the repair backlog of the national railway company. The rest of the spending will focus on expansion and updates of airports and ports.
To this already considerable package, an additional $174 billion, or €142 billion (about 28% of the total) will be added, allocated to facilitating a more prosperous electric vehicle market and thereby reducing harmful emissions into the environment.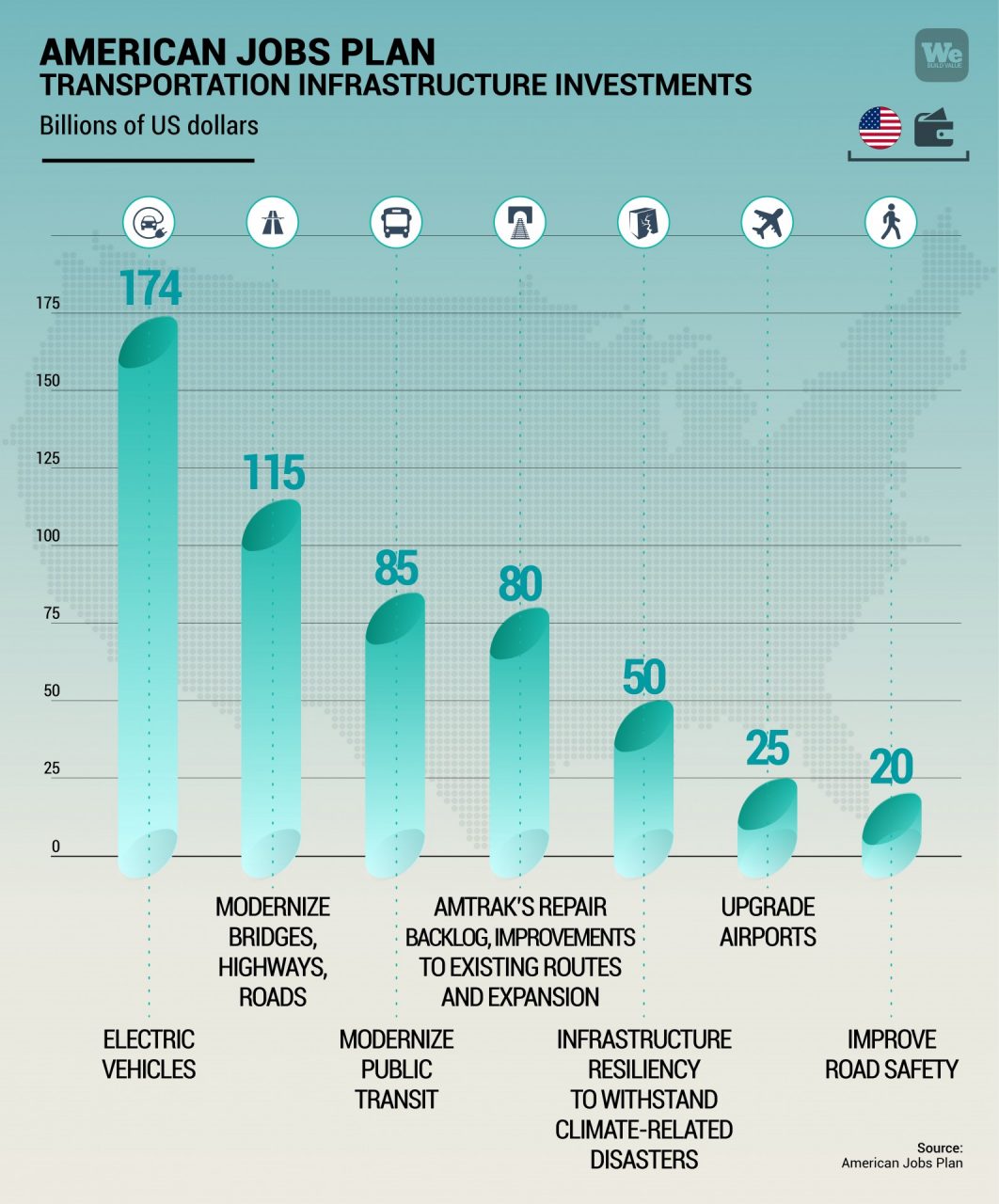 How quality of life will change: from school buildings to water infrastructures
Well-being as a key component quality of life measures is becoming a central tenet of Joe Biden's America. It's not just wealth production that's key, then, but also welfare –understood as improving conditions and essential services like schooling, health, public buildings and water infrastructure. These are all issues that significantly impact the construction sector, which is being called upon to intervene promptly and to modernise an enormous building heritage.
In all, $650 billion (€533 billion) will be spent on "quality of life" measures for Americans. Specifically, $213 billion (€174 billion) will be earmarked for building or modernising over two million affordable homes and commercial buildings. $100 billion (€82 billion) will be spent on public schools, and a further $65 billion (€53 billion) will be allocated to broadband deployment across the country. (The broadband investment was initially proposed as $100 billion, but was cut back to garner Republican support for the broader plan).
A separate segment worth $111 billion (€91 billion) concerns water infrastructure. Many states have experienced serious problems for years, from droughts and floods to waterway pollution. The Biden plan aims to tackle these issues by intervening in infrastructure. The investment will be distributed across water treatment plants, water pipe network modernisation, and wastewater treatment plant interventions.
Research and development in the industry
Infrastructure isn't the plan's only focus. It also aims to support the development of large American manufacturing industries, particularly by supporting research and development processes.
To this end, $300 billion (€246 billion) will be allocated to the design of new technologies and production models for industrial plants and manufacturers to adopt. A portion of these funds will be used specifically to facilitate the diffusion of clean energy, reducing harmful emissions into the environment.
"We've fallen back," Biden said of U.S. investment in research and technology. "The rest of the world is closing in and closing in fast. We can't allow this to continue."
American Jobs Plan: Republicans' proposal
Discussion of the infrastructure plan is open in the Senate, and the Republican Party also wants to do its part. The awareness of the strategic value of infrastructure for the nation's revival was already clear during U.S. President Donald Trump's administration. Today, it has transformed into a debate on how to best channel the resources in question.
The Republican party's proposal, presented in the Senate a few days ago, outlines an investment of nearly $1 trillion (€820 billion), where the lion's share would go to traditional works. Roads, bridges, and major projects would receive about $506 billion (€415 billion), more than half of the proposed total, while the Republicans would propose $98 billion (€80 billion) for public transport and $72 billion (€59 billion) for water infrastructure.
On opposite sides of the political aisle, then, an expanded coalition is emerging, determined to make infrastructure revitalisation the springboard for a new season of American development.