New York City's open-air amusement park is gearing up for another ride on the entertainment merry-go-round. Coney Island, a city with 50,000 residents known around the world as the beloved beach of New Yorkers, launched an ambitious plan in 2017 to build 14,000 square meters of new leisure-time attractions adjacent to the historic "Wonder Wheel" ferris wheel that inspired Woody Allen's latest film.
The New York City Economic Development Corporation (NYCEDC), the city's re-development agency, and the NYC Department of Parks and Recreation sent out a call for proposals in February 2017 with a very clear goal in mind.
«Coney Island just keeps getting better», James Patchett, president and chief executive of the NYCEDC, said in a statement. «The de Blasio Administration is working to grow jobs in the amusement district, building affordable housing and investing in critical infrastructure. It's all part of our effort to improve quality of life and expand opportunities for Coney Island residents while preserving the unique culture of this historic destination».
The plan, which aims to have these new infrastructure facilities in place by the end of 2018, is one of a series of initiatives taken by the city and the state governments in recent years. The goal: to relaunch Coney Island, with its famous panoramic ferris wheel and its Luna Park that have inspired generations of artists. This tiny strip of land in southern Brooklyn a stone's throw from John F. Kennedy International Airport is a New York City icon that seems destined to become an international model of urban redevelopment over the next few years.
New Projects in Coney Island: A new sewer system and road works
Last summer, work started on modernizing a large part of the area's sewer system. This $51 million project is being carried out by the Triumph Construction Corp, which will build new sewers and a new water main and a series of road works to repair a few of the neighborhood's main arteries.
As well as improving routine water management and re-doing the area's busiest streets, the NYCEDC aims to reduce the risk of flooding to a minimum, which always threatens this peninsula surrounded by water.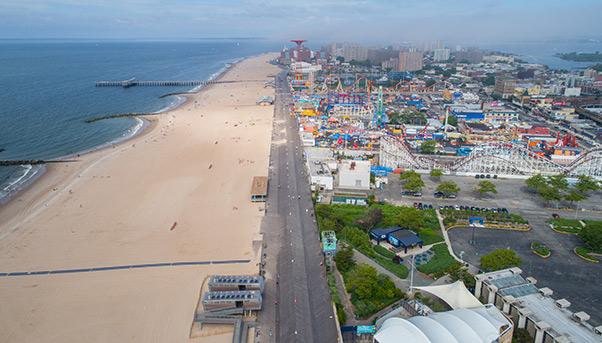 Real estate development
Coney Island has also attracted a large amount of real estate development in recent years. In 2014 Mayor Bill de Blasio approved a $180 million investment to modernize the neighborhood's infrastructure and build new places to live. Thanks to these funds, among the projects completed is the 5,000-seat Coney Island Amphitheater, inaugurated in July 2016 and re-baptized the Ford Amphitheater, which has become one of the area's most important cultural attractions.
Much has been done in the residential sector as well. A key role in this development plan was played by the real estate fund iStar, which partnered with non-profit group Coney Island USA in a project calling for the construction of a nine-story residential facility in which a portion of the units are set aside for homeless war veterans. The development includes commercial real estate including stores and restaurants that will be built in the coming months.
Old subway stations get a facelift and revamp
This urban renewal has gone hand in hand with transport infrastructure improvements. That's why the N Line and the Culver Line (where the F and G subway lines pass) were closed until last May for several months. The stations serving these lines, which connect Manhattan to Coney Island, were badly outdated (some were built all the way back in 1910) and had never been renovated.
The work took a few months but service returned to normal in May with the reopening of modernized stations equipped with improved lighting, access for the handicapped and advanced communications systems. The improvements are part of a massive plan being run by the Metropolitan Transportation Authority that has brought benefits to the entire area, including Coney Island, New York City's beach that Mayor de Blasio wants to bring back to its past glory.