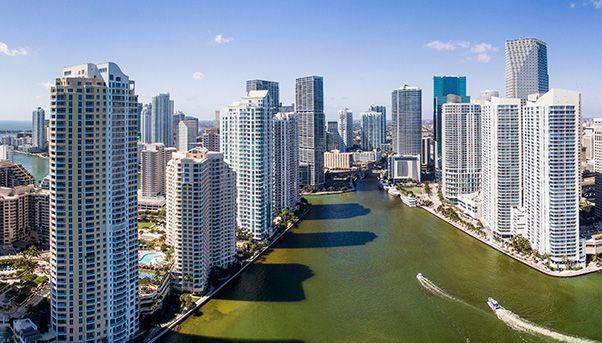 With memories still fresh of Miami being lashed by Hurricane Irma, when streets were transformed into rivers, the city is asking itself how it can be better protected from violent late summer storms as well as modernize its infrastructure networks, starting from transportation. Achieving both of these goals is crucial to supporting the city's role as a leading tourist destination and a key logistical and business hub serving the southern United States.
The economic indicators for Miami-Dade county are comforting: unemployment has fallen from 13% in 2011 to 4.5%, and 117,000 new jobs have been created in the past four years. These numbers confirm the city's vitality, and the tourist inflows underline its status as a global attraction. Fifteen million tourists visit each year, spending an average of $23 billion and contributing to maintaining 130,000 jobs.
From the nightclubs of Miami Beach to the villas with private docks nestled in the green of the canals to the skyscrapers of the financial center, Miami has many faces and yet is still recognizable the world over. To defend it – but above all to improve it – the city authorities have undertaken a series of projects to fight the most immediate threat: nature.
Miami Beach besieged by the sea
Miami-Dade County Mayor Carlos A. Giménez said in a January 30 speech that the Water and Sewer Department (WASD) has recently completed a four-year $1.2 billion investment plan for new infrastructure. Currently 1,019 projects have already been completed, and 876 are still ongoing.
The entire county of Miami is at risk from catastrophic weather events, but -- as demonstrated by Hurricane Irma – some areas are more vulnerable than others.
On September 20, while the city took stock of the hurricane damage, Miami Beach Mayor Philip Levine wrote an open letter pointing out the importance of infrastructure investment to deal with environmental threats.
«As the mayor of a coastal city, I have seen what good government can do to identify and invest in innovative solutions to address environmental and infrastructural deficiencies», he wrote. «Through strategic and decisive action, Miami Beach is implementing a plan to make the city more resilient against sea-level rise. However, let's be clear — most cities cannot afford to do it on their own, nor should they. To better safeguard our environment, real estate market, and tourism-based economy, state leaders must do their part».
The mayor's call for help arrived after the city government, in the early months of 2017, had already earmarked $100 million for sea flooding protection measures in Miami Beach. The measures include safeguarding certain streets, installation of water pumps, and better sewer upkeep. But even this large investment is not enough. The city government calculates that it still must spend between $400-500 million more to prevent Miami's coast from being vulnerable again to damage from severe weather.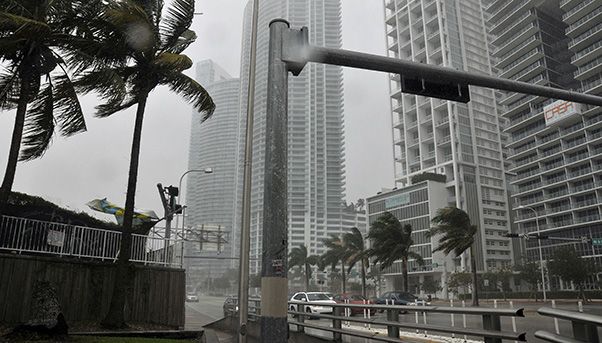 Miami looking for more efficient transport
Polluted, congested, expensive. This is the snapshot of getting around in Miami that emerges from the analysis of its transport network. According to global traffic specialist research firm INRIX, Miami is the fifth-most traffic-congested city in the United States, and the tenth in the world, with each resident spending an average of 65 hours trapped in traffic jams each year. And it is not by chance that the National Highway Traffic Safety Administration says that the stretch of the Interstate 95 that passes through Florida has the highest traffic fatality rate in the country.
Traffic congestion has a very high cost for citizens, reaching $3.6 billion each year according to INRIX. In order to solve this problem, city leaders have started work on a series of projects to increase transport safety and reduce travel time. The first, and probably the most important, is the Brightline, a new higher-speed rail link that will connect Orlando and Miami, reducing the travel time from about four hours to two and a half. Along with this is public transport plan S.M.A.R.T. (Strategic Miami Area Rapid Transit), comprised of six commuter corridors and 82 miles of track that will connect different areas of the city.
Plans to renew the city's transport system have not left out people who don't use cars, buses or trains but prefer to get around on foot or by bike. Taking its cue from New York City's celebrated High Line, Miami will soon have its own circuit reserved for walkers and bikers. Called the Underline, the 10 miles of trails running underneath the city's elevated public rail transit line will be transformed into a green park in the heart of the city center.
All of this activity reflects the strategic planning by leadership of the state of Florida, which is the fourth-largest spender in the U.S. in terms of infrastructure. The state is forecasting an investment this year of $83.5 billion (of which $10.8 billion for transport) behind Texas, California and New York.
PortMiami, a magnet for international trade
For a large seaside city like Miami, its port has played and continues to play a role of strategic importance for both tourism and trade. According to a study by Miami's port PortMiami, this crucial infrastructure has an economic impact on the city worth $41.4 billion annually, and contributes directly or indirectly to the creation of 324,000 jobs.
This impact stems from the port's historically recognized and decisive role in the city's development, due to its geographic proximity to the Panama Canal. And it is precisely this proximity, along with the expansion of the Panama Canal (completed by an international consortium including Salini Impregilo) that convinced PortMiami to invest $1 billion in updating the port to accommodate Post-Panamax, or the super-sized ships that now can now navigate the expanded canal. The investment transformed the port into the largest logistical hub south of Virginia, connected to an efficient intermodal (rail-ship) freight transport exchange that enables merchandise unloaded in Miami to reach 70% of U.S. consumers within four days.
This achievement by PortMiami was greeted with enthusiasm by Carlos A. Giménez, who said: «The completion of the Deep Dredge and the Intermodal On-dock Rail project are a major milestone not only for Miami-Dade County and PortMiami, but for all of Florida».