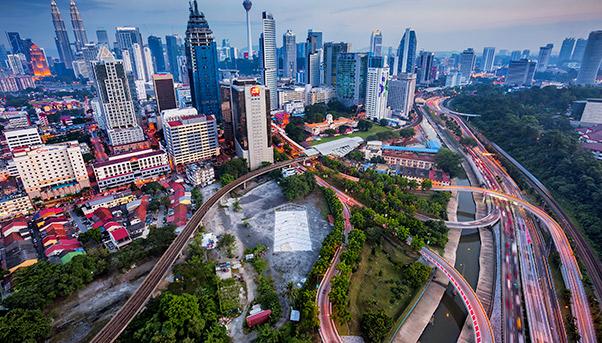 Consisting of two regions separated by the South China Sea, Malaysia is a multi-ethnic, multi-religious federation of 13 states, coupled with three federal territories. The country boasts one of Southeast Asia's most vibrant economies, the fruit of decades of industrial growth and political stability.
Malaysia has experienced tremendous economic success in the last three decades, transforming itself from a producer of raw materials in the 1970s into an emerging, multi-sector economy with an expected growth rate of 4.7% for 2015. It is expected to maintain this healthy pace in 2016 with a rate of 5.0%. This has led to a rise in per-capita income, resulting in a rapid increase in economic activity and an exponential increase in the demand for more infrastructure.
Malaysia's investment in infrastructure rose from $1.4 billion to $3.8 billion between 2005 and 2013. It is expected to grow by about 9% a year between 2013 and 2025, a rate consistent with those of other countries in the region. All of this is thanks to its effort to become a developed nation by 2020.
In 2014, the overall contribution from the construction sector, due to infrastructure development, was estimated to be $29 billion, of which some $24 billion from the private sector and $5 billion from the government.
More than 71% of Malaysia's population lives in urban areas. This rapid urbanisation poses enormous challenges for a country trying to improve the well-being of its people.
The capital Kuala Lumpur is the powerhouse of the economy. Serving a population of 7.5 million or about a quarter of the entire population, it accounts for 37% of the gross domestic product and generates approximately a third of all jobs.
Nobel-prize winning author V.S. Naipaul might have once described Kuala Lumpur as a soulless city, but today it has proven him wrong. Due to its economic importance, Kuala Lumpur faces serious urban mobility challenges, relying heavily on road transportation. Within the transport sector, road use is the main consumer of energy. Its share of total energy consumption by the transport sector in 2008 was the highest at 78.6%, followed by air transport (12.9%), maritime transport (8.1%) and rail transport (0.4%).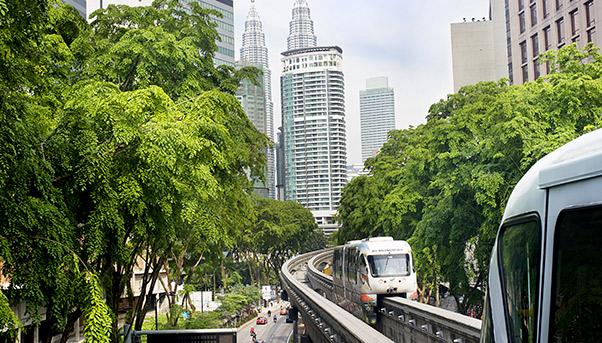 Rapid population growth coupled with an economic boom has increased the demand for transport services in Malaysia. As a developing country, it is constantly improving its infrastructure, especially with the expansion of the road network in and around the Klang Valley.
While there may be downsides to using public transportation in these areas, its residents are doubtlessly well connected with highways that afford easy commutes. The development of Kuala Lumpur Sentral, the largest railway station in Malaysia, provides a modern transportation hub integrating all major rail transport networks, including the Express Rail Link to the Kuala Lumpur International Airport and Putrajaya, the government's new administrative centre.
It is an exciting time for Malaysia as the country's other cities are expected to develop public transport networks of their own. Several light rail lines in Klang Valley and a monorail line in its city center will complement the Keretapi Tanah Melayu commuter line. The new Mass Rapid Transit connecting Sungai Buloh and Kajang is under construction and expected to be completed in July 2017.
Residents of Sunway and Subang Jaya are welcoming the opening of a Bus Rapid Transit, which is an elevated bus system that cuts through the massive traffic and connects residents throughout Sunway and Subang Jaya. This system has seen widespread use in Brazil, China, India and the United States.
Malaysia's Kuala Lumpur International Airport is one of the busiest hubs in Southeast Asia, receiving approximately 27 million travellers on a yearly basis.
Rooftops and parking lots at airports are some of the facilities that are not multi-purpose, but at this airport, these idle spaces have been transformed into clean-energy generation facilities - namely solar power. The airport operator, Malaysia Airports Holdings, has launched Malaysia's first airport solar power system with a total investment of $48 million with a leading solar technology manufacturer and provider of solar energy services. The 19-megawatt installation is the largest in Malaysia.
Enrique Peñalosa, mayor of Bogotà, the capital of Colombia, once said that a developed country is not a place where the poor have cars but where the rich use public transport. This will most likely be the next destination for Malaysia in its drive to become a developed nation by 2020.