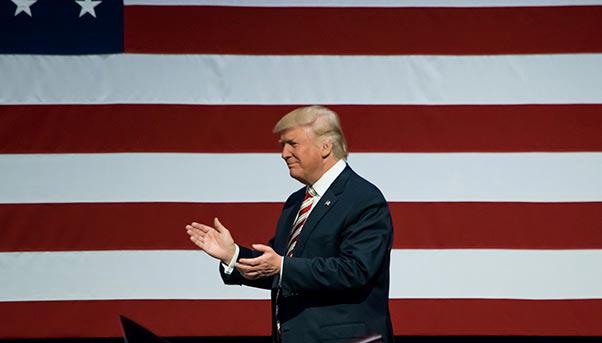 «We are going to fix our inner cities. And rebuild our highways, bridges, tunnels, airports, schools, hospitals. We are going to rebuild our infrastructure which will become, by the way, second to none and we will put millions of people to work as we rebuild it».
Rebuilding America by starting with infrastructure. Create jobs in roads, highways, bridges and tunnels. Donald Trump, the real estate tycoon who beat the odds to win the U.S. president election, spoke of this urgency in his victory speech. In New York, Trump reiterated the priorities of his policy programme, including investing in infrastructure – one of his war horses during the election campaign.
Rebuilding the country's infrastructure, making it more modern and up to American expectations was part of the "Make American Great Again" slogan of the campaign of the Republican Party's candidate to become the 45th president of the United States.
Trump had dismissed as too little the $500 billion investment pledge made by his rival from the Democratic Party, Hillary Clinton. He instead doubled the amount and, in more than one occasion, spoke of modernizing the country's infrastructure network with an investment of $1 trillion. «We need to build the next generation of roads, bridges, railways, tunnels, ports and airports,» he said in a speech to present his policy programme in Detroit.
And the president-elect is ready to keep his promise: $1 trillion in the next ten years without weighing excessively on federal funds but rather recruiting institutional and private investors as well as creating a fund in which individual investors can place their money. Trump has said the fund would be a great investment for citizens who would help create lots of jobs. He has also said other funding would be easy to raise because interest rates were so slow. Bonds could also be issued.
The president-elect's intentions are detailed in his policy programme, which has a section dedicated to infrastructure. «Transform America's crumbling infrastructure into a golden opportunity for accelerated economic growth and more rapid productivity gains with a deficit-neutral plan targeting substantial new infrastructure investments,» is one of the points of the programme.
In order to do this, Trump's "America's Infrastructure First" plan recognizes infrastructure as of strategic importance, giving priority to investments in transport, clean water, a modern and reliable electricity grid, telecommunications and security infrastructure.
It is an initiative that would create «thousands of new jobs in construction, steel manufacturing, and other sectors to build the transportation, water, telecommunications and energy infrastructure needed to enable new economic development in the U.S., all of which will generate new tax revenues», reads another point in programme as detailed on Trump's campaign website.
And to emphasize the grandeur of his plan, Trump refers to former President Dwight Eisenhower, who championed the creation of the interstate highways system. «Implement a bold, visionary plan for a cost-effective system of roads, bridges, tunnels, airports, railroads, ports and waterways, and pipelines in the proud tradition of President Dwight D. Eisenhower.»
But there is a huge infrastructure apparatus that needs tending to in order bring it back to shine like it once did. Each year, according to the programme, traffic delays cost the U.S. economy more than $50 billion a year. More than 60,000 bridges are considered "structurally deficient". Most major roads are rated as "less than good condition".
So Trump sees it as the time to act. «Infrastructure investment strengthens our economic platform, makes America more competitive, creates millions of jobs, increases wages for American workers, and reduces the costs of goods and services for American consumers.»