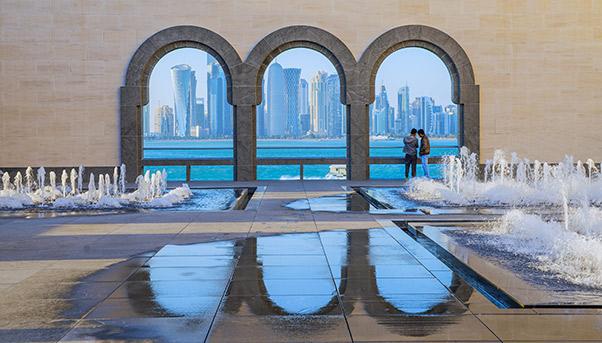 In its aim to improve the quality of life of its citizens, Qatar is having a series of tunnels bored underneath Doha, the capital and biggest city of this sovereign state in the Persian Gulf.
Located deep below the city's gleaming skyline, the tunnels are for the three lines that will make up Doha Metro. The public transportation system – the first of its kind in Doha - will serve the city, the suburbs and, at a later stage, connect to a light rail network that will serve Lusail, a city being planned on the coast north of Doha.
Having a total of 21 tunnel-boring machines (TBMs) work simultaneously at various depths underground, the project has set a world record for the highest number of TBMs in operation at once.
Reducing Traffic, Air Pollution
With its three lines expected to cover about 80 kilometres and dotted with 37 stations, Doha Metro will eliminate the need for a car to get around most parts of the city, helping reduce traffic and air pollution.
Stretching in different directions from the Msheireb station in the heart of the city, the lines will connect everything from the Qatar National Museum to the Qatar National Library to the Qatar University to the Hamad International Airport.
"(It) will, quite simply, revolutionise the way you move around Doha and its suburbs," reads a fact sheet by Qatar Rail, which commissioned the project. "Most locations within the capital will be conveniently within reach without the hassles of traffic. For example, a trip from Msheireb to Qatar University currently takes 28 minutes by car. With the Doha Metro, it will be 10 minutes quicker with 1.9 kg of greenhouse has saved. So, in brief, what will the Doha Metro offer you? Convenience, reliability, and sustainable transport," it adds.
The system is to go into service in 2020 and, in a year's time, have the capacity to provide 600,000 passenger trips per day.
World Class Infrastructure
It falls under the Qatar National Vision 2030, a blueprint drafted by the country to diversify its economy and become less reliant on the income earned from the sale of its oil and gas deposits.
"Qatar must invest… in world class infrastructure to create a dynamic and more diversified economy," says Tamim bin Hamad Al-Thani, the Emir of Qatar, in a 2008 document detailing the vision.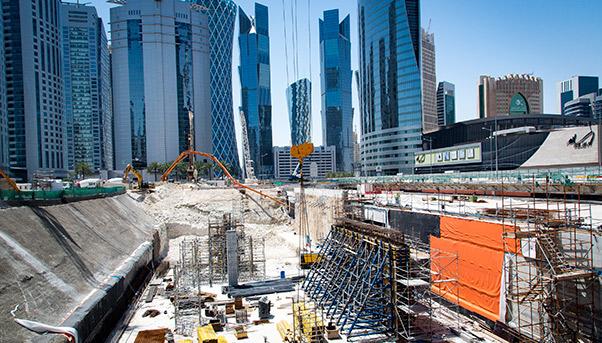 The line on which Salini Impregilo, Italy's largest infrastructure group, and its partners in the ISG joint-venture are working is the northern section of what
will be called the Red Line. They are using four TBMs to drill twin parallel tunnels for a total of about 13.4 kilometres some 20 metres below ground. The ISG JV will also be building seven stations along the line, starting from the Msheireb station. For the stations, they are using the cut-and-cover method. Two of them require diaphragms as provisional works, while the others need a combination of piles, soil nailing and shotcrete. Once completed, the line will run from al Bidda through the West Bay area before reaching the Doha Golf Club. In March 2016, the ISG JV was the first team to finish excavation work on its assigned section of a line.
Respecting Workers' Rights
Working with the philanthropic Qatar Foundation in full respect of Qatar's labor laws, Salini Impregilo and its partners, are making good on a pledge to respect workers' rights. In 2014, Salini Impregilo signed an international framework agreement with the Building and Wood Worker's International to uphold labor standards and workers' rights.
"This Italian construction multinational company is important worldwide and this new international framework agreement will contribute to promote labour standards and workers' rights all over the world," BWI General Secretary Ambet Yuson said in a statement at the time. Officially known as the Main Logistic and Production Area, the ISG Migrant Workers Camp in Doha set up by Salini Impregilo and its partners houses about 2,500 workers from 16 nationalities. It has 28 two-storey buildings with furnished bedrooms with basic facilities like toilets and showers. The kitchen facility offers four menus in two mess halls and is able to serve up to a combined 1,000 dinners at one sitting. Other facilities include a mini market, games room, Internet parlour, four television halls to satisfy viewers of different nationalities, a gym with a dedicated trainer, basketball and handball courts, a football pitch and a cricket area. There is also a mosque for 350 worshippers.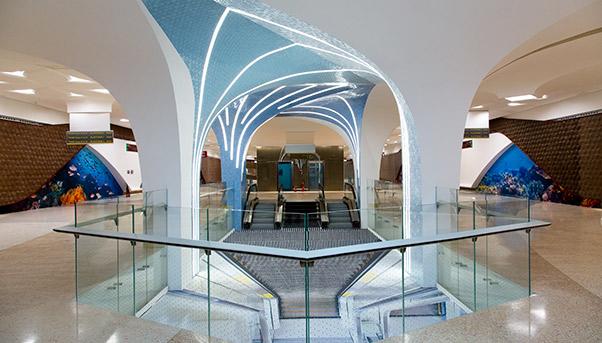 Open 24 hours is a health clinic with doctor and nurses as well as a call centre where workers can register complaints, notify unsafe conditions and report accidents.
A training centre approved by the Chartered Institute of Environmental Health in the United Kingdom makes sure workers are aware of health and safety procedures.
Financial services like money transfers allow workers to send their earnings to their families in their home countries.
Care is also displayed at the construction site. Water is readily available. There are also air-conditioned resting rooms where workers take regular breaks from the heat.
The dedicated transport fleet ferries workers not only to the construction site but also to Doha or Al Khor on their days off.
The camp has received numerous visitors since it opened, including officials from Shell Global, Qatar Petroleum and the International Labour Organization (ILO), a United Nations agency.
"This is a facility of which you should be rightly proud," a member of a visiting delegation from the Qatar Foundation.