Qatar is forging ahead with its massive public works programme as it prepares for the FIFA 2022 World Cup and beyond.
With more than 1,000 planned and unawarded projects in the pipeline worth more than $150 billion in investments, the Gulf state made rich by its enormous gas reserves is one of the largest construction markets in the Middle East.
Of the total, construction is the single biggest sector at nearly $80 billion, followed by transport at more than $50 billion, according to a recently published report by MEED Projects on behalf of DMG Events, organiser of an annual trade fair in Doha called Big 5 Construct Qatar.
«The main focus of the government in recent years has been on delivering the necessary sporting, transport, and tourist infrastructure in time for the FIFA 2022 World Cup,» it read. «The state is spending tens of billions of dollars to ensure the peninsula is ready in time for the massive influx of players, officials and supporters during the event».
Eight Stadia for the World Cup
A big part of its preparations for the World Cup has been the construction of eight stadia, such as Al Bayt in Al Khor, located north of the capital, Doha. Built by Salini Impregilo and its joint venture partners, it will be the second biggest stadium, able to seat up to 60,000 spectators.
«At the same time, Qatar is intent on positioning itself as a major cultural destination through considerable investment in world-class museums and outdoor public spaces», the report added. «In parallel, there has been a requisite investment in new hotel infrastructure and an expansion of the Hamad International Airport in order to accommodate the increase in visitors to the state».
Like other Gulf states, Qatar is investing heavily to reduce its economy's reliance on fossil fuels under a programme called Qatar National Vision 2030. A lot of money is going into infrastructure because it provides the base on which other sectors can grow.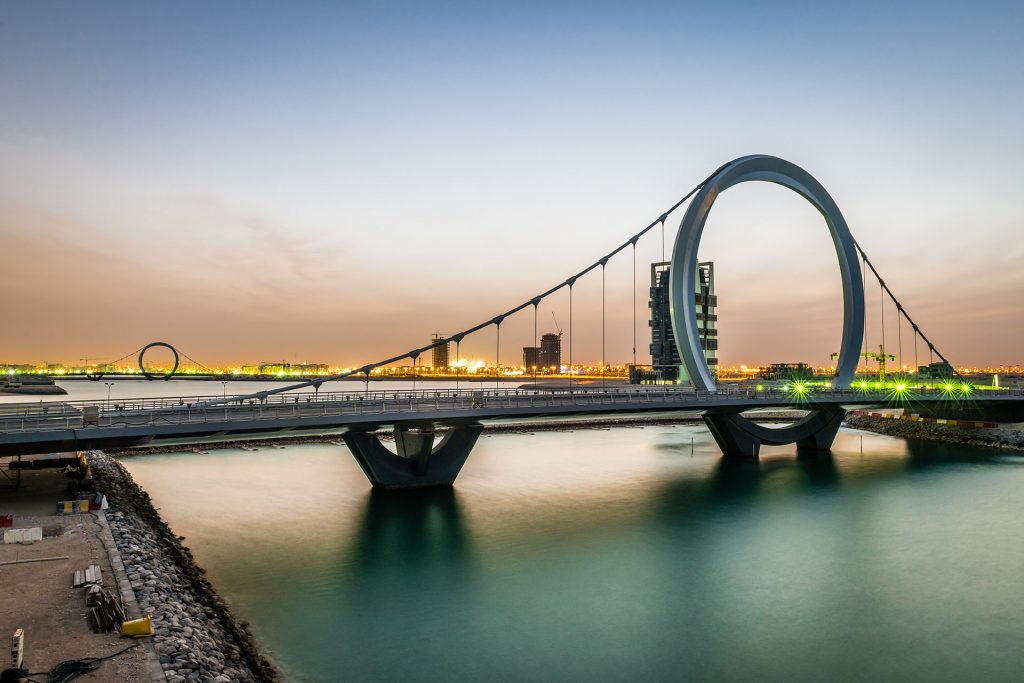 Speaking to the Qatar Tribune newspaper, Minister of Commerce and Industry Ali bin Ahmed al Kuwari said the state's economy was in good shape. In 2018, its gross domestic product grew to $225 billion, an annual real GDP growth rate at constant prices of 1.4%. He said the economy was expected to grow by 2.7% in 2019 and 3% in 2020, partly due to foreign direct investment.
In 2018, Qatar awarded more than $10 billion worth of contracts in all sectors, making it the third largest market in the Gulf Cooperation Council (GCC) after Saudi Arabia and the United Arab Emirates. More than half of the amount went to construction and civil infrastructure sectors, ranging from roadwork to real estate to a naval base to a cancer research centre.
Other significant projects include an expansion of the Doha metro, the completion of an expressway and the development of the Lusail real estate project on the coast north of Doha.
Doha Metro
Doha Metro has been offering partial service along its new Red Line. Salini Impregilo and its joint-venture partners did the north section of the line, which stretches for about 13.4 kilometres.
Qatar has begun the second phase of an expansion of Hamad International Airport to accommodate a capacity of 53 million passengers annually at the airport by 2022. It will also increase cargo capacity to three million tonnes a year. In 2018, the airport served 34.5 million passengers and handled a total of 2.2 million tonnes of cargo. There are also plans for the construction of a so-called Airport City, which will offer a free-trade zone, an office and business complex, hotels, among other facilities.