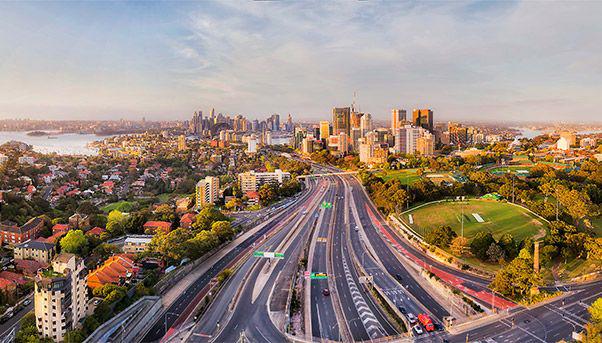 For decades, Australia has been a global leader in using innovative ways to plan and finance the construction of roads, railways and other infrastructure needed to support its growing economy.
Some of the initiatives it has deployed, such as asset recycling and public-private partnerships, have drawn the interest of other countries like the United States because they managed to increase the involvement of private investors in the development of infrastructure in sectors such as energy and transport.
Second to Norway
The amount of money the country has been investing in infrastructure – let alone the planning behind it - has also merited attention: it has been growing by more than 30% a year.
Aggregate investment in projects greater than AUD$50 million has climbed from AUD$26 billion in 2016 to an estimated AUD$77 billion in 2020, according to "Australia's Infrastructure Innovation Imperative", a new study by McKinsey & Company, a consultancy.
The level of activity has been such that infrastructure has come to contribute 10% to the economy every year, employing 7% of the total workforce. In 2017, for example, Australia spent $906 per capita on transport infrastructure, making it second only to Norway among member countries of the Organisation for Economic Co-operation and Development (OECD).
The latest projects that Australia has seen come to fruition have included Sydney Metro Northwest, which is part of the biggest public transport initiative in the country. The hallmark of the metro is a four-kilometre viaduct and a 270-metre, curved cable-stayed railway bridge - the biggest of its kind in the country – built by Salini Impregilo.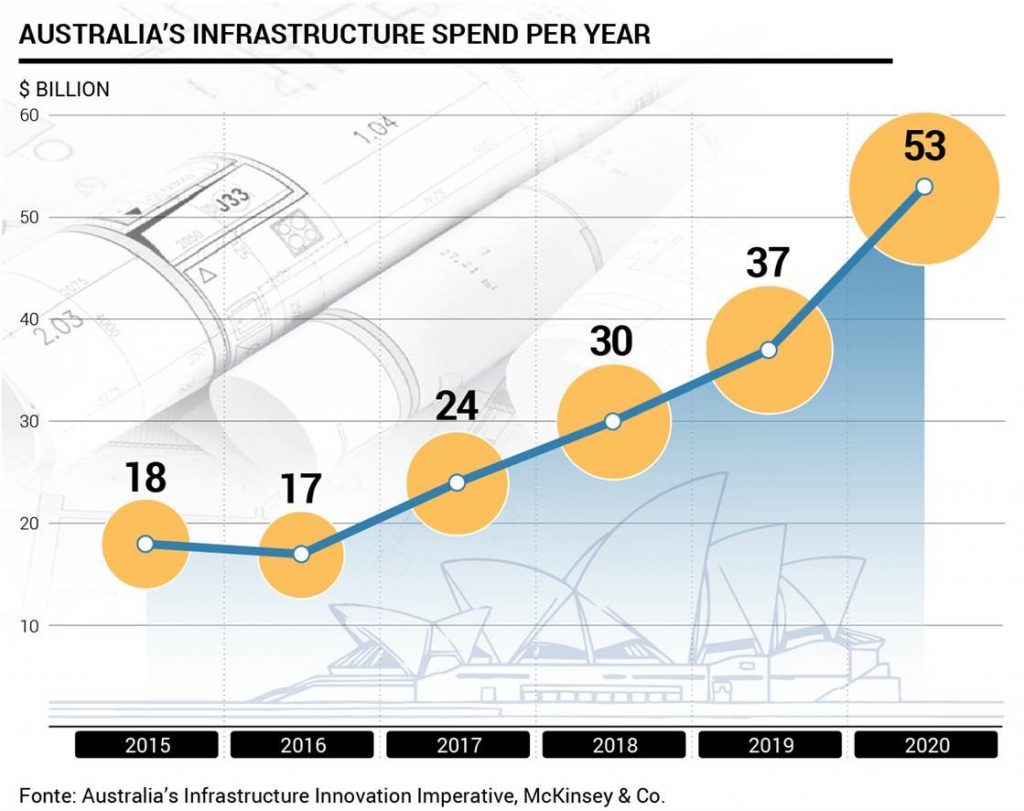 Australia's development: new challenges
But McKinsey's study says the country needs to find new ways to manage infrastructure development given the challenges posed by a growing population, urbanisation and technological disruption.
With its population projected to grow from 24.6 million in 2018 to 40.6 million by 2050, the country faces a substantial infrastructure gap. Citing a previous study by the McKinsey Global Institute, it says the shortfall between current infrastructure investment levels and the needs of its burgeoning population is expected to be 1% of gross domestic product.
But there are challenges to breaching this gap. There is disruption caused by new technology, such as the arrival of electric vehicles and the infrastructure needed to support them. Then there is stagnating productivity on construction sites and a growing skills shortage for the kind of work needed to be done on these sites. «In the face of such emerging disruptions, one thing is clear: the strengths that have propelled Australia to a leadership position in infrastructure planning, design, and delivery will not be sufficient to underpin future success».
Room for innovation
McKinsey's study cites six areas where there is room for further innovation.
It says Australia must future proof the assets it plans to build by prioritising projects according to the trends that are expected to develop in the coming years. These trends include electric and autonomous vehicles, commuting patterns as more people work away from the office, and increased regulation to safeguard against the risks of climate change.
The country should streamline the process to select projects and get them ready for construction quicker.
It could be more innovative in project design stage to avoid cost overruns and delays.
Then there is the need to lighten regulation, improve public collaboration with private contractors and rework the tender process so as to be able to bundle contracts together to take advantage of economies of scale.
A fifth area is to attract more qualified workers to the sector and retaining them.
Lastly, McKinsey says Australia needs to enhance productivity by resorting to the latest in technology. It cites research that indicates that 47% of the work done in construction could be automated.
«Drawing inspiration from infrastructure innovation and best practices globally (as well as from other sectors) can help Australia's infrastructure sector achieve a step change in innovation— ensuring the next wave of infrastructure projects are successful in their outcomes», says the study.