Floods and droughts; water and air pollution. The consequences of climate change combined with a population boom are putting the quality of life in big cities at risk.
More than two out of three cities have experienced the negative effects of climate change, according to a recently published study by London-based CDP, a non-profit organisation that runs a project about climate risks. The study analyses the impact of the climate on 530 cities that are home to 517 million people.
Less than half of these cities have carried out a "vulnerability assessment" on climate risk, the report says, which usually leads to countermeasures such as maintenance and construction of strategic infrastructures. These measures can include sewer networks and waste water treatment plants; repairing water pipes for better management of drinking water; clean energy plants; sustainable mobility like trains and subways; and improved road networks. What they all have in common is that infrastructure becomes the essential tool to mitigate this risk and prevent climate shocks from damaging economies and hurting the quality of life.
«The scientific fact is that all cities are going to be affected in a severe way in the long term», Kyra Appleby, global director of cities, states and regions for CDP told the Reuters news agency. «So if they are not considering the long-term effects of climate change, they may not adequately be preparing their city for what the future will look like».
Infrastructure investment to protect from climate risk
The best way to minimise the negative impact of weather events and more generally of climate change is to build modern and efficient infrastructure. That is what the Organisation of Economic Co-operation and Development (OECD) says in its "Climate-resilient infrastructure" report, which analyses the measures needed to make global infrastructure more solid, especially within large cities. The study says «$6.3 trillion of investment in infrastructure is required annually on average between 2016 and 2030 to keep pace with development». Infrastructure investments can help reduce the consequences of climate change, it says. If they are not made, the consequences are already plain to see. For example, the study points to successive floods in 2011 in eastern China that damaged 28 railway lines, 21,900 roads, 49 airports, and left millions of homes without electricity. In 2015, falling water levels in the main reservoir in Brazil's Sao Paulo forced the city to ration water. In Africa, drought could reduce the economic value of the energy produced by hydroelectric plants by $83 billion, leading to higher prices.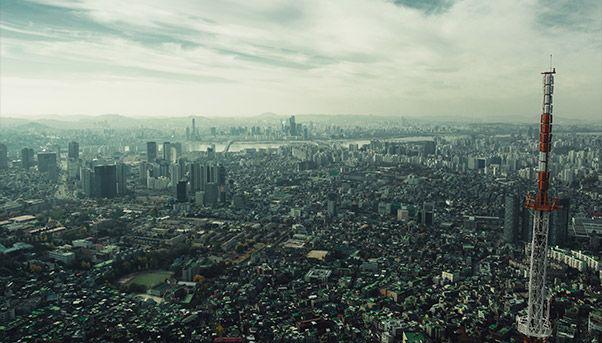 How megacities are reacting to climate change
Although the gap between what is being done and what needs to be done in terms of infrastructure modernisation is still wide, many cities are already taking steps. London, for example, is preparing for a possible drinking water crisis that could explode by 2050 by launching a long-term plan that includes ways to reduce demand by saving water, installing digital tools that monitor consumption and waste in the network, and repairs and modernisation of the pipeline, parts of which are very old.
Taiwan's capital Taipei faces a future of violent heat waves alternating with torrential rains. To cope, it is covering buildings and rooftops with green plans, and installing sidewalks and road coverings made of innovative materials capable of absorbing very large amounts of water.
In Japan, the state-owned Japan Railway Company that manages the country's cutting-edge high-speed rail network has started using an innovative mixture of steel that allows rails to withstand temperatures reaching up to 65 degrees Celsius (149 degrees Fahrenheit).
These sorts of steps are necessary. Nine out of ten megacities are already reporting problems related to climate change, says David Miller, the Director for North America of the C40 (the international group representing the 40 largest cities in the world).  
The peripheral areas of the big cities will be the most affected, and the impact will fall disproportionally on the weakest social groups. This is the reality that emerges from the CDP report, which points to examples like Hurricane Katrina in New Orleans which had devastating effects especially on the poorest neighborhoods.