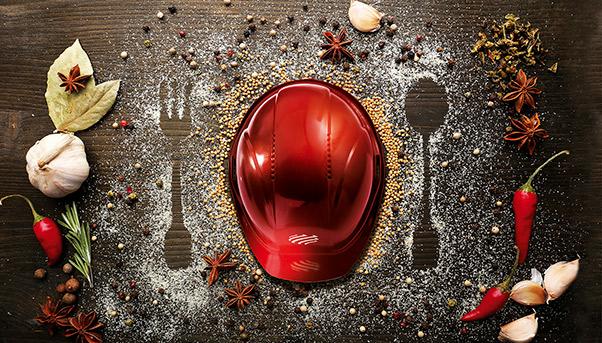 Trying ceviche or Papa a la Huancaìna in Peru, witnessing a coffee ceremony in Ethiopia, tasting a khinkali in Georgia or savouring the local specialty in Malaysia – and doing it, whenever possible, in the canteen of a construction site among colleagues.
It is a cultural and social experience before a culinary one, as would attest the late French anthropologist and philosopher Claude Lévi-Strauss, who theorized on the cultural role of food in society. It is a role that becomes even more important in a circumscribed place like the construction site of a major project where people of different nationalities work shoulder to shoulder and share customs and traditions.
This is what happens at Salini Impregilo's more than 120 constructions sites in the 50 or more countries where it is present with men and women of 80-odd nationalities. Like the GERD, the big dam on the Blue Nile in Ethiopia, to Lima, Peru where the Group is building a metro line. Thousands of men and women working, all from different backgrounds, cultures and religious faiths. Their food grammar, as defined by philosopher Roland Barthes, is varied and incredibly rich and the construction sites where they work makes room for the local cuisine in order to promote not only an enriching experience but also a cultural exchange among people.
Peru: Natural Ingredients and Imagination
One of the richest culinary cultures (491 dishes), an incredible wealth of natural ingredients (nearly 3,000 potato varieties) and a fervent imagination combined with a strong desire to experiment: all of this is Peru, the place where international cuisine is reaching its highest peaks and where some of the best chefs in the global gastronomic panorama come to meet. This is not a causal occurrence but the result of an old food culture that has deep roots.
Rubén Beltràn, the country manager for Salini Impregilo in Peru, knows something about this. «Peru is the ideal place for those who love food. Actually, in Lima, there are many gastronomical tours for tourists that last an entire week. There is a lot on offer and, as it also occurs in Italy, you eat well everywhere». «This is also the case at the construction site where Salini Impregilo organizes itself to offer to its workers a cuisine that is always varied and of high quality», he adds.
The Group is very present in the country. It has been involved in the construction of highways, the Mantaro hydroelectric dam and, today, a new metro line in Lima.
«When you work far from the city, maybe at 4,000 metres of altitude and 100 kilometres from the nearest inhabited area, everything is more difficult»,, he says. «When we built the highway, we organized the canteen inside a container. And the container followed the work. Most of the cooking – 80 to 90% - was always traditional».».
Even at the construction site Peruvian cooking is exalted. The first dish served is often an expression of the comida criolla: local dishes like Papa a la Huancaìna (sliced boiled potatoes covered with a sauce made of milk, oil, cheese and hot yellow peppers).
«In addition to this, on site, we also cook other traditional Peruvian dishes like ceviche (fresh fish prepared with lime and onions) and lomo saltado (a meat served with potatoes, onions and white rice). The cooking is usually abundant: first and second dishes with side orders. Whoever works on site eats a lot to keep up their strength».».
The same goes for the current site in the capital of Lima. Here, the logistics are easier but the organization is still handled with care.
«Even at the site of the metro, we have set up a canteen for the entire staff. It is managed by concession. We are talking of between 100 and 120 people who come to the canteen every day. Among them are Argentines, Ecuadoreans, Chileans, Colombians, Peruvians, Italians, Spanish. The kitchen is 50% traditional and 50% international, but the quality is always high», says Beltràn.
Once again the gastronomic offer is varied, ranging from chupe de camarones (very spicy prawn soup) to seco (meat, potatoes and white rice) to rocoto relleno (a pepper filled with meat, egg, olives and other ingredients – a popular dish in southern Peru). There are pleasures of the palate both inside and out of the canteen.
The Coffee Ceremony in Ethiopia
The coffee ceremony in Ethiopia is a tradition that involves everybody. Even at the GERD, where more than 7,000 people of 35 nationalities are building the biggest dam in Africa, the rite is carried out.
Not every day (the ceremony requires two to three hours) but on special occasions or celebrations, young Ethiopians in traditional dress share with technicians from other parts of the world this ancient tradition. It begins with the cleaning of the coffee beans and follows the entire process (from roasting to grinding) before ending in the final act: drinking.
The coffee ceremony is an occasional event, but at the construction site next to the waters of the Blue Nile the cultural exchange along the lines of food is an everyday affair. «Once a week we offer at the three canteens on site traditional Ethiopian dishes», says GERD Camp Manager Alessandro Bellafà. It begins with injera, flatbread made of teff flour. Then there is tads, veal cut in pieces and flavoured with spices or wat, a stew. «What distinguishes Ethiopian cuisine is the use of spices, many of which are very hot. So it is ideal for those who love peppers», says Bellafà, who has worked in Ethiopia for 15 years, first on the Gibe I, then the Gibe II and Gibe III and, now, the GERD.
Apart from issues strictly linked to food, the cuisine involves both culture but religion. «Most Ethiopians are Orthodox», says Bellafà. «This means that they observe a perennial Lent - every Wednesday and Friday of the year. And in this period (April), Lent is observed for two months in a row before their Easter. This means that they do not eat meat, eggs or dairy products. And so we have to be prepared to offer them valid alternatives at the canteens».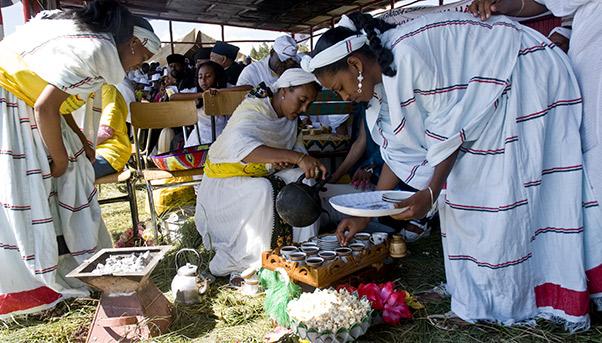 Dumplings and pizza in Georgian sauce
A land of passage, historically the last outpost of the Soviet Union before the Mediterranean, but also a compulsory route for those – in previous centuries – who followed the Silk Road from China to Europe.
Georgia has put the traditions of all these peoples of passage into its food. The men of Salini Impregilo have learned this well after having worked for the last few months at the Nenskra site next to the Russian border and not too far from the Caucasian peaks that rise 5,000 metres into the sky.
Paolo Leoni is the Italian project manager of the new dam that the Group is to build and together with some 30 foreigners involved in the preliminary phase of the project has delved into the gastronomic traditions of the region.
«At the level of cuisine, Georgia is a pleasant surprise because - maybe thanks to it having been invaded so many times over the years - it has a traditional cuisine that is original and interesting», he says. Salini Impregilo workers have already tried the khinkali and khatsapuri. The first is a dumpling with a variety of fillings - from meat to mushrooms - cooked in broth. What is peculiar about it is that it is eaten by hand.
«Part of the dough is hard so that the dumpling can be taken by the hand and dipped directly in the broth», says Leoni.
Khatsapuri, meanwhile, is a sort of pizza cooked in an oven with a lot more condiments than the traditional Italian version of the dish. There are all kinds of toppings, from egg to mushroom to meat.
«We have been here for a few weeks but we are all very interested to immerse ourselves into the eating habits of the region. Apart from this, because of its characteristics and closeness to the sea, Georgia is a country with a temperate climate with strong Mediterranean influences. In the end, we are not too far from home (Italy)».
Asian cuisine in Malaysia
Sabrina Gaspari is camp manager at Ulu Jelai, a big hydroelectric project to supply Malaysia's growing demand for electricity. Far from an urban centre, the construction site is made up of men and women of 13 nationalities from Guinea to Ethiopia, Vietnam to the Philippines, Pakistan to Malaysia. «We are all integrated, working together on a big project», says Gaspari. «The cuisine is one of the ways of integration. Even more than at the construction site, it is lived as an experience in the nearby towns. There the gastronomic style and culture mix and the workers exchange experiences from Indian-Malay cuisine to Sino-Malay».
The dishes are varied and the ingredients colorful. The nasi lemak is surely one of the most typical of Malay cuisine. It is a fragrant rice dish cooked with coconut milk, ginger, salt and herbs. Rice is central to Asian cuisine. There is nasi campur, a typical lunch served at the construction site. With rice as a base, it can be served with vegetables, fish or meat.
«I have been in Malaysia for three years, I speak four languages and the cuisine has been an important way for me to integrate with the local culture, says Gaspari. It is true that, on site, we eat international cuisine but together with our colleagues we often go to restaurants at nearby villages to try out typical dishes of the area».
Slovakia, Home of Cheeses
«Everyone likes the local cuisine. That's because there is nothing else on offer», jokes Barbora Nozdrovika, assistant manager at the construction site at Višňové, Slovakia, where Salini Impregilo is building a highway and a tunnel. «You eat what is available».
The few hundred people who are here, whether they be managers or labourers, eat what is available regardless of whether they are Italian, Slovak or Romanian. «Potatoes, rice, meat and cabbage are used a lot in the local cuisine.Then there are a lot of local cheeses such as bryndza, a typical one that everybody likes».
Bryndza is salty and made of goat milk from central and eastern Europe. It has been made in Slovakia since the 15th century. It is so widespread that it is an indispensable ingredient for the preparation of bryndzové halušky, a national dish.
«We are nearly 150 (people) and we split up to eat in groups. This helps create relations with colleagues and helps us to get into the local cuisine».
A Recipe for Sharing
Being present in more than 50 countries, from the United Arab Emirates to Peru, from Ethiopia to the United States, from Malaysia to Denmark, means to transform resources and local delicacies into a global heritage. Every person works for the same Group, under the same flag, according to the same principles of integrity, professionalism and sharing. Eating, just like many other essential moments on site, is shared with everyone. It is a way to share and integrate.
In his book "The Omnivore's Dilemma", Michael Pollan, a leading expert on food culture and a Berkeley University professor, explains the deep cultural relationship between people and food. This rapport inside a construction site becomes a moment to learn other cultures without need for words - that is because mouths are busy doing something else.