It's one of the world's greatest engineering and social challenges: Mumbai's first underground rail line will run for 33.5 kilometres beneath one of the most crowded cities in Asia, passing below a river, an airport, temples, crumbling colonial buildings to finally end up at the edge of a forest.
The Indian city's Line 3 will connect the Santacruz Electronic Export Zone (SEEPZ) to the north with Cuffe Parade to the south. The project is ambitious not only for its $3.3-billion price tag, but also for the complexities deriving from Mumbai's unique urban and social fabric.
The numbers involved
The project was made possible by a complex mediation by the Mumbai Metro Rail Company Ltd - a joint venture between the central government and the state of Maharashtra - that resulted in negotiations and agreements with thousands of families and businesses. That task began well before the start of construction in 2016, and it has continued since at a steady pace. Even today - according to the "Mumbai Mirror" newspaper - 17 tunnel-boring machines are at work and 8,000 workers toil 24 hours a day to complete the infrastructure that should be inaugurated in 2021.
This timetable is likely to be met because more than 14 kilometers have already been completed. Indian Prime Minister Narendra Modi wants to meet the target at all cost in light of the national election later this year to demonstrate that he is on track to complete one of the most complex infrastructure projects in the world.
According to "The Wall Street Journal," Modi said in a speech that by 2024 the city will have a 270-kilometre public rail transport network (under and above ground) and that the government is committed to making the lives of citizens «better and easier» through this project.
Devendra Fadnavis, Prime Minister of Maharashtra, is also optimistic that the project will be finished on schedule.
«I appreciate when projects move ahead with required urgency, to achieve desirable results», he said in a statement on the Mumbai Metro Rail Corp website. «The 33.5-km Metro-3 corridor (Colaba-Bandra-SEEPZ) is showing promising speed in this direction. Our aim is to complete the project, highly needed to reduce traffic congestion in Mumbai within the scheduled time frame. Metros help reduce carbon footprint as well as pollution. It's the greenest mass rapid transit system».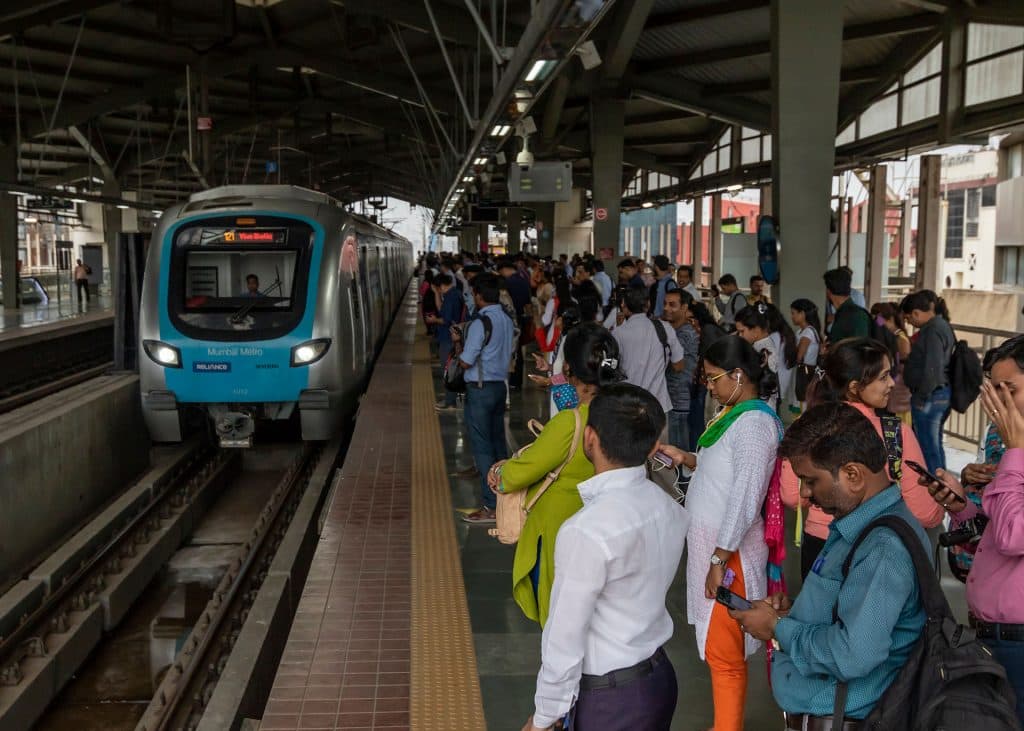 The new line's impact on Mumbai
To understand the impact that Line 3 will have, one only has to take a look at the state of Mumbai and its current transport system. It is one of the most chaotic cities in the world, as well as one of the most crowded, with an average of 82,000 people per 2.5 square kilometres - an urban density three times that of New York City, according to "The Wall Street Journal". Its creaking old trains are besieged by roughly seven million commuters every day.
This extreme density combined with an outdated transport system results in a mind-boggling number of accidents. According to official numbers provided by the Indian railways company to the U.S. newspaper, eight people die on average every day on the transport system from various causes. In the first 11 months of 2018, 650 passengers alone lost their lives by falling from a train.
So it is easy to see why this project is urgent. It will significantly improve mobility in Mumbai's city centre: Line 3 will have 27 stations (26 of them underground), while trains will be able to transport 1.6 million people each day in air-conditioned carriages.
Despite all these benefits, it has not been easy to convince Mumbai's many urban ethnic groups to support the construction of Line 3. Moreover, Mumbai is one of the most cosmopolitan cities in the world, where at least 12 different religions are practiced. The line's route passing below certain temples has raised more than a few controversies, some of which have even made their way to the Supreme Court in New Delhi. The government, however, has simply pushed on, and this amazing project has continued to move ahead without the sort of setbacks that too often beset less complicated works.