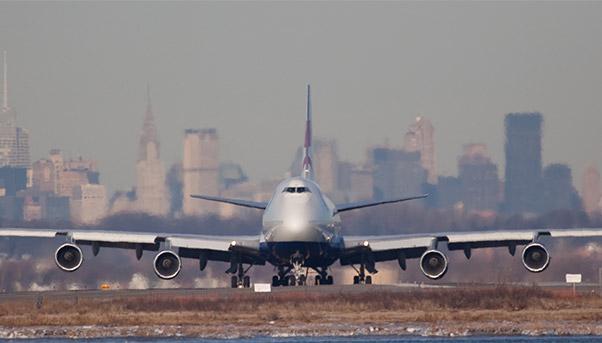 The usual scramble to grab a yellow taxi outside one of the JFK terminals will soon be a little less frantic. The Port Authority of New York and New Jersey recently approved an investment of $4.5 billion to build AirTrains that will connect some of the area's most important airports with the Big Apple.
These upgrades have been demanded by travellers for years and start with three important airports: John F. Kennedy, LaGuardia and Liberty International Airport in New Jersey.
This first tranche of investments will be followed by others to cut transport times and reduce congestion in the main arteries leading to Manhattan, the airports say.
New AirTrains for New York's airports: how the investments break down
The board of the Port Authority of New York and New Jersey has already indicated how the $4.5 billion in allocated funding will be distributed. The AirTrain to LaGuardia which will connect the airport with the Long Island Railroad and Midtown Manhattan will receive $2 billion. Another $2 billion or so will be used to replace the three miles of current railway line that connects the Liberty International Airport with the city. The last $445 million is the only part of the funding earmarked for the start of JFK's gargantuan renewal, which is forecast to cost a whopping $13 billion.
«Today's actions reflect our commitment to rebuild our legacy airports and invest in new infrastructure to accommodate the unprecedented levels of air passenger growth», said Port Authority Chairman Kevin O'Toole. «Ensuring continued progress on these projects will enable us to provide 21st century facilities that offer the world-class customer experience our passengers expect».
AirTrains for New York airports: coping with the increase in passengers
These investments are now considered mandatory. Last summer, the three airports recorded the highest transit volume in their history: a combined 103.8 million passengers, an increase of 1.9% in the first nine months of the year.
These figures demonstrate the need to modernise these vital infrastructures by replacing old terminals, enlarging the airports, and create new and more efficient transport links to connect with the city.
To respond to increasing traffic, the three airports are undertaking big projects. LaGuardia will get a new Terminal Two to replace the existing Terminal B, a $4 billion project financed by LaGuardia Gateway Partners, a consortium of private companies that designed, built and will manage the infrastructure. The new terminal will be served by the AirTrain, the first public rail transport system between the airport and the city, cutting travel time to Manhattan to just 30 minutes for between 6 and 10 million passengers a year.
Newark Liberty International Airport is being improved in a renewal project launched in 2017 and scheduled to end in 2026. It's existing AirTrain, which opened in 1996, will be replaced with a new one able to carry 33,000 passengers a day, about 12 million each year. The allocation of funds marks the start of the final phase of planning that should be concluded no later than 2021, according to the Port Authority. Construction should begin in 2021 and end in 2024.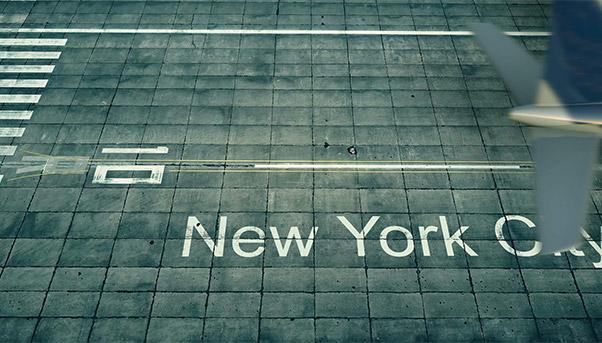 The new JFK
These plans for Newark and LaGuardia are dwarfed by the largest of all: the ambitious modernisation project for John F. Kennedy International Airport, New York City's biggest.
The plan includes a series of interventions, ranging from the demolition of three buildings to the construction of a new parking lot for aircraft.
This $13 billion reconstruction project, announced by Governor Mario Cuomo in October 2018, will be 90% funded by private funds. The JetBlue airline company and four foreign air carriers will finance the construction of two new terminals, while American Airlines will implement the expansion of its own terminal.
JetBlue has already identified its financial partners to develop a terminal project that will occupy 74,000 square feet (about 7,000 square meters) and whose construction should be completed in 2025.
The Port Authority will make a contribution of $2.9 billion, mainly to build transport infrastructures to connect the airport with the city even more efficiently.
American airports looking for investors
LaGuardia and JFK are not isolated cases. Airports Council International-North America said in a study released at the start of 2019 that $128 billion in investment is needed at US airports over the next five years to modernise and expand outdated infrastructure. And since public funds are scarce and local governments still have to settle debts accrued by the air transport sector in recent years, private investment is the only option.
Like JFK and LaGuardia, many other US airports are also adopting this development model involving private investors. At Denver, have been invested $1.8 billion to renew the Denver International Airport. An obligatory choice for the renewal and modernisation of American airports.
Alle spalle del piano di rinnovamento approvato dalle Authority c'è il più ampio e ambizioso progetto di modernizzazione del John F. Kennedy, il primo aeroporto di New York City.
Il piano prevede una serie di interventi che vanno dalla demolizione di tre edifici alla costruzione di un nuovo parcheggio per gli aeromobili.
Nell'insieme un progetto di ricostruzione da 13 miliardi di dollari, annunciato dal governatore Mario Cuomo nell'ottobre del 2018, che sarà finanziato al 90% da fondi privati. La compagnia JetBlue e quattro linee straniere finanzieranno la costruzione di due nuovi terminal, mentre American Airlines realizzerà l'ampliamento del suo terminal.
JetBlue ha già individuato i suoi partner finanziari per sviluppare un progetto di terminal che occuperà 74mila piedi quadrati (circa 7mila metri quadrati) e la cui costruzione dovrebbe essere terminata nel 2025.
Oltre alla partecipazione dei privati anche la Port Authority darà il suo contributo, arrivando a uno stanziamento complessivo di 2,9 miliardi di dollari che saranno investiti principalmente nella costruzione di infrastrutture di trasporto per collegare in modo ancora più efficiente lo scalo con la città.