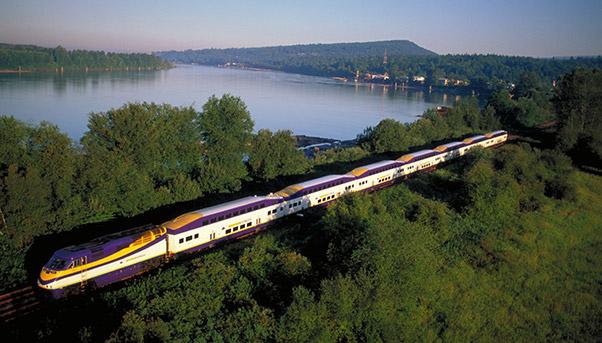 Vancouver is reaffirming its title as one of the most liveable cities in the world by investing billions of Canadian dollars on an ambitious plan to expand its public transport services and encourage more commuters to abandon their cars for trains, trams, buses and ferries.
The city on Canada's scenic west coast recently received pledges of more than CAD$3 billion from the federal and provincial governments for the most important part of this unprecedented expansion of its services: the extension of an elevated, light rail line and the construction of a light rail transit line.
Historic Investment
Appearing at an event held in the city on Canada's scenic west coast in early September, Prime Minister Justin Trudeau reiterated his commitment to helping the British Columbian provincial government provide the funding for the expansion of the elevated Millennium Line and the construction of the Surrey-Newton-Guildford Line. «Our government will continue to listen to communities, and make historic investments in the infrastructure they need, today and tomorrow», he said.
Trudeau's pledge is the latest to be made under Investing in Canada, a plan in which the federal government will invest more than CAD$180 billion during 12 years in public transit projects, green infrastructure, social infrastructure, trade and transportation routes, and rural and northern communities. Of this amount, CAD$28.7 billion will support public transit projects.
British Columbia Premier John Horgan, who attended the event with Trudeau, said the network's expansion would meet the needs of a growing city of more than two million people. «Cutting traffic and getting people and goods moving faster will unlock economic growth while making our communities more affordable, accessible and clean».
Vancouver is a leading port for dry cargo on the Pacific Coast and one of the busiest in North America for foreign cargo.
Vision for a Decade
Officially known as the 10-year Vision for Metro Vancouver Transit and Transportation, the expansion plan is being carried out by the South Coast British Columbia Transportation Authority. More commonly known as Translink, it operates the network serving the 23 cities that make up the metropolitan area. Having reached a record 407 million boardings last year, the network is among the busiest in North America.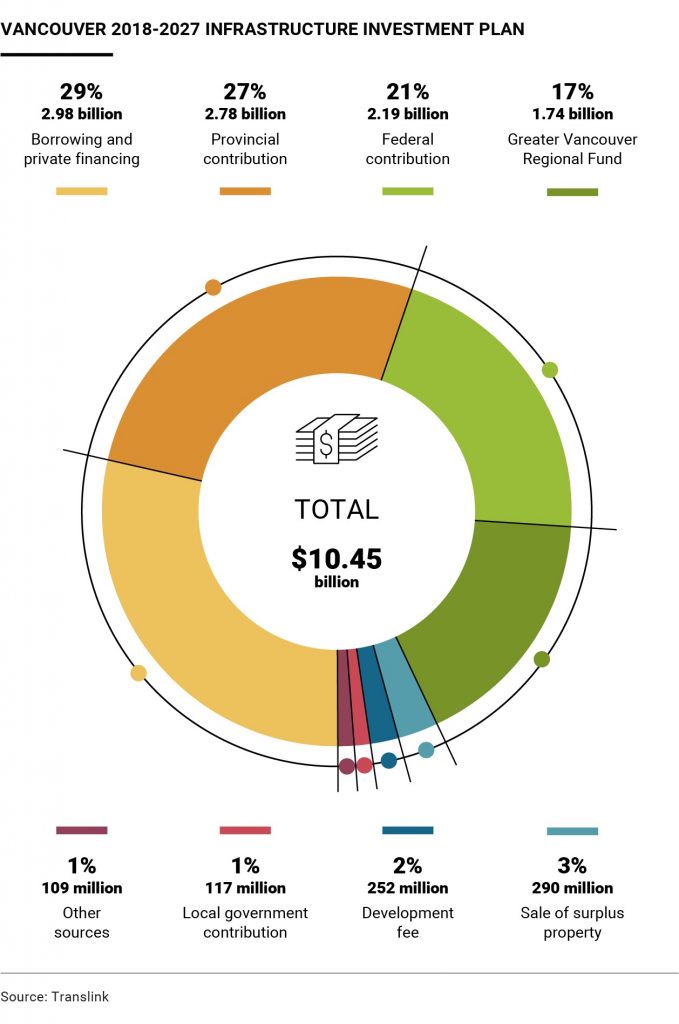 Launched in 2017, the 10-year expansion plan has so far received more than CAD$7 billion.
The Millennium Line is one of three so-called Skytrains that move along elevated tracks across the Vancouver metropolitan area. The planned extension will have it go along Broadway, a corridor that has the busiest bus route in North America with 56,000 boardings a day. It will begin at VCC–Clark Station and end 5.7 kilometres and six stations later at Arbutus Street. Although the eastern part of the extension will be elevated, most of it will pass through a bored tunnel beneath Broadway.
It will be able to move 7,500 passengers per hour per direction, representing a 32% and 96% increase, respectively, over the existing capacity.
At a total cost of CAD$2.83 billion, construction is to begin in 2020 and be completed five years later.
Meanwhile, the Surrey-Newton-Guildford Line will be the first light rail system in the province, replacing a patchwork of buses that serves the area.
At an estimated cost of CAD$1.65 billion, it will have 11 stations along 10.5 kilometres of street-level track in Surrey, one of the cities in the metropolitan area.
Translink recently drew international attention for having hired comedian Seth Rogen to lend his voice for public service announcements on its buses and trains. A native of Vancouver, Rogen is known for such Hollywood films as "The Green Hornet" and "This is the End".
In one announcement posted on www.youtube.com, Rogen urges passengers to be on their best behaviour. «Those are very nice sneakers but kind of a horror show on the sole. So get those feet off the seat. My Mom could be sitting there one day. Come on!».