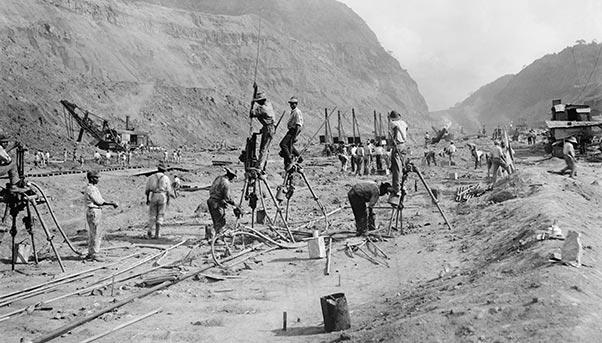 It is not easy to work 565 metres above a canyon. But workers in China braved this dizzying height to build the Beipanjiang Duge, the highest bridge in the world. It was a construction site where many of the thousands of workers and engineers involved suffered from bouts of vertigo. Elsewhere, from the jungles of Panama to the mountain of Saint Gotthard, from the highlands of Ethiopia to the urban underground of Singapore and an unstable region of Pakistan, public works have shown their disregard for physical limits. They sometimes rise out of the most inhospitable regions on the planet where infrastructure is essential for development. The thousands of workers that make these great works possible toil under often difficult conditions, whether it be suffocating heat or intense cold. They manage to get the job done regardless, often resorting to innovative techniques to overcome these and other challenges to bring to a project to life.
Working Under the Alps
At 57 kilometres, the Saint Gotthard Pass is the longest railway tunnel in the world. Inaugurated in June, 2016, it will receive 260 cargo trains and 65 passenger trains a day once it is fully operational. Some 2,600 workers labored under extreme conditions to complete it. Those deep in the tunnel had 2,500 metres of rock above their heads. In winter, temperatures sometimes reached 50 degrees Celsius below zero. According to the Caterpillar, a programme produced by Italian state broadcaster Rai, workers excavated 150 kilometres under the mountain, removing 73 types of rock for a total of 28 million tonnes. Conditions were so extreme that the project's managers played through the audio system Beethoven's Ninth Symphony and Schiller's Ode to Joy to lighten the mood of workers and help them psychologically.
In the Panamanian Jungle
When work on the new canal began in 2009, the consortium's partners responsible for the project like Salini Impregilo had to set up a construction site on 370 hectares of jungle. The first thing to do was to get a team to capture, catalogue and transport to other parts of the jungle 500 types of wild creatures from monkeys to crocodiles. The construction site would eventually have in its employ some 30,000 people. The most that it would have on hand at a given moment was 11,500. People from disparate professions, whether they be labourers, technicians, engineers or managers turned the site into a virtual city. The project saw the use of five million cubic metres of concrete (more than what is produced by all of Panama), the excavation of 74 million cubic metres of earth, the 290,000 tonnes of iron and a total of 100 million working hours.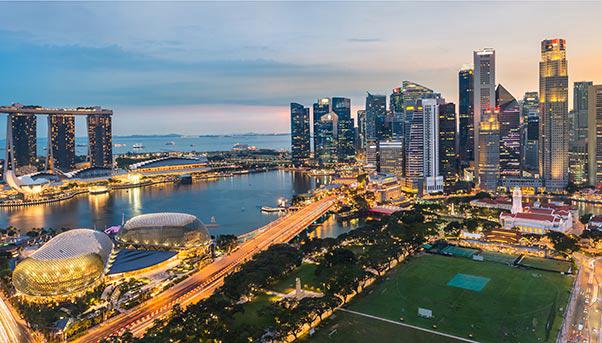 Singapore's Dense Patchwork Underground
For nearly three years, Singapore has been overseeing the extension of its metro network. It is a big job that foresees 33 kilometres of tunnels and 29 new stations at a cost of $6 billion. About 5,000 workers are divided in two shifts: day and night. They work under extreme conditions, as related in a documentary by Discovery channel DMAX. Humidity is at 100%. Those on the day shift begin early with warm-up exercises and psychological prepping before going 25 metres below sea level to excavate the tunnels. It is quite a challenge given how they have to make their way under a densely populated island of four million (there are 15,000 inhabitants per square mile). That means having to make sure they do not disrupt the network of cables and pipes under the city state.
Working under the Army's Protection
One construction site along the economic corridor between Kashgar, China and Gwadar, Pakistan - a network of roads, railways and energy grids - is strategic for its promise of pacifying this politically unstable area. About 7,000 Chinese workers labour under the protection of 14,000 Pakistan soldiers and security guards, especially in Punjab, Islamabad and Balochistan regions. The last of these three regions is considered dangerous because of the presence of separatist guerillas and fundamentalists. It hosts eight of 300 construction sites, with more than 3,100 soldiers managing security at the site.
GERD: A Training Ground for Workers
On the shores of the Blue Nile, an army of Ethiopian workers is building the biggest dam in Africa and one of the 10 biggest in the world. Known as the Grand Ethiopian Renaissance Dam (GERD), an immense project led by Salini Impregilo, it will rise 155 metres and have the capacity to create an artificial lake of 74 billion cubic metres of water. It occupies an average of 8,500 workers - mostly Ethiopian – plus 1,250 who provide them with services as suppliers and subcontractors. Such is the size of the site that the value of the services offered by these suppliers totaled 450 million between 2014 and 2015.
The GERD also serves as a training ground. Salini Impregilo organizes courses for workers to help them acquire a skill. During the same period, the group organized a total of 150,000 hours of training for workers at bother GERD and Gibe III, a recently inaugurated dam also built by Salini Impregilo.