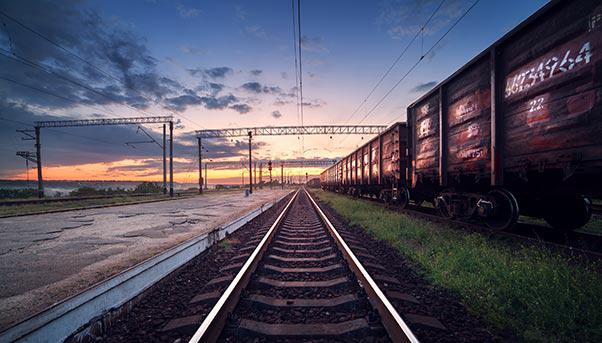 The old Silk Road used to begin in Venice, Italy, and proceed for 8,000 kilometres, passing through Istanbul, Damascus and Baghdad before heading towards Samarkand and Tashkent and then onwards to Chang'an, the ancient capital of more than 10 Chinese dynasties whose name has since become Xi'an. The Road was a seemingly endless journey on horse and camel. It began to take shape at the time of Alexander the Great. It would progressively develop into a definitive route during Roman and Medieval times with the help of adventurers like Marco Polo. Curiously, its name – the Silk Road – was coined only at the end of the 1800s by the German historian Ferdinand von Richthofen when it had become not only a strategic route for trade but also for cultural and scientific exchange among the powers at the time. And with the latest extension from Venice to London, its centuries-old importance as a trade route has been reaffirmed.
On Jan. 18, London welcomed the first freight train to arrive after weeks of chugging along the trajectory set by this newly extended Silk Road. It had left on Jan. 1 from Yiwu, an industrial city of one million inhabitants to the south of Beijing. Its destination was Barking, a suburb east of London. The 34 wagons that it pulled carried 68 containers with four million consumer goods, ranging from clothes to purses to shoes. Two weeks after its arrival, it returned to China loaded with cars, machines and other goods from Europe.
Nine Countries, 12,000 kilometres
The train, operated by the state railway company China Railway Construction Corp (CRCC), crosses nine countries: China, Kazakistan, Russia, Byelorussia, Poland, Germany, Belgium, France and the United Britain. It is a journey of 12,000 kilometres with a number of stops, given the need to change trains because of the different gauges of the tracks along the way. So the freight is transferred from one train to another more than once. The last stop on its way to London is Duisburg, Germany.
The first railway line providing a direct link between China and Europe was inaugurated in 2012. It stretched from Chongqing to Duisburg. Today, there are 39 rail corridors linking industrial centres Chengdu, Suzhou, Wuhan, Xiamen, Zhengzhou and Yiwu with European cities Lodz, Warsaw, Madrid, Hamburg and Lyon. When it announced the connection with Hamburg in October, CRCC said more than 200 trains had travelled to Europe and, in the coming months, the number would rise.
The advantages offered by this mode of transportation are obvious: you can carry goods at a cost that is cheaper than by the air and faster than by sea.
Trade Between China and Europe
The corridor between Beijing and London falls within the "One Belt, One Road" initiative announced by the Chinese government in 2013. The aim is to open up rail and sea corridors between Asia and Europe to increase trade. A 2015 Bloomberg article said China had set aside $40 billion for the initiative.
According to the European Commission, Europe receives at least a third of China's exports, making the region its main trading partner with the value of annual trade volumes totaling more than $600 billion. Thanks to the rail link, these volumes stand to reach $1 trillion by 2020.
From Caravans to Trains
The importance of rail transport for trade is evident. CRCC estimates Chinese trains carried 42 million tonnes of goods abroad in 2016, 12% more than they did in 2015. The number of train voyages totalled 1,702, up 116% from 2015. 
Such is Beijing's commitment to this mode of transportation that it recently announced $500 billion of investments to develop its national railway network that will cover more than 30,000 kilometres and connect 80% of main cities.