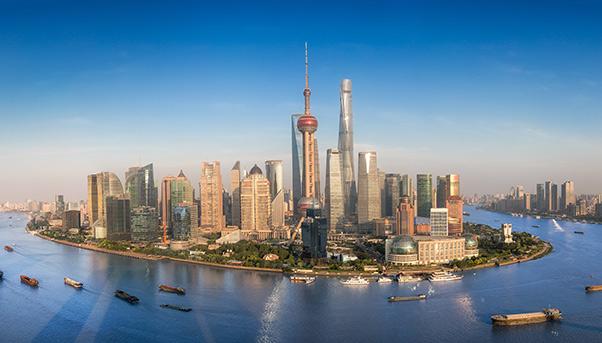 An ex-industrial area is being transformed into a hub for innovative business and the latest technology, while at the same time helping renew the city's entrepreneurial fabric, reduce pollution and encourage the birth of sustainable startups. It's happening in Shanghai, in a 2.8-kilometre stretch along the banks of the Huangpu River, which winds through the city for 45 kilometres.
The area was formerly the home of the Shanghai Shipyard, of China's first fish market, and the New Jardin Cotton Mill. Now it's the site of an ambitious urban renewal project. The goal is to make the area a showcase for the Chinese government's new global vision, starting with the Belt and Road Initiative, which aims to create innovative hubs able to also attract foreign investors.
Yangpu's goal
The timetable for Yangpu's transformation is very tight. The Chinese government's goal is for the Yangpu Waterfront to host 100 companies by 2020, characterized by a high level of innovation capable of creating 50,000 new jobs. The plan, already at an advanced stage, is to reach agreements with European companies – German in particular – that want to set up their Chinese headquarters on Yangpu. From 2021 to 2025, instead, the government aims to set up international agreements not only with large companies but also research centers and universities, in order to improve the level of knowledge and skills for those who work in the district. This in turn is intended to attract 15 "Fortune 500" companies that are Industry 4.0 leaders to open their headquarters in Yangpu by 2030.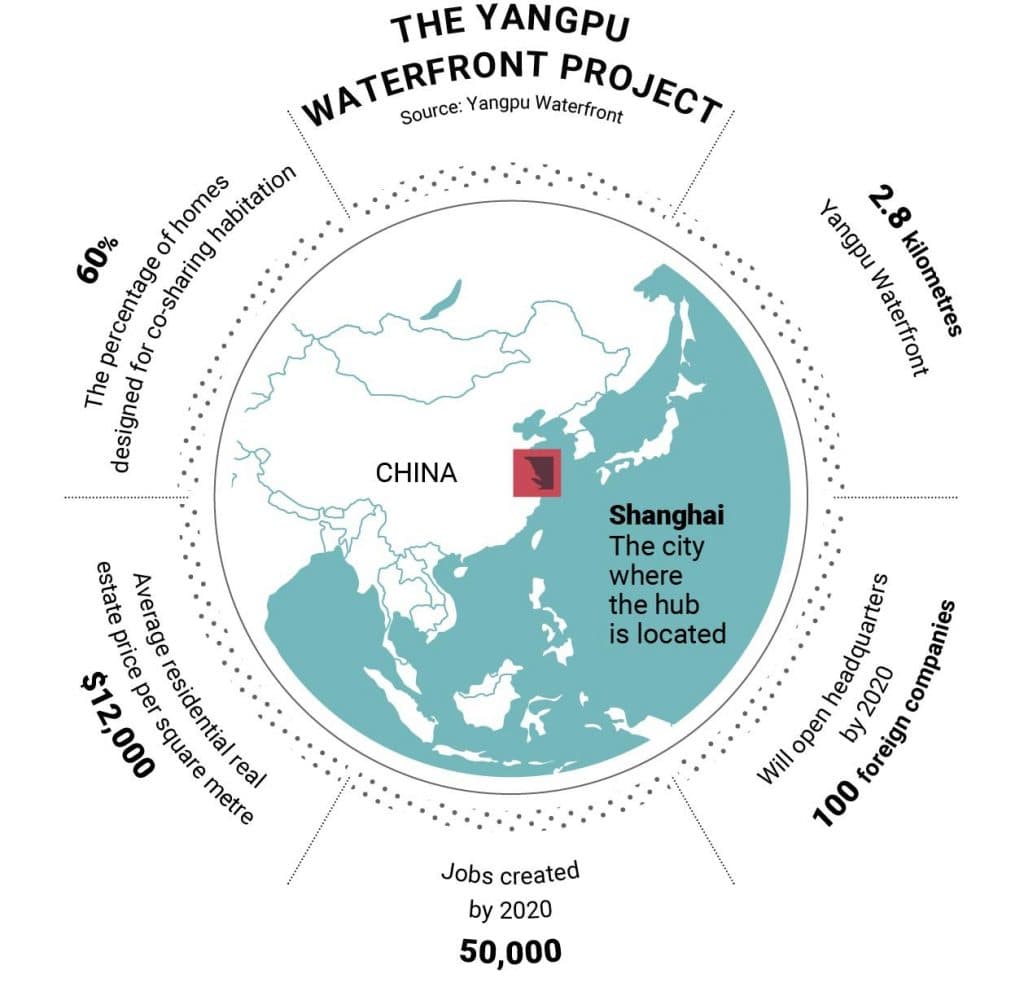 A unique place
Excellent quality of life, high standards for training opportunities, a dynamic environment rich with talent: the Yangpu Waterfront aims to be an example of excellence not just for companies but also for the people who chose to live in this hub.
The Chinese authorities want to create a hub capable of attracting top talent from across the globe by offering an outstanding ecosystem now risks becoming one of the most expensive in the world.
Real estate prices are around $12,000 per square metre, more than Dubai, Stockholm and Sidney. The buildings under construction will be super-modern, with communal libraries, gyms and kitchens shared by residents; about 60% of residential space could be designed using this "co-sharing" model to make better use of space.
Infrastructure for the city of the future
Creating an innovation hub like this one means that industrial development goes hand in hand with urban planning. The Yangpu Waterfront, when it is finished, will be a smart city. It will be powered by solutions with low carbon emissions, equipped with modern transport infrastructure connected to all corners of the city, and using electronic sensors and digital tools for traffic analysis to control congestion. Waste will be banned, starting with energy waste: the latest technology will monitor lighting systems on the streets and in buildings.
Yangpu will be a city within a city, but above all an example of the sort of cutting- edge urban renewal projects undertaken in recent years around the globe, especially in Asia. The project is the most evolved smart city ever yet imagined, where engineering know is placed at the service of industrial excellence and individual talent. The goal of Yangpu Waterfront is to create an ideal ecosystem where young talent can live, grow, learn and make its contribution to economic development. This is also China's biggest challenge, and it is ready to invest to create this vision of the future.