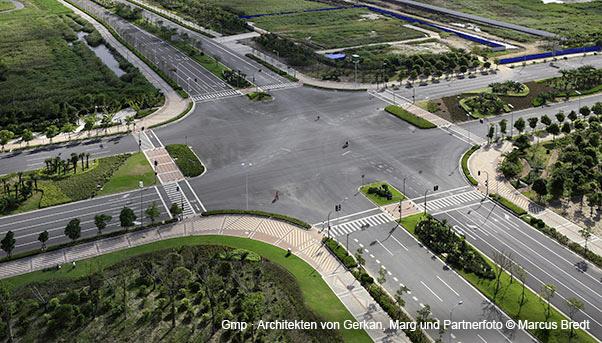 Some 15 years ago, the city of Nanhui existed only on an architect's drawing board.
Like other new cities across the Chinese landscape, it came into being as a result of a government effort to alleviate the strain that unfettered development had placed on the country's largest urban centres.
Located in Pudong 65 kilometres from Shanghai, Nanhui is nearly complete and is partially inhabited. Construction is expected to end by 2020, with the total cost reaching about $4.5 billion.
Known as Lingang New City until 2012, Nanhui is the work of the famous German architectural firm von Gerkan, Marg und Partner, or GMP. One of the firm's founders, Meinhard von Gerkan, a guru of contemporary architecture, was inspired by the image of a drop in a body of water and the concentric circles that it created.
«The whole city structure is based on the metaphor of an image of concentric ripples, formed by a drop falling into water,» reads a presentation of the project by the firm.
So Nanhui is a physical manifestation of this image since it came into being by reclaiming land from the sea.
So much of it was reclaimed, in fact, that this new land came to make up 45% of the city's 133 square kilometres. So, to a certain degree, Nanhui rises from the sea.
At the centre of the city is an artificial lake 2.5 kilometres in diametre. Part of the land reclaimed from the sea was later dug up again and filled with water to create the lake. Around it are a series of circular avenues, a park, residential districts and, further away, university campuses, industrial parks, warehouses and custom houses near the port.
By putting a lake, a beach and a forested park at the centre of the city, the architectural firm wanted to avoid the mistakes committed by developers of other cities, which ended up being big and anonymous with row upon row of housing blocks crisscrossed by boulevards made for cars rather than people.
«There is a nine-kilometer-long lakeshore band and as a result it is possible to give a very large number of buildings the first address in the city. With a view of the lake – what could be better?» asks von Gerkan in the presentation.
So the city's lay-out has it radiate from the lake. With public squares at every intersection, landscaping throughout and other spaces created for pedestrians, Nanhui is prepared to receive about 800,000 residents for its universities, industries and port facilities. Its buildings follow a certain European style in homage to Hamburg, GMP's home.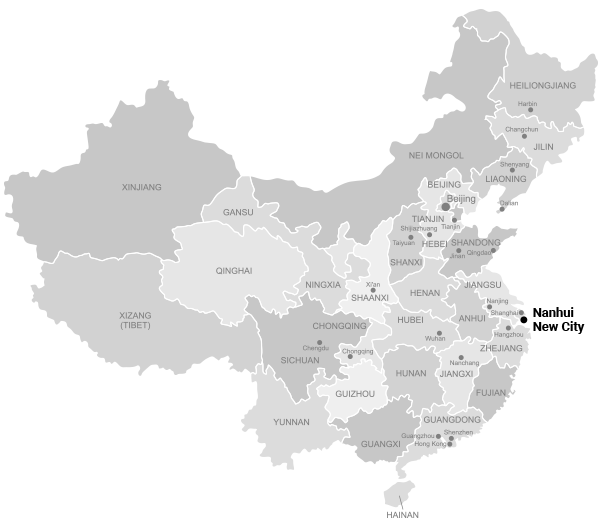 About 80% of the city area is owned by private investors, who hope that it will gradually come alive as the government deploys its usual tactic to encourage migration to new cities like Nanhui. It starts with the universities, which has drawn about 100,000 students since 2016. The presence of such a large number of young people inevitably draws businesses to the city, creating a virtuous economic cycle as more and more stores, cafes, restaurants and other outlets and services open up to cater to their needs.
All of this contributes to Nanhui becoming a green satellite city of Shanghai with the advantage of being in a strategic position for doing business. The city is at the tip of a peninsula where Pudong is located. It is also where the Yangtze River empties into the sea. It is 30 kilometres from Pudong International Airport - a hub for Shanghai. It is also the same distance away from the Shanghai Yangshan Deep Water Port, built on the islands of the Greater and Lesser Yangshans that are linked by a 32-kilometre bridge, one of the longest in the world. As the city closest to the port, Nanhui can alleviate the demographic pressure on Shanghai.
Another important aspect of Nanhui is the idea of creating an ecofriendly city whose features encourage a lifestyle akin to that found in most European urban centres. Pedestrian areas instead of boulevards for cars, a sense of community and cultural and recreational activities for everyone. In other words, sustainable development – something which China is taking into account a lot more than had been expected.
But von Gerkan dismisses Nanhui or any other new city willed into existence by the Chinese government being anything close to a utopian ideal. «At the very latest when it is built Lingang/Nanhui will no longer be a utopian city,» he says. «But there is something that almost borders on a utopia: first the sea was filled in to create land for the city then the center was excavated once again. The characteristics of this process may possibly have a utopian quality. But I am convinced that China urgently needs such utopian concepts. I never thought that we would win the competition with this initially utopian project for Lingang. Here a utopia has become reality.»