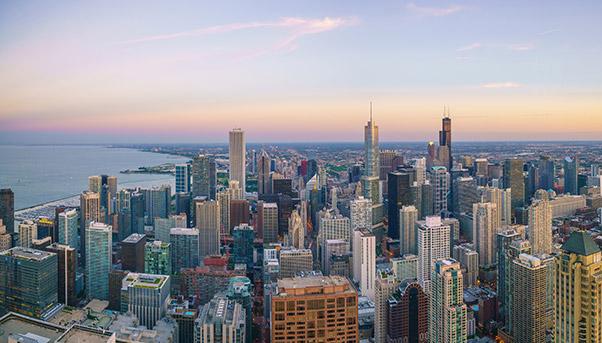 Every day in Chicago a new light goes on. Last summer the City Council, supported by the Chicago Department of Transportation and the Chicago Infrastructure Trust (a non-profit agency set up by the city) started a radical lighting renovation plan in order to reduce energy consumption. Over the next four years 85% of America's third-largest city's public lighting will be replaced, or 270,000 lamps, at a cost of $160 million.
The plan speaks volumes about a city that historically has been a reference point for the US business community and that today wants to start shining again through a series of new infrastructure investments. The project's biggest sponsor is Mayor Rahm Emanuel, who decided to launch a series of billion-dollar infrastructure development programs to create jobs. Six years ago Emanuel unveiled the "Building a New Chicago" plan, which his office says created 60,000 new jobs. Now the mayor is doubling down with a new promise last year to undertake more works projects to create 40,000 more jobs. The projects range from transport to energy, from water mains to logistics, to give a new and more modern face to one of the most iconic cities in the US.
A high speed train for the airport
To help achieve the infrastructure plan, in April 2012 the mayor and the City Council set up the Chicago Infrastructure Trust, an agency tasked with helping the municipal government in finding financing for the projects.
The Agency's latest undertaking was to launch a request for qualifications in November for companies interested in designing, building, financing, managing and maintaining the O'Hare Express, a high speed rail link that should connect downtown Chicago to O'Hare International Airport, the nation's third busiest, cutting transport time by 50% to 20 minutes.
«Express service to and from O'Hare will give Chicagoans and visitors to our great city more options, faster travel times, and build on Chicago's competitive advantage as a global hub of tourism, transportation and trade», said Mayor Emanuel on the Chicago Infrastructure Trust's website.
There is no precise cost estimate yet, but the project should be completely financed by private investors who should receive the income from ticket sales and advertising in exchange. A good deal all around, according to the Agency's estimates, which is forecasting an increase of daily passenger traffic between the airport and the Chicago Central Business District from a current 20,000 to 35,000 by 2045.
Trump and the new projects
Chicago's vitality and importance as a business center did not pass unnoticed by President Donald Trump, who included two projects in the city on his infrastructure priority list. The first is a renovation of 92-year-old landmark Union Station, with a $1 billion budget that may be funded by a loan from the federal government in Washington DC. Apart from being a strategic transportation hub handling 300 trains and 120,000 passengers on a typical working day, the renovation could directly create 1,000 new jobs, according to the City Council.
The second project is the modernization of the North Side public transport lines run by the city's transport agency Chicago Transit Authority (CTA), which will cost $2.1 billion, more than double the previous renovation and create 2,100 direct new jobs. This is also a strategic project for the city, because it involves the tracks used by three subway lines: th e Red, Purple and Brown. These are high-traffic lines, carrying an average of about 200,000 passengers on a weekday in 2016, according to CTA figures. The track renovation will make the trains run faster and more efficiently, therefore cutting journey times.
Renewing the city's water treatment system
Water, for a city like Chicago, is a precious resource, but one-fourth of its pipeline system is nearly 100 years old, and plagued by leaks and breakdowns. That's why Chicago is updating its water infrastructure as well as its public transport. The city is currently substituting 1,450 kilometres of water pipes and 1,080 kilometres of sewer lines piece by piece so that it can completely replace the current network by 2054. It's an impressive project because it reduces waste to zero, protects the city from river floods and guarantees efficient management of both drinking water and waste water.
Investing big to think big
Chicago is aiming to become a city of the 21st century, says Emanuel, and it is willing to invest large sums to do it. In recent years the mayor has overseen investments of $5 billion in the CTA as ridership hits record levels, $4.8 billion on its water infrastructure and $2.5 billion in school facilities. Moreover, investments totaling $10 billion are under way at its two airports, O'Hare and Midway. The figures were announced recently in an interview that Emanuel gave to the Siemens magazine.
«If we are offering more bus services or train services, you can spend more time with your kids before they go to school», he said.