Nine days of celebrating the life of Arturo Toscanini, his talent as a conductor and the way in which he reinterpreted the performance of opera and orchestra music are set to make March a memorable month both in Italy and the United States. The events programme, organized by Salini Impregilo and Lane Construction to celebrate the 150th anniversary of the Maestro's birth, begins on March 21 in Italy, where Toscanini left his mark with some of the most exceptional concerts at Teatro alla Scala. It was Toscanini himself who conducted the inaugural concert at the theatre on May 11, 1946, after it was rebuilt from the devastation of bombardment in the World War II.
In recognition of the deep bond between Toscanini and the Milanese theatre, the book "Toscanini - The Maestro: A Life in Pictures" along with a video by biographer Harvey Sachs and a music CD by the Cameristi della Scala will be presented at the Ridotto Toscanini, a corner of Teatro alla Scala dedicated to the Maestro. Published by Rizzoli and curated by Marco Capra, a leading Toscanini expert, with a preface by orchestra conductor Antonio Pappano, the book will be on sale everywhere with new material on his life and times. The opening of a photo exhibit at the theatre's museum will follow.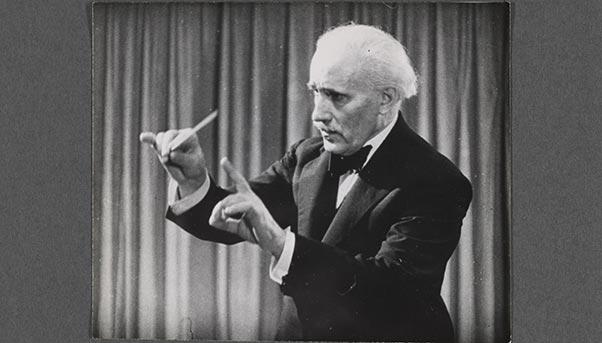 Still photograph from the film Toscanini: Hymn of the Nations.
©Music Division, The New York Public Library for the Performing Arts, Astor, Lenox and Tilden Foundations.
A gala event is hosted by Teatro alla Scala on March 25 with a concert dedicated to Toscanini.
From Milan, the celebrations cross the Atlantic to the United States, Toscanini's second home. It is where he settled after abandoning an Italy gripped by fascism. It is also where his fame as one of the greatest conductors grew and his name became immortalised.
On Monday, March 27, the book will be presented at the Library of Congress in Washington, D.C., followed by a concert by members of the chamber orchestra of Teatro alla Scala. The next day a similar concert will be performed at Union Station, the capital's railway station.
A final event for the book launch sponsored by Salini Impregilo and its U.S. subsidiary Lane Construction will be held in New York on Wednesday, March 29 at Rizzoli's bookstore. There will also be the showing of the short documentary on the life of Toscanini by biographer Harvey Sachs and the presentation of the music CD by the Cameristi della Scala.