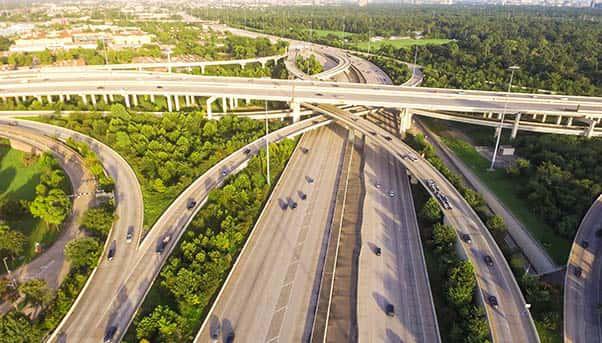 Alarm bells may be ringing, but the American Society of Civil Engineers wants them to ring even louder to bring attention to the poor state of infrastructure in the United States. It is so poor that some public works face the risk of actually collapsing. It is not alarmism but a call to action.
The crisis of falling bridges and other crumbling infrastructure was a campaign issue for candidates during the presidential election last year. So much so that Donald Trump announced after his victory that he would make it a priority of his administration to deal with it. Although he has since given few details, Trump has pledged to invest $1 trillion to repairthe roads, dams and other ageing infrastructure that helped the United States become an economic powerhouse a half a century ago.
In a sign that the $1 trillion could not come fast enough, the waters of a reservoir threatened to burst through a spillway at a dam in Oroville, California, just weeks after Trump was sworn in as president. The incident, which forced some 188,000 residents to evacuate, highlighted the urgency of the situation. Experts came out to speak of the dire need to repair tens of thousands of dams like Oroville, along with so many other types of structures that suffered from neglect.
As if to emphasize the point, the American Society of Civil Engineers published on March 9 its report card on the state of U.S. infrastructure. As it had concluded in its previous report four years earlier, the ASCE said the condition in which it had found the country's backbone deserved a grade point average of no more than a D+. That meant that it was in "poor to fair condition" but mostly below standard, with many elements reaching the end of their service life and risking failure.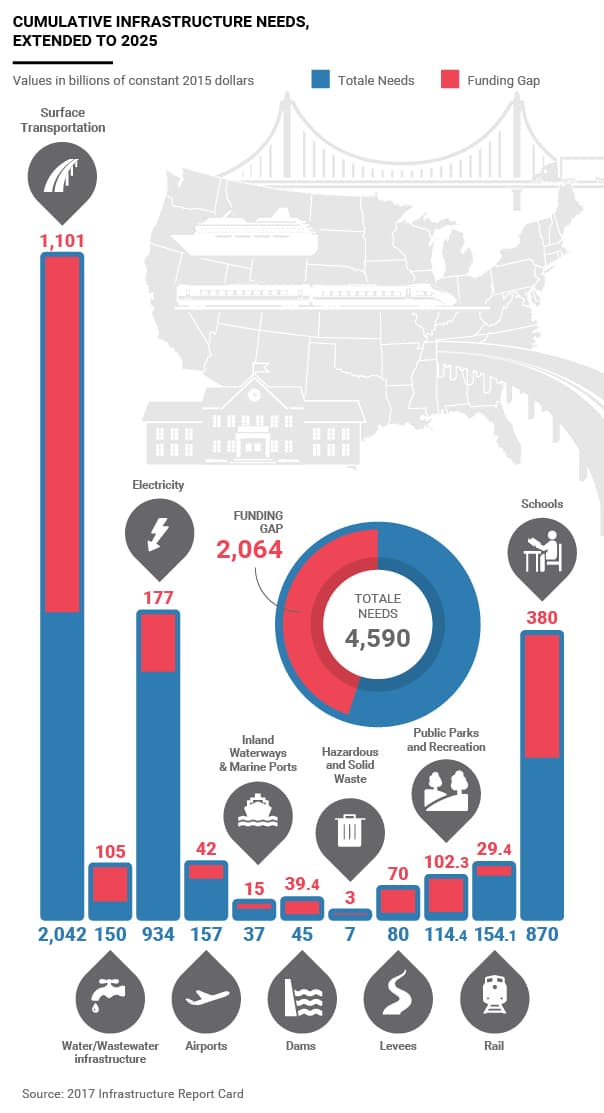 The ACSE said the United States had spent too little for too long on the upkeep of its infrastructure, adding that it had to spend $2.0 trillion to close a 10-year investment gap. That would mean public and private investment in the sector increasing from 2.5% to 3.5% of gross domestic product (GDP) by 2025. «To raise the overall infrastructure grade and maintain our global competitiveness, Congress and the states must invest an additional $206 billion each year,» it said.
Failure to close the gap would have serious economic consequences, it warned. It could result in $3.9 trillion worth of losses to GDP, $7 trillion in lost business sales and 2.5 million in lost jobs – all by 2025. «Every day we continue to delay investing in our nation's infrastructure, we escalate our shared costs, jeopardize our health, and risk our security – an option our country, economy, and communities can no longer afford,» it said. Putting it more succinctly, the ASCE said failure to act would cost every family $3,400 a year.
Of the 16 categories of infrastructure identified by the ASCE, less than half - seven (hazardous waste, inland waterways, levees, ports, rail, schools, and wastewater) — received a slightly higher grade. Six (aviation, bridges, dams, drinking water, energy, and roads) remained unchanged, while the remaining three (parks, solid waste, and transit) were downgraded.
After transit, dams had one of the worst grades: a D. The average age of the country's 90,580 dams is 56 years. And the number of those deemed "high hazard potential" is 15,498, 17% of the total. «This number has climbed from 10,213… in 2005 and is anticipated to continue to climb as areas below dams continue to be developed.» The ASCE estimated nearly $45 billion was needed to repair these ageing yet critical "high hazard potential" dams. "The failure of a dam that is classified as high-hazard potential is anticipated to cause a loss of life."
Meanwhile, transit, the worst performing category (-D), suffered from underinvestment and was due for maintenance, it said. Although the country was experiencing a transit boom, public transit was still far from adequate, needing $90 billion for rehabilitation.
Despite these dire figures, ASCE President Norma Jean Mattei was willing to be optimistic in light of the pledge made by President Trump. «The good news is we've got the (Trump) administration and members of Congress that ran on campaign promises (of) fixing infrastructure,» she said in a press release on the report card. «It's a priority.»