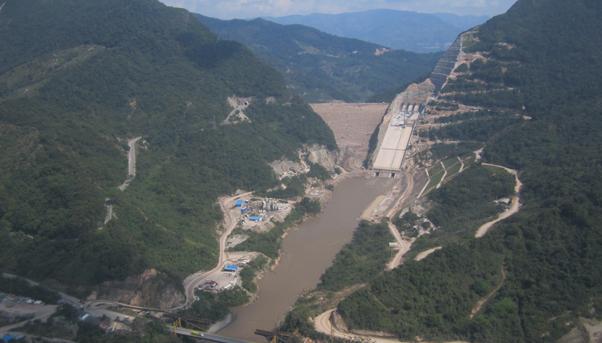 With a new dam whose dizzying heights rival those of a skyscraper, Colombia has become less exposed to the whims of El Niño, a weather pattern whose long dry spells have often forced the country's people to ration water and electricity.
Inaugurated at the beginning of the year, the Sogamoso hydroelectric dam rises far above the eponymous river, using its waters to turn its massive turbines to produce more than 8% of the South American country's electricity.
Built by Salini Impregilo, Italy's leading public infrastructure group, it is the third largest dam in Colombia with 820 megawatts of installed capacity.
Soon after it went into operation, it helped Isagen, the public utility that commissioned the project, to win a top engineering prize.
Salini Impregilo has been present in Colombia for half a century.
Its latest project is another hydroelectric dam called El Quimbo, located on the Magdalena River. It will have an installed capacity of 400 MW.
At the inauguration of the Sogamoso on Jan. 15, Colombian President Juan Manuel Santos Calderon expressed relief that the new dam meant his country had become less vulnerable to El Niño, which means "The Child" in Spanish.
"Fortunately, everything that we have managed to build (such as) dams are today at a sufficient level that we can tell Colombians to rest assured that - despite phenomena like El Niño - we will not have any problem in providing the necessary energy," he said in a speech. "This project makes us Colombians feel secure in our ability to meet the growing demand for energy," he added.
Colombia is particularly exposed to El Niño because the country generates more than half of its electricity from dams, whose reservoirs are filled by water from rivers fed by snowmelt and rainfall, which becomes scarce when the weather pattern appears.
El Niño, whose effects are especially felt along the Pacific Coast of South America, has in the past obliged Colombians to cut back on their use of water and electricity. There have been years in which merchants in Bogota and elsewhere have had to resort to using small power generators to keep their storefront windows lit during regular blackouts.
President Santos was also proud of how the new dam exemplified the country's focus on clean energy.
"This type of energy is what the whole world is calling for: clean energy based on water," he said. "What's more, it is cheaper: 30 percent cheaper than energy produced by gas and more than 80 percent cheaper than that produced by combustible fuel".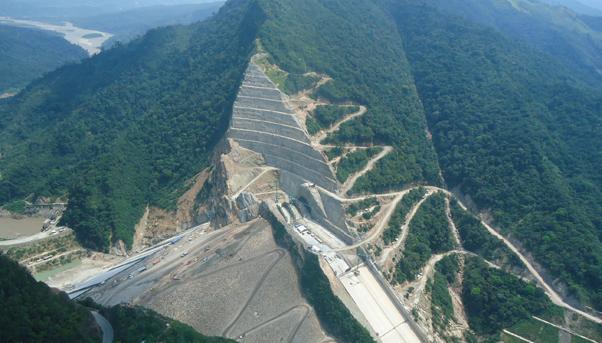 The result of five years of hard work both day and night at a cost of EUR650 million, the Sogamoso is located in the northern department of Santander in a lush green canyon where the Sogamoso River crosses the La Paz mountain range.
At 190 metres, it is as high as Bogota's Colpatria Tower, one of the tallest buildings in the country. Its crest width is 300 metres long. The volume of its reservoir reaches some 4 billion cubic metres.
Its underground power station is like an immense cavern, housing three Francis turbines, the biggest of their kind in the country. Their combined weight is equivalent to 1,000 elephants - as colorfully described in an educational comic strip on the website of Isagen. There are two diversion tunnels that are about 879 metres long.
The dam gave a huge boost to the region by creating some 7,000 jobs during the five years of its construction.
It also improved its infrastructure with 38 kilometres of new, paved roads, two tunnels and 16 bridges.
Isagen resettled inhabitants of the area who were displaced by the flooding of an area of 7,000 hectares.
It also helped teach new skills to people whose livelihoods were disrupted by the project, such as raising cattle and cultivating cocoa and a variety of fruit.
It is this focus on developing the region while preserving the environment as much as possible – let alone the engineering feat of the dam itself - that led to Isagen winning this spring a national prize from the Sociedad Colombiana de Ingenieros, or the Colombian Society of Engineers.