High in the Australian Alps, the Snowy 2.0 hydropower project has reached a major milestone with commissioning underway for the first giant tunnel-boring machine (TBM). 
The 'Lady Eileen Hudson' is one of three TBMs that will be used on the nation-building infrastructure endeavour to provide on-demand, cost-effective energy on a large-scale storage. 
Future Generation is the joint-venture created to build Snowy 2.0 on behalf of Snowy Hydro Limited in the rugged mountain ranges in the south-east corner of the state of New South Wales (NSW), bringing together the engineering expertise of Italy's Webuild, Australian construction company Clough and Lane Construction, a U.S. subsidiary of Webuild.
Snowy 2.0 is the bright light in a region that has been ravaged by the impact of drought, devastating bushfires and the COVID-19 pandemic.
Webuild Executive Director Asia Pacific Marco Assorati travelled to the site of the main tunnel portal at Lobs Hole on March 19 for the commissioning of the 'Lady Eileen Hudson'.
"This marks the start of an amazing journey together," he said.  "We are proud to be a part of a project that will provide a sustainable future for our children."
Webuild is a global leader in hydropower projects that play a crucial role in the shift towards renewable energy sources. 
As the largest renewable energy project in Australia, Snowy 2.0 will significantly expand electricity production by pumped-storage from the iconic Snowy Mountains Hydro-electric Scheme built seven decades ago, and help the country meet its low-carbon emission targets.
At the commissioning event led by Snowy Hydro Chief Executive Paul Broad, Assorati was joined by Australia's Energy and Emissions Reduction Minister Angus Taylor and the Snowy Hydro and Future Generation teams.
"Snowy 2.0 is a key part of the government's agenda to deliver affordable, reliable power and ensure Australians get a fair deal on energy," Taylor said. "(The project) will store the excess energy from Australia's world-leading levels of household solar and use that energy when the sun goes down, to keep the lights on and prices low."
The project will link two existing dams – Tantangara and Talbingo – through 27 kilometres of tunnels, and build an underground power station.
Once completed, water will be pumped to the upper dam when there is surplus energy production and demand for energy is low. It will then be released down to the lower dam to generate energy when electricity demand is high.
In this way, it will reduce volatility in the national electricity grid and deliver more affordable electricity to consumers.
Snowy 2.0 will increase the Hydro-electric Scheme's production capacity by 2,000 megawatts of fast-start, dispatchable energy and provide 350,000 megawatt-hours of large-scale storage – enough to power the equivalent of 500,000 homes for more than a week during peak demand. 
The 'Lady Eileen Hudson' is the first of the three technologically advanced TBMs assigned to Snowy 2.0. Measuring 137 metres in length and 11 metres in diameter, the TBM was manufactured by China's CREG, disassembled and shipped to Port Kembla in NSW. It was then transported by road to Lobs Hole where it was reassembled. 
Expected to travel 16 metres a day, the TBM will excavate the 2.6-kilometre main access tunnel to where a cavern will be dug 800 metres underground to house the powerhouse. It will be one of the deepest in the world. 
The 'Lady Eileen Hudson' will then be dismantled and reassembled at the Talbingo portal where it will excavate the tailrace tunnel.
Components for the second and third TBMs have also been shipped to Port Kembla, to be then hauled up to the Snowy Mountains. 
Just like the Snowy Scheme, Snowy 2.0 is breaking ground in inspiration and innovation.
One of the TBMs will be among the first in the world to be able to excavate on a range of variable slopes as well as on very steep angles, at a descendent of up to 9 per cent (five degrees) to an ascent of up to 47 per cent (25 degrees).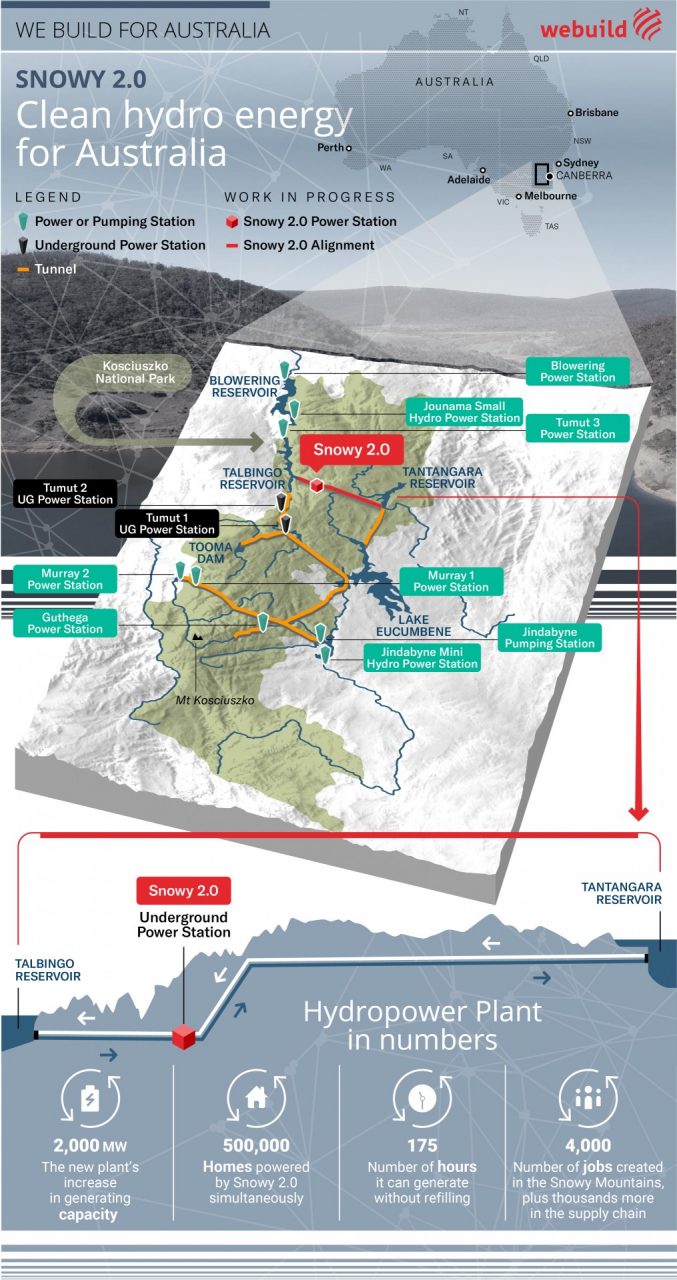 Polo flat precast ramps up
The township of Cooma, population 6,681, is known as the gateway to the Snowy Mountains and is home to Snowy Hydro and Snowy 2.0's main project office.
In a nearby industrial estate, the newly constructed Polo Flat pre-cast segment factory is a hive of activity.
The government approved construction of the factory in April 2020, and with construction almost complete, it boasts a workforce of more than 100, including trainees.
"We fought hard to build the factory locally rather than importing segments from overseas or interstate because it means local jobs, opportunities and investment," Snowy Hydro's Mr Broad said.
The factory will produce the segments needed to line the tunnels.
A total of 130,500 segments – each one weighing about seven tonnes – will be made to create the 14,500 rings needed to line the 27 kilometres of tunnels.
Test segments have been produced prior to the factory's carousel becoming fully automated.
Specially-designed trailers will carry nine segments – one complete ring – at a time; their capacity means a significant reduction in the number of semi-trailer loads travelling on the roads.
Housing the workers of Snowy 2.0
Future Generation is also overseeing the construction of access roads and other infrastructure such as workers' camps necessary for the development of the project. 
In Cooma, construction is underway for a A$19 million, 126-bed accommodation development to house workers. 
Known as Joule Ridge, the development is set to open later this year, and will address some of the social pressures that come with economic growth, including a shortage of housing and increase in property prices and the rental market.  
Snowy Hydro purchased the five-hectare land parcel, which had been abandoned for several decades, specifically for Snowy 2.0 worker accommodation. "Snowy 2.0 is ramping up and with 4,000 jobs being created over the life of the project, it's an important part of our project planning to build this accommodation at Joule Ridge," Snowy Hydro's Broad said.

The summer of 2019-20 is etched into the pages of Australia's history as the infamous 'Black Summer', with catastrophic bushfires burning millions of hectares of land, resulting in lives lost.
The Snowy Mountains – including key Snowy 2.0 sites – also succumbed to Mother Nature's wrath.
Snowy Hydro lost more than half the homes at its operational town of Cabramurra, plant and equipment was destroyed or damaged, and roads were closed.
Miraculously, all of Snowy Hydro's power stations remained operational.
Only months later the area would be further decimated by COVID-19, which only served to underline the importance of Snowy 2.0 to the region's economy.
"Snowy Hydro has always been a significant contributor to the region's economy. Our business and progress on Snowy 2.0 will be a key part of the region's recovery – let the rebuilding begin," a spokesperson said.
The story of the Snowy Mountains Hydro-electric Scheme is etched deep into the Australian psyche; a nation-building project built by more than 100,000 people from 30 countries, two-thirds of them refugees and immigrants from war-torn Europe, forever changing the face of Australia and giving birth to multiculturalism.
On October 17, 1949 – only four years after the end of World War II – Australia's Prime Minister Ben Chifley, Governor-General Sir William McKell and Snowy Mountains Hydro-electric Authority Commissioner William Hudson fired the first blast at Adaminaby, signalling the start of construction on the biggest civil engineering project to be undertaken in Australia.
Consisting of seven power stations, 16 major dams, 80 kilometres of aqueducts and 145 kilometres of interconnected tunnels, construction of the Hydro-electric Scheme was completed in 1974 – a quarter of a century later – and today, is still considered one of the civil engineering wonders of the modern world.
Snowy 2.0 – on track for completion in 2026 – is following in the footsteps of its iconic predecessor: a new nation-building project that will provide a reliable, affordable and sustainable source of energy to power future generations of Australians.