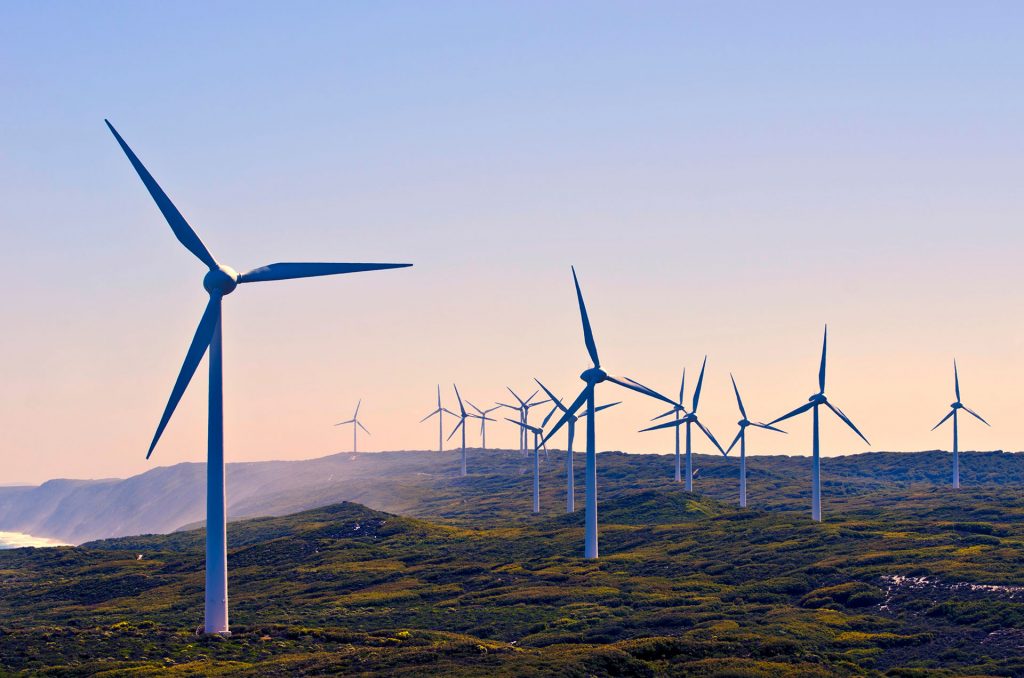 Australia looks set to meet or even surpass the government's 2020 emission reduction target in order to cut pollution by reducing dependence on fossil fuels like coal and gas as energy sources.
According to the Clean Energy Regulator, investments and intensive development mean Australia is on track to meet if not exceed its Renewable Energy Target of having 29% of its energy needs covered by renewable sources by 2020. By 2025, it is to rise to 50%.
This goal is part of the country's commitment to slow global warming, which it made alongside the more than 150 countries that signed the Paris Agreement in 2015. The aim is a 26% reduction of polluting emissions by 2030. It is a commitment that seems achievable for Australia, at least for its 2020 targets, thanks to the slew of projects launched in the last two years, as well as the major role played by its individual states.
Investing in renewables
According to the 2018 Clean Energy Australia report by the Clean Energy Council, an association of the main players in the sector, Australia built 16 plants that produce renewable energy in 2017, and 34 more in 2018.
Five out of Australia's six states are all committed to their own targets, and investments are coming from both the public and the private sector. The 2018 Clean Energy Australia report calculated the investments made in 2017 at US$9 billion. In 2018, 5,600 MW of new production capacity were built, creating 6,080 jobs.
Although the federal government has been leading the way, state governments have also been making headway. Australian Capital Territory aims to achieve 100% renewable energy by 2020; New South Wales, on the other hand, aims to achieve the goal of net-zero harmful emissions by 2050; the government of Victoria plans to reach 25% of renewable energy by 2020 and to increase it to 40% by 2025, while the Northern Territory and Queensland have developed plans to achieve 50% renewable energy production by 2030. The state of Western Australia is lagging behind, since it is the only one that has not yet set a target for clean energy growth in the short term, even though the city of Melbourne is serves as an example for the whole country. Since January 1, all public buildings in the city (libraries, gyms, centers for children) are powered solely by renewable energy. Unlike Western Australia, South Australia is aiming for 50% of renewable energy production by 2025, whereas the state of Tasmania remains the renewables flagship of the nation. In 2017, the Hydro Tasmania agency launched the project "Battery of the Nation" to turn the state into a producer of hydropower to be distributed across mainland Australia.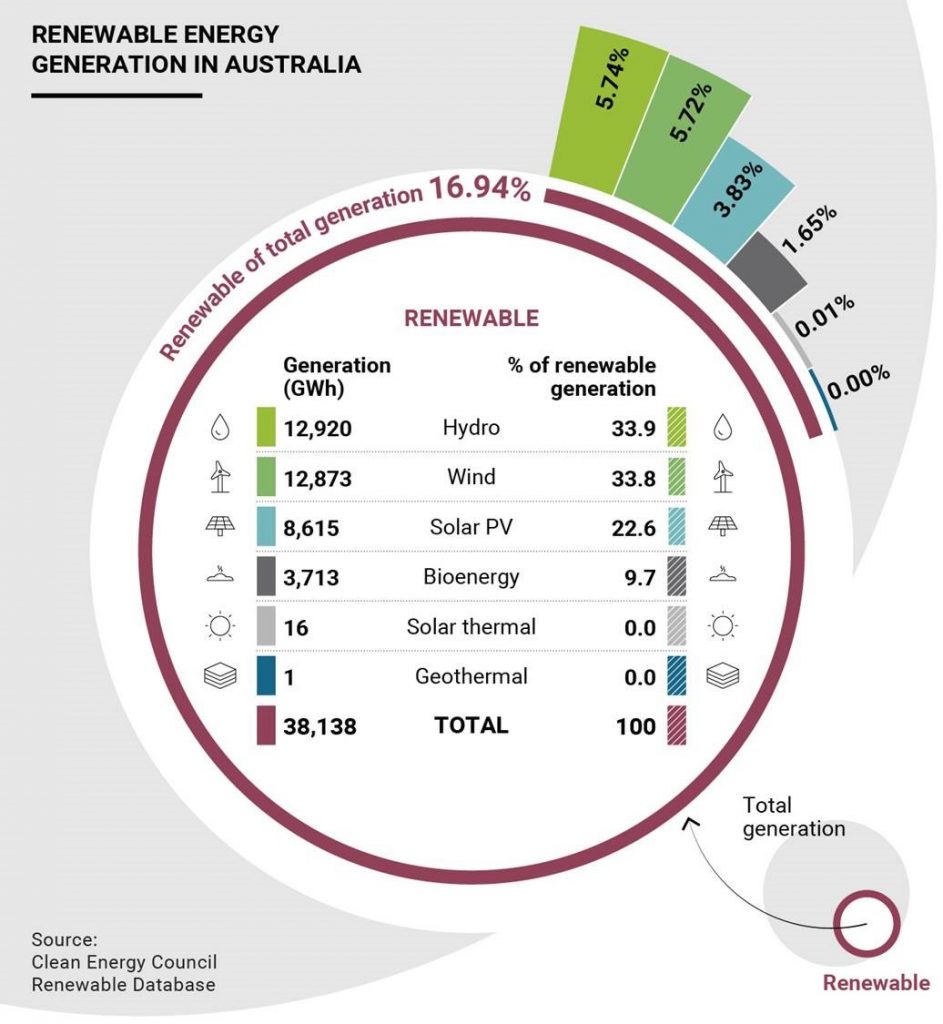 Clean energy driven by hydropower
Hydropower is still the most important sector for Australian renewable energy. According to the Clean Energy Council Renewable Database, annual production in the sector in 2017 was 12,920 GWh, 33.9% of total renewable energy, overtaking wind by a hair to become the largest single source of clean energy. But it still accounts for only 5.74% of the country's total energy production.
There are 120 plants in Australia, although most of the hydroelectric production is concentrated in Tasmania and New South Wales, where one of the most important facilities in the country is located, the Snowy Mountains Hydro Scheme.
In Tasmania the project "Battery of the Nation" foresees an investment of AUD$5 billion (US$3.7 billion) to build new energy production and storage facilities, which would then be distributed to the rest of the country.
In the state of New South Wales, Snowy Hydro is expected to expand the existing Snowy Mountains Hydro-electric Scheme. 'Snowy 2.0' is a pumped-hydro project to connect two existing dams (Tantangara and Talbingo) and build a new underground power station. The project is worth more than US$3 billion and will add 2,000MW of generation and provide 350,000MW hours of large-scale energy storage.
Elon Musk's lithium battery
Getting rid of coal-fired power plants one step at a time: this is Australia's goal for 2030. Australia's states are pursuing it through investments in renewables, but also by launching innovative projects.
The most striking project began in 2016 when, after a short conversation on Twitter between Tesla founder Elon Musk and Australian billionaire Mike Cannon-Brookes, the South Australian state commissioned the Californian company to build a 100-MW battery in just 100 days. They made a bet, and Elon Musk won.
By the summer of 2017, this huge lithium battery went into operation at the Hornsdale wind farm, which has come to supply electricity to 30,000 homes. In addition to its size, the battery stands out for the fact that it is charged by using renewable energy produced by the wind farm that serves households and businesses during peak hours.