The link between water and climate change is the theme of the United Nations World Water Day 2020 on March 22. "Water can help fight climate change," reads the World Water Day website. To achieve this goal, water needs to be transformed into an engine for the production of clean energy; be deployed as an essential element for the protection of people's health; placed at the service of sustainable development. These goals are achievable only by making large investments in the water management sector. The High Level Panel on Water estimates that $6.7 trillion must be spent by 2030 to meet the world's water infrastructure needs. These investments can help transform an emergency into a development opportunity. Large infrastructure groups can play a role in making this happen. Salini Impregilo invests a large part of its resources and directs its business strategies to focus on the clean water and hydroelectric energy sectors, two essential areas to help world governments achieve the sustainable development goals set by the United Nations.
Hydroelectric: clean energy that comes from water
Hydroelectric power is the leading renewable energy source in the world, guaranteeing 71% of renewable energy supplies. Supporting the spread of hydroelectric power means tackling one of the main sources of pollution. The fossil-fueled energy sector is responsible for two thirds of greenhouse gas emissions used for transport, heating, electricity and industry, and yet the World Bank estimates that 840 million people still have no access to electricity. Harnassing the power of water is one of the most effective ways to reduce pollution. Salini Impregilo is committed to hydroelectric power, and is a world leader in the sector. In fact, 51% of the group's new order portfolio is for the construction of hydroelectric plants that use water to produce energy. This is one of the group's core businesses, which began with building large dams in Africa and has now led to the Snowy 2.0 mega project in Australia, the largest hydroelectric plant in the country's history. With an installed capacity of 45,000 MW, Salini Impregilo guarantees an energy supply to tens of millions of people around the world, and those under construction (in Ethiopia, Tajikistan and Australia) will enable a reduction in emissions of about 14.5 million tons of CO2 per year.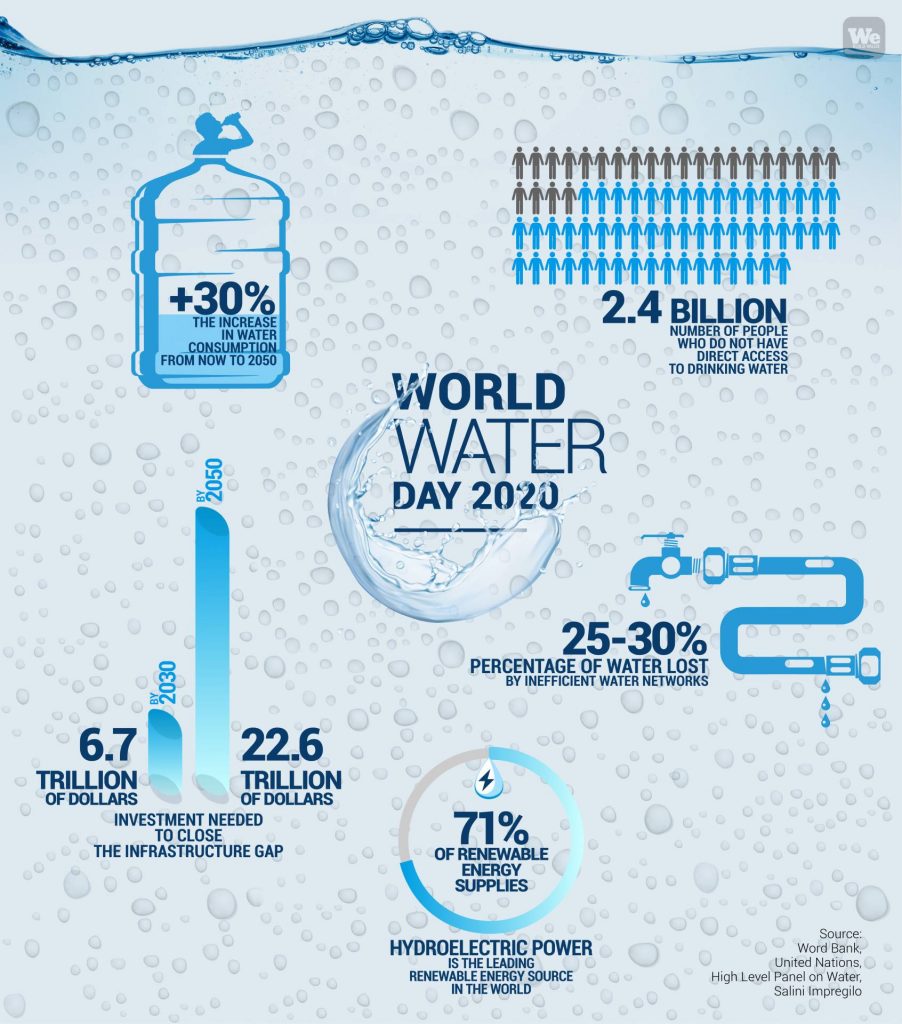 UN World Water Day 2020: infrastructure to protect this resource
"World Water Day" is also raising awareness about the importance of clean water for all. Around the world, people have an increasingly difficult time getting access to this resource. Numbers from the United Nations paint the picture: 5 billion people will be at risk of water scarcity in 2050; 2.2 billion have no safe drinking water at home, 4.2 billion have no access to safe sanitation services, while 80% of the world's wastewater is released into the environment without proper treatment.
In this case, the imperative is to reverse the trend by building systems to manage available water without wasting it, and above all treating it so that it can be used for everyday life.
From Washington D.C. to Buenos Aires, from the Middle East to Africa, Salini Impregilo is involved in a series of projects around the world to manage water in the best possible way, avoiding dispersion, cleaning rivers and reducing pollution in large cities. In Washington D.C, wastewater is treated by a plant built by Salini Impregilo which results in cleaner rivers, with the Anacostia and North East Boundry Tunnel initiatives which are part of the Clean Rivers Project. The same thing is happening in Buenos Aires with the Riachuelo River, one of the most polluted in South America.
The subsequent evolution of water treatment is purification, a complex process in which Salini Impregilo is a leader through its subsidiary Fisia Italimpianti, a company specializing in desalination, potabilization and treatment. The group supports public and private customers in areas of the world where water is scarce, such as the Middle East, where it builds desalination plants and other water management infrastructure that is essential for millions of people.
Water thus becomes an instrument of sustainability. "Water and climate change," as the United Nations points out. The first to mitigate the second, offering the planet a sustainable future and its inhabitants an opportunity for well-being.
The future of water and the necessary investments
The modernisation of infrastructure networks, together with access to new technologies to make water infrastructure more efficient, is increasingly urgent on around the world.
Since the 1980s, world water usage has grown at a rate of about 1% per year. This trend is linked to many factors, including population growth, economic development and changes in daily lifestyles. According to the UN, this growth rate will continue unchanged until 2050, when we will consume 30% more water than today.
The problem of water scarcity is already serious, and risks becoming dramatic in economic as well as human terms. Every year droughts cause damage amounting to $5.4 billion, and flood damage costs an additional $31.4 billion. Investments are therefore needed in new infrastructure to ensure efficient use of water. Today some 25-30% of water is lost by inefficient water networks. 
According to estimates made by the High Level Panel on Water, by 2030 the world's governments will have to spend $6.7 trillion to fill this infrastructure gap, which is set to become $22.6 trillion by 2050.
This is the challenge facing world governments in the coming years, a challenge where infrastructure can play a key role in protecting a precious an "endangered" resource.