The bombing of Ukraine on the one hand and the impact of economic sanctions on Russia on the other will radically change the infrastructure landscape in Eastern Europe and beyond. In Ukraine, President Volodymyr Zelenskyy's flagship Big Construction project, launched by to dramatically upgrade the country's Soviet-era roads, highways and railway assets, has literally gone up in smoke. The ambitious and popular building plan is needed to improve an aging road network of 46,000 km (28,583 miles) of national roads, 123,000 km (76,428 miles) of regional roads and 250,000 km (155,342 miles) of urban roads, for which a total investment of $4.5 billion (€4.1 billion) was foreseen, partly financed by the European Bank for Reconstruction and Development.
Roads, railway lines, stadiums and schools were at the centre of a complex modernisation plan that has now been inevitably blocked by the conflict.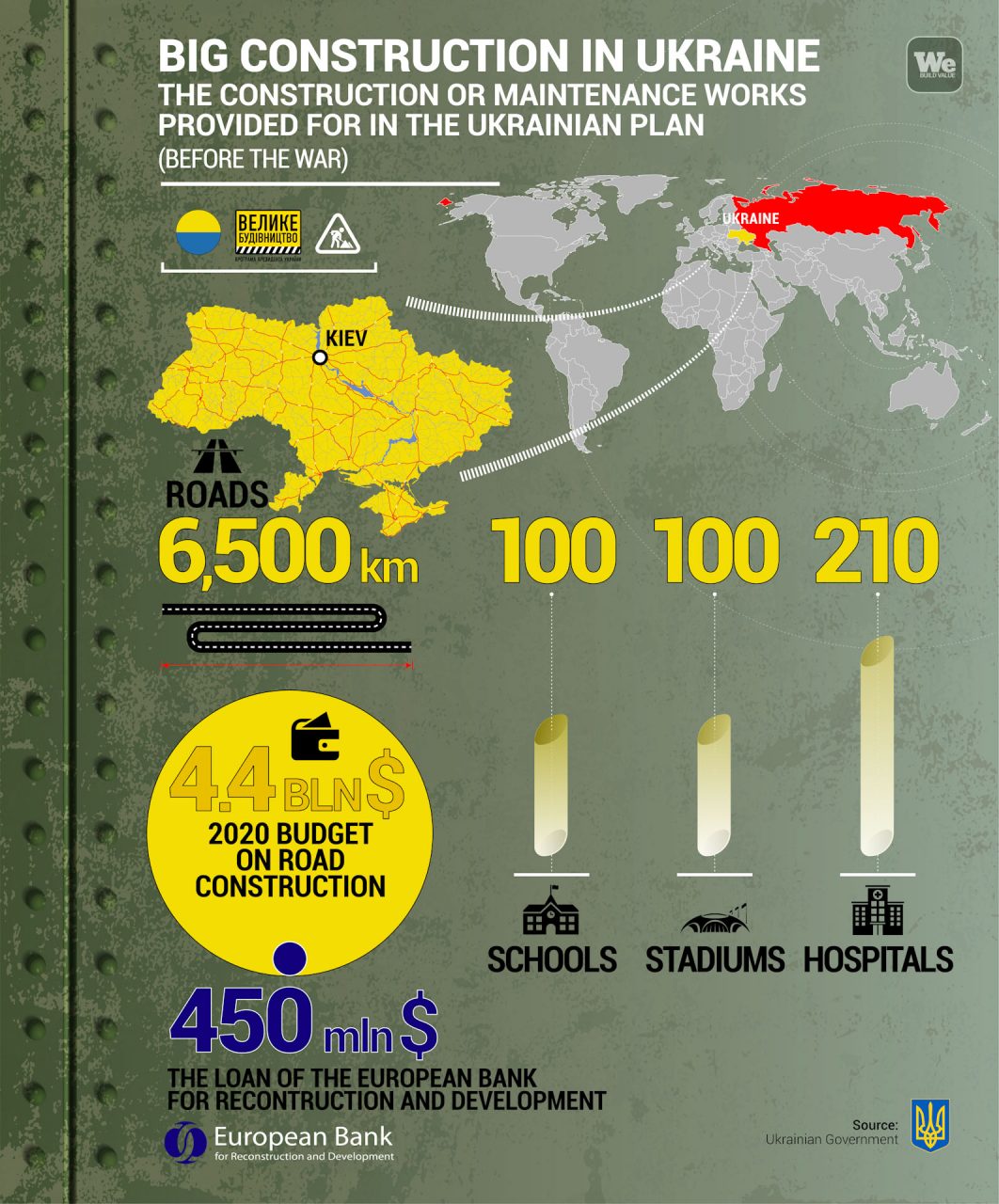 Major work projects slow down in Russia
The effects of the war are obviously not limited to Ukraine but are also being felt in Russia, as well as on global markets. The JCB group, one of the leaders in construction equipment, has announced the suspension of exports to Russia. Hitachi Construction Machinery said it is gradually shutting down its operations in the country, where it has its Hitachi Eurasia manufacturing subsidiary near Moscow, while also suspending direct exports from Japan to Russia and the Commonwealth of Independent States, which includes Belarus, among others, and is also headed to Moscow.  The other Japanese construction equipment bigwig, Komatsu, has also decided to freeze deliveries to Moscow.
The repercussions are global. According to local media, in Bangladesh the construction of the Rooppur Nuclear Power Plant, financed and under construction by Russian companies, could be delayed if not suspended.
The Canadian company Black Iron has tried to reassure its investors about the Shymanivske project, a very high quality iron ore mine in central Ukraine, stating that the development of the project has not slowed down and that the mines around it are working normally.
Russia and Ukraine, worksites and trade
Russia's invasion of Ukraine has triggered turmoil in construction-related markets, already strained by a two-year pandemic and rising inflation on a global scale.
The importance of Ukraine from an economic standpoint is demonstrated by the numbers: it holds the fifth-largest iron reserves — after Australia, Brazil, Russia itself and China — and is consequently one of the largest iron exporters.
Some countries outside of Europe are closely linked to both Ukraine and Russia in the construction sector. According to the Jerusalem Post, Israel imports most of its construction materials from Ukraine, while Turkey's Turkish Contractor Association has over 100 construction sites open in Russia, worth $20 billion (€18.3 billion).
Of the latter is Turkey's ENKA, which in 2009 built the Shakhtar Donetsk Stadium in Donbass. The Istanbul-based company is also building a 250 MW combined cycle power plant in Kazan, Tatarstan, east of Moscow.