America can finally redesign its vast, far-flung infrastructure system with a long-term vision, abandoning the habit of patching up its roads, bridges and railways, and computer, electric, water and sewage networks.
The plan introduced by U.S. President Joe Biden, after a long and tormented gestation in the corridors of Congress, has won a green light for over $1 trillion (€862 billion) in spending, half of which ($550 billion, or €474 billion) in the form of new federal investments over the next five years. The other half is from repurposing unspent emergency relief funds that will now be redirected to infrastructure construction.
The 2,700-page document approved by Congress contains the guidelines of the projects compiled in recent months by each of the 50 states. Each state aims not to lose their right to new federal funds. The decision on individual projects will be up to city and county governments, with the risk that specific projects run aground because the money put on the table by the federal government is insufficient – which often leads to the need to resort to popular vote to tap local coffers.
Biden infrastructure plan: spending on roads, railways, water network
The infrastructure bill includes more than $110 billion (€94.8 billion) to replace and repair roads, bridges and highways, $66 billion (€60 billion) to upgrade the railways (making it the largest investment in the country's railway since the creation of Amtrak nearly half a century ago), $55 billion (€47 billion) to improve the water supply (and replace old lead pipes), $60 billion (€51 billion) to modernize the electrical grid, and $65 billion (€56 billion) to speed up internet access. Another $25 billion (€21 billion) will go to airports and $17 billion (€14.6 billion) to ports. 
Many of the investments aim to promote green energy and combat some of the country's worst sources of pollution. At the behest of President Biden, for example, lawmakers approved $7.5 billion (€6.4 billion) to build a nationwide network of electric vehicle charging stations. Reflecting the deadly and costly consequences of global warming, the package allocates another $50 billion (€43 billion) to respond to emergencies, including droughts, wildfires and major storms.
The Biden infrastructure plan breakdown of the $1 trillion will not come from simple division with the allocation of $20 billion (€17 billion) for each of the 50 states. Spending will be sort of "weighted" according to population, with more resources for the most populated states, California, Texas, Florida, New York and so on, while taking into account the priorities reported by various federal departments and agencies.
An era of major projects for Florida
Florida, for example, expects to receive at least $13 billion (€11 billion) for highway improvement projects, another $2.6 billion (€2.2 billion) for public transportation, $245 million (€211 million) to fix or replace aging bridges, $198 million (€170 million) for electric vehicle charging stations, and $100 million (€86 million) for broadband expansion and internet connection enhancements. But some state congresspeople believe the Everglades recovery could get $5 billion (€4.3 billion) in new funds to cover projects already approved. The Army Corps of Engineers has the final say in this case.
A few days before congressional approval, a delegation of 27 Florida congresspeople told the media that that $5 billion can be triggered by an $11.6 billion (€10 billion) Army Corps grant fund and part of an aquatic ecosystem restoration project.
The global plan for the recovery of the Everglades, considered the green lung of the United States, dates back to the early 2000s and has only recently started to get underway.  One of the projects moving forward is entrusted to the Webuild Group, which through its U.S. subsidiary Lane Construction will build a reservoir in the Caloosahatchee Estuary on Florida's southwest coast. The earthen dam will have a perimeter of 26.2 kilometers (16 miles), with two reservoirs separated by a 4.5-kilometer (2.7-mile) septum. In total, the reservoirs will cover approximately 40.5 square kilometers and hold 210 million cubic feet of water. During rainy periods, the reservoir will contain runoff of contaminated water from residential and agricultural land in the area and, during dry periods, will provide the necessary water supply to maintain optimal salinity levels.
The American Society of Civil Engineers (ASCE), which has been entrusted with monitoring infrastructure quality for decades, welcomed the approval of the major infrastructure plan. 
"This is a historic moment for our country, and ASCE members should be proud to have played a substantial role in the development and passage of this bill," said ASCE President Dennis D. Truax. The most recent ASCE report gave U.S. infrastructure a C- report card in 2021, a grade that can be significantly improved.
The White House marked the final passage of the bill by reminding people that "in the United States, 1 in 5 miles of highways and highways and 45,000 bridges are in poor condition. This bill will reauthorise surface transportation programmes by investing $110 billion (€94.8 billion) in additional funding over the next five years to repair roads and bridges and support major transformation projects."
Hence the rush by states to meet the timeframes and requirements to obtain funds on their respective projects. The massive size of the bill will bring enormous benefits in terms of both employment and businesses engaged in construction. The U.S. construction sector is made up of a myriad of small and very small contractors, who in turn are hired by major companies that lead the way on large projects, feeding the underlying supply chain.
Competence and experience will therefore be the key. Webuild Group, together with Lane Construction, is currently working in more than 20 American states, having completed more than 275 projects, with almost 18,000 miles (29,000 kms) of highways, 177 bridges, 143 miles (230 kms) of railways, 87 miles (140 kms) of subways and 103 miles (165 kms) of tunnels.
Investments in Texas high-speed train
These numbers have earned Webuild-Lane a $16 billion (€13.8 billon) railway contract, the largest ever awarded in the United States, for the construction of the first high-speed train. The rail line between Dallas and Houston is being funded by the private company Texas Central High-Speed Rail. The bullet train will connect these two major cities in less than 90 minutes and rewrite sustainable mobility in Texas.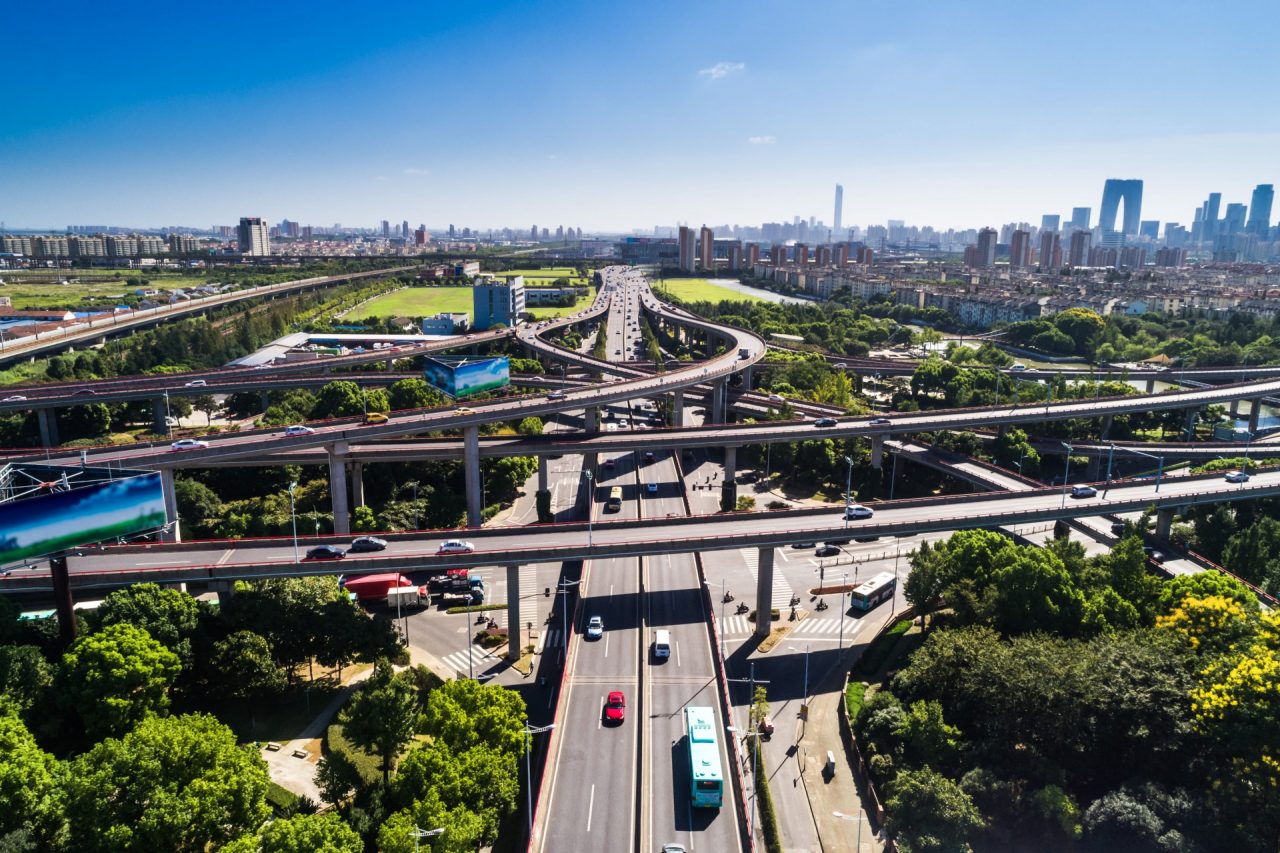 The Biden administration has invested a great deal of political capital in sustainable mobility, pointing out that America's public transportation infrastructure was "inadequate, with a multibillion-dollar backlog of repairs, over 24,000 buses, 5,000 rail cars, 200 stations and thousands of miles of track, signals and power systems in need of replacement." 
High-speed rail also holds promise for Biden and his Transportation Secretary Pete Buttigieg in terms of competitiveness with China, the country now investing the most in the industry. Texas is out in front, with a long list of projects to improve mobility to alleviate the burden of commuting between large cities, given that its roads and highways are among the most congested and dangerous in in America. The state also has big plans for its airports. According to the White House document supporting the Biden plan, there are 818 bridges and more than 19,400 miles (31,000 kms) of highway in poor condition in Texas. Since 2011, travel times have increased 11.4% statewide and, on average, each driver pays $709 (€611) per year in costs due to driving on roads in need of repair.
Based on this data, Texas could receive an estimated $26.9 billion (€23.2 billion) for federal highway aid programs and $537 million (€463 million) for bridge replacement and repairs over five years. Texas can also compete for the $12.5 billion (€10.7 million) Bridge Investment Program, approved as part of the Biden plan, for economically significant bridges and nearly $16 billion (€13.8 billion) in national funding in the bill dedicated to major projects that would bring substantial economic benefits to communities.
In California, Governor Gavin Newsom praised Congress for the green light on the infrastructure bill. "This once-in-a-lifetime investment," he wrote in a memo, "will help create quality jobs for Californians, support the modernisation of the state's key infrastructure, improve our transportation systems, and help fund the expansion of zero-emission vehicle infrastructure."
In his memo, Newsom also details how the Infrastructure Investment and Jobs Act will benefit California, with $25.3 billion (€23.2 billion) for highways and $4.2 billion (€3.6 billion) for bridges, as well as $9.45 billion (€8.1 billion) to improve public transportation options across the state. Major items also include $3.5 billion (€3 billion) to improve water infrastructure and ensure clean and safe drinking water, $1.5 billion (€1.2 billion) for airports, and $3.7 billion (€3.1 billion) to strengthen resilience against the state's climate risks, including extreme heat and rising sea levels. These funds are in addition to $5.2 billion (€4.4 billion) to support immediate drought response and water resilience.
Newsom does not mention the California high-speed train between San Francisco and Los Angeles, a state public project now under construction in only one central section of the route. It may face delays next year due to costs far exceeding initial estimates. 
The Biden plan has set in motion the race to allocate funds. The "fishing expedition" of projects not included on the list is a chapter of this saga yet to written.