A new technological barrier was erected just a few weeks ago when the installation of 5G towers near American airports was blocked. There's a clash between telecommunications companies – who are aiming to spread this new technology to every corner of America – with large airport operators and airlines that were supposed to equip planes with equipment that can shield 5G mobile signals.
The Federal Aviation Administration (the U.S. body that oversees flying) proposed a compromise in this case, postponing the installation until July 2023. By then, however, U.S. airports will have to be ready.
The 5G case is just the latest of the alarm bells for this strategic but in many cases outdated American transport infrastructure. Every day, the FAA ensures travel for 2.9 million passengers, with about 45,000 flights a day, totaling 16.4 million flights in a year. It's a rich industry, generating $488 billion (€476 billion) in revenue each year.
But this huge engine of American transportation has major modernisation problems. The Biden administration has therefore announced a $1 billion (€976 million) investment in maintenance at 85 U.S. airports, thanks in part to a bipartisan vote.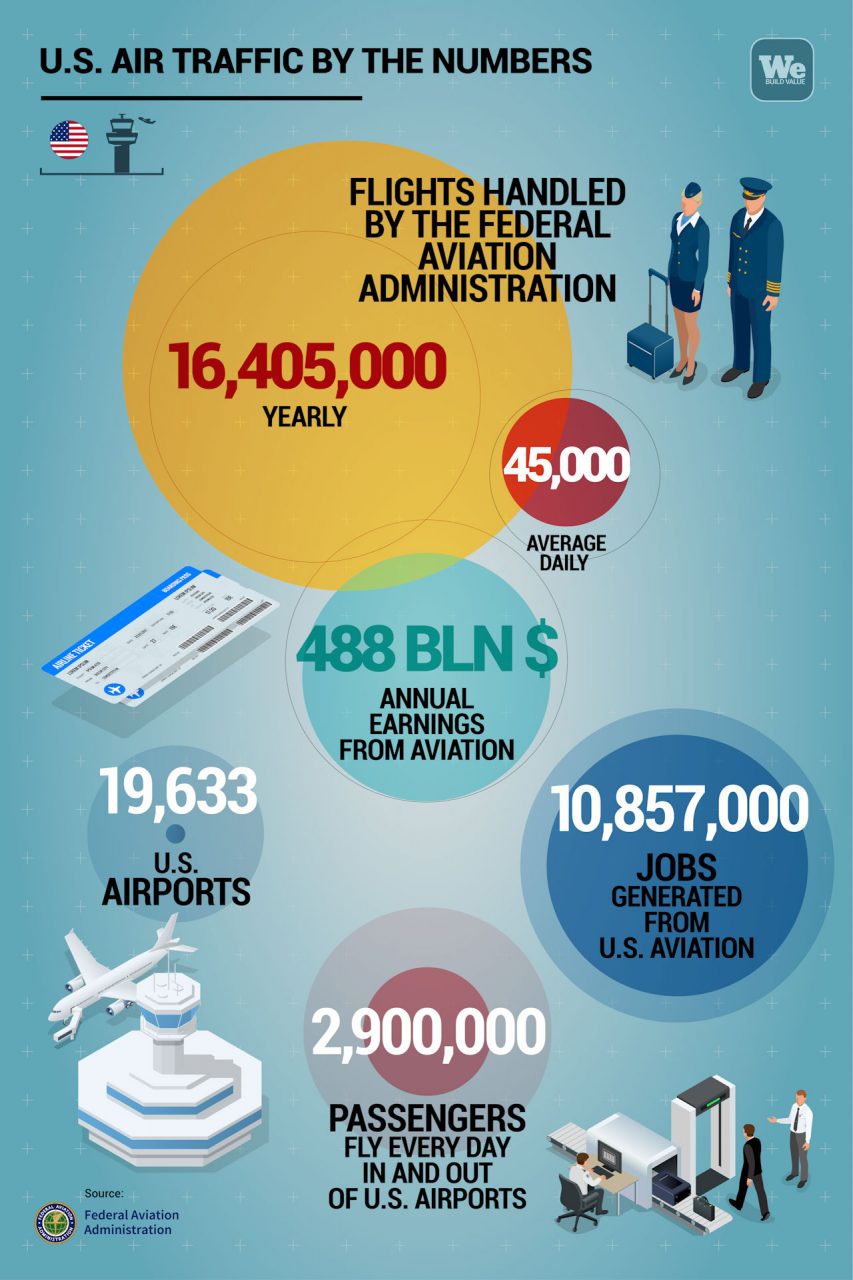 Infrastructure Law: an investment plan worth $20 billion
The announcement came in early July: the U.S. Department of Transportation's Federal Aviation Administration will administer $1 billion in funds coming from the Infrastructure Law passed by the Biden administration. This is the first round of funding; another $5 billion will be added over the next few years, bringing the total allocation on civil aviation infrastructure to $20 billion (€19 billion).
The funds will be used to upgrade 85 major U.S. airports, with the first priority being to improve the efficiency and overall degree of innovation of terminals.
Transportation Secretary Pete Buttigieg recently said, "Americans deserve modern airports that meet the needs of their families and growing passenger demand. Funded through President Biden's Bipartisan Infrastructure Law, today's grants will improve airport terminals while also creating good jobs in communities across the country."
The allocation of funds was also planned based on the requests of individual airports. The U.S. Department of Transportation received applications from 532 U.S. airports from which the most significant projects were selected while maintaining a fair distribution of funds. As of today, according to the FAA's plans, almost all U.S. states will be involved in this initiative, from the largest airports (such as Los Angeles) to small airports (such as the Lawrence Regional Airport in Kansas, to which just over $1 million, or €977,000, will be allocated).
U.S. Airports in the name of sustainability
In the ongoing modernisation efforts, a special emphasis will be placed on sustainability. Indeed, the plan calls for 76 airports to increase terminal eco-friendliness. This is the case, for example, at the Dallas-Fort Worth International Airport in Texas, where $35 million (€34 million) will be invested to build a zero-carbon power plant, an essential ingredient in achieving the goal of zero emissions by 2030. Other airports opt for structural interventions such as the $50 million (€49 million) earmarked for Orlando International Airport in Florida, which will be used to build four new gates, again, however, keeping sustainability as a priority. All the new facilities aim to have LEED (Leadership in Energy and Environmental Design) certification, the highest designation available for compliance with the latest sustainable technologies.
"The work that goes in to build safer, more accessible and sustainable terminals," explained A. Bradley Mims, Deputy Administrator of the FAA, "will provide opportunities for people across the nation. The Bipartisan Infrastructure Law is a critical investment not only in our nation's infrastructure, but is an investment in the future of our country's workforce."