Travelers who get stuck inside John F. Kennedy International Airport, like "Victor Navoski" (Tom Hanks) was in The Terminal, will feel like they've landed in the future of civil aviation.
The famous New York City airport known as JFK for short is a strategic infrastructure, as well as a cultural symbol in the collective imagination. It is now set to undergo a massive restyling costing billions of dollars. Major American companies are ready to invest in transforming the airport into one of the world's most modern air hubs.
Just a few days ago, the Board of Commissioners of the Port Authority of New York and New Jersey approved an agreement between Delta Airlines and JFK International Air Terminal to expand Terminal 4 and increase Delta's airport operations.
The agreement is worth $1.5 billion (€1.2 billion) and will invest in modernisation and construction of new spaces, which will help facilitate an increase in traveler numbers.
The JFK development project challenges Covid-19
Enemy number one for the future of JFK is Covid-19. Though the United States has already vaccinated 50 percent of the population and hopes to achieve herd immunity by summer, the pandemic has left deep economic wounds that need time to heal.
Indeed, the original development plan envisaged $3.8 billion (€3.1 billion) in investment, cut down momentarily to $1.5 billion due to the drop in passengers and flights brought on by the pandemic.
According to an Airports Council International analysis, domestic flight traffic in the United States will only return to pre-crisis levels in 2023. International flight traffic will have to wait until 2024 to reach its pre-crisis status.
This has meant many of the upgrades and developments at U.S. airports were put on hold during the months of the pandemic, with plans to resume work and restart projects in the near term.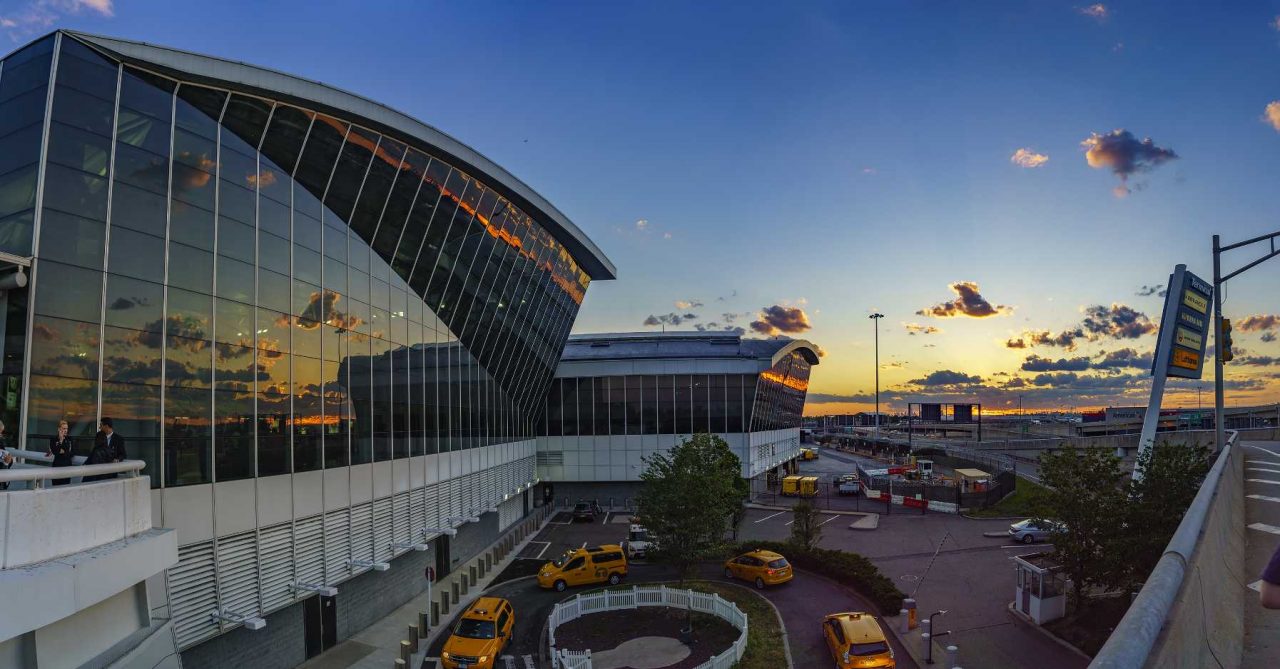 Despite the Covid-19 crisis and a contraction of investments, the JFK development plan has not been cast aside. Like most American infrastructure, New York City's iconic airport is paying the price of its outdated facilities, which can no longer support the massive demands of air traffic.
The development project will involve the construction of 10 new aircraft access gates, a 150,000 square feet (13,900 square metre) expansion of the terminals' internal surfaces, an enlarged arrivals and departures area, and the construction of a new Terminal 4 to replace Terminal 2, which will be demolished after 58 years of serving passengers.
Governor Andrew M. Cuomo announced JFK's new scope in February 2020, reiterating the need to create "the world-class airport that New York City deserves."
It will be a modern, sustainability-focused hub, built to prioritise energy saving and to collect and treat rainwater. The project will even involve revamping the external road network to streamline terminal access.
JFK: past, present, future
When JFK opened in 1948, the world was rebuilding after World War II. Today, more than seventy years later, humanity must once again face the fallout of a global crisis, although of a different, health-centered nature. JFK's revival in the months immediately following the end of the Covid-19 battle has therefore become more than just an infrastructure project.
The world today knows this airport as an engineering marvel, able to accommodate 60 million passengers on average, operating over 39,000 flights in July and August 2019 alone. It's a much different story than the 73 daily flights being run in the early 1950s.
Covid-19 put the brakes on this frenzied movement, illustrating the contemporary age better than many other phenomena. But its short-term impact looks set to end as early as sometime the next few months.
Globally, the World Airport Traffic Forecast, published by Airport Council International, predicts that as early as 2023, passenger traffic will continue to grow at an annual rate of 3.7%, reaching a record total of 19.7 billion passengers in 2040. In the U.S. alone, 2.9 billion people will take a car or public transport to reach the nearest airport.  And like Victor Navoski, in traveling, they may find a sense of home.