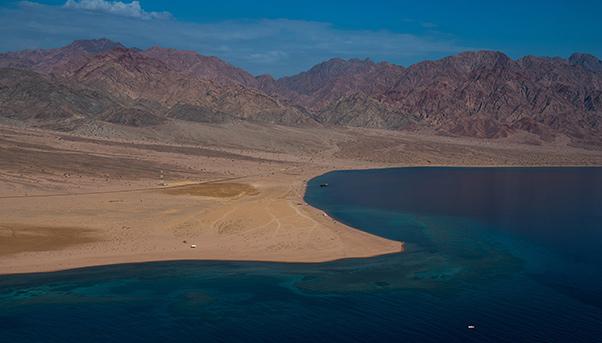 Saudi Arabia has announced plans to build a $500 billion commercial and industrial hub along its uninhabited north-western coast, the latest mega project under its Vision 2030 initiative to reduce its reliance on oil by diversifying its economy.
The kingdom's crown prince, Mohammed bin Salman bin Abdulaziz Al Saud, announced the project on October 24 2017 at an international conference held in Riyadh to promote foreign investment in the world's biggest oil producer.
The Neom project
Covering an area of more than 26,500 square kilometres near Egypt and Jordan, the hub – or mega city - would be situated in a special zone with legal and regulatory independence from the kingdom. With a focus on innovation, it would adopt the latest in technology for living and working, creating a futuristic place where robots could outnumber humans.
A promotional video on a dedicated website in fact touts NEOM as a visionary project for the future of humanity.
«This is a place for dreamers who want to do something in the world», the crown prince was quoted by the Reuters news agency as telling the conference, entitled Future Investment Initiative. «This project is not a place for any conventional investor».
In a sign of the importance he is giving to the project, the crown prince had himself photographed while signing a contract to employ as NEOM's chief executive Klaus-Christian Kleinfeld, a former head of such multinationals as Arconi, Alcoa and Siemens.
The city of Neom: Saudi Arabia's future commercial capital
The Public Investment Fund (PIF), Saudi Arabia's sovereign fund, said in a statement issued on the same day that NEOM would be the kingdom's future commercial capital and aim to become one of the world's economic and scientific hubs.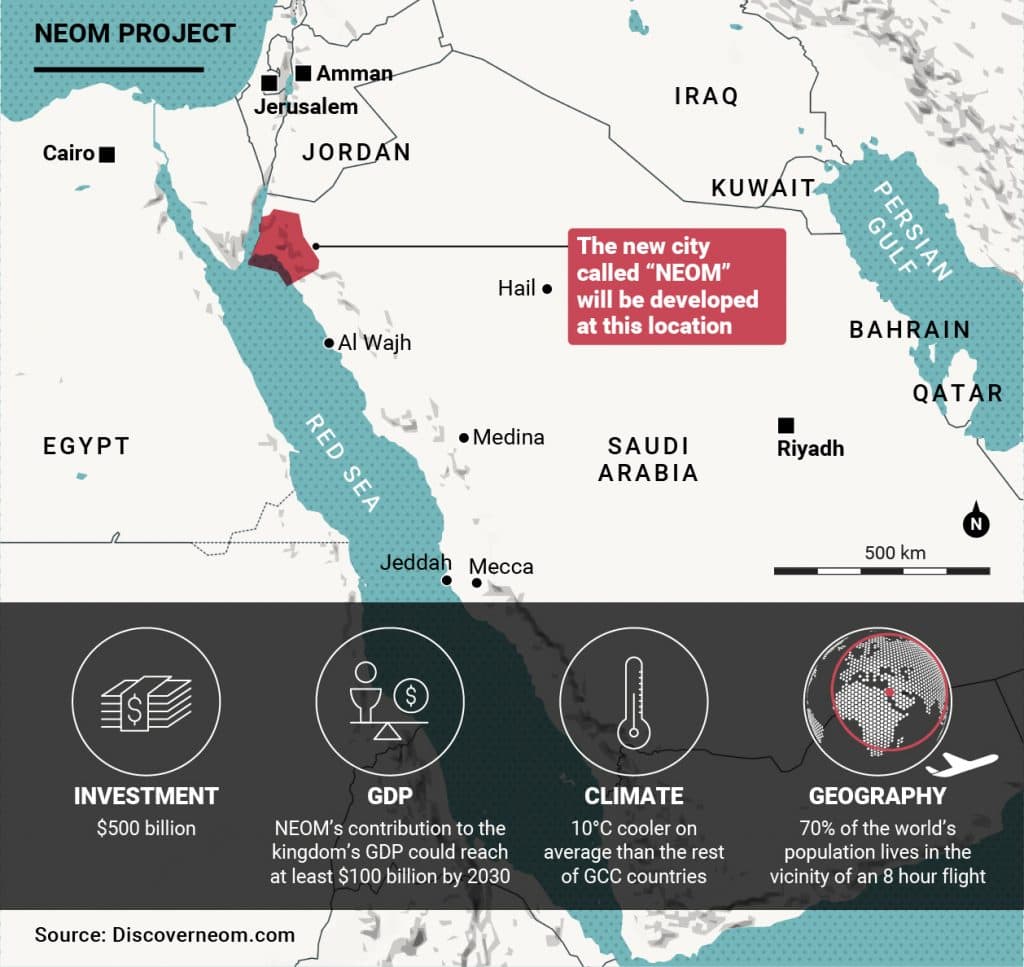 In light of the various industries to be developed in the special zone such as biotechnology, NEOM's contribution to the kingdom's gross domestic product (GDP) could reach at least $100 billion by 2030, making its per capita GDP one of the highest in the world, according to Saudi Gazette, a state newspaper.
Financial backing is to come from the kingdom, the PIF as well as private investors, it added. The PIF will nevertheless be the project's owner.
Other industries that NEOM will focus on developing include food, energy, mobility and advanced manufacturing. «The focus on these sectors will stimulate economic growth and diversification by nurturing international innovation and manufacturing, to drive local industry, job creation, and GDP growth», the crown prince was quoted as saying in the statement.
NEOM's location is also described as being strategic not only for commerce but also for the production of renewable energy, given the abundant amounts of sun and wind that grace the area. «NEOM is situated on one of the world's most prominent economic arteries, through which nearly a tenth of the world's trade flows. Its strategic location will also facilitate the zone's rapid emergence as a global hub that connects Asia, Europe and Africa, enabling 70% of the world's population to reach it in under eight hours, which brings the potential to combine the best of major global regions in terms of knowledge, technology, research, teaching, learning, living and working», read the statement. It emphasised that NEOM would be powered solely by renewable energy.
Neom city: a unique project
What makes NEOM distinct from previous projects announced by the kingdom is its independence in terms of taxation, customs, labor laws and other legal parameters related to business.
The fact that it would be built from scratch was also an advantage. «NEOM will be constructed from the ground-up, on greenfield sites, allowing it a unique opportunity to be distinguished from all other places that have been developed and constructed over hundreds of years and we will use this opportunity to build a new way of life with excellent economic prospects», the crown prince said.
Blackstone Chief Executive Stephen Schwarzman concurred, explaining how it was much easier than trying to build where something already exists. «This is the advantage of NEOM», he told the conference in Riyadh. «To create this new city and attract people from around the world… is really an enormous opportunity».
The construction of Neom
Saudi Arabia plans to complete the first phase of NEOM by 2025.