From Tower Bridge to the skyscrapers of the City, London is increasingly a world capital. Its population has reached 9 million (and is on track to grow to 11 million by 2050). This vast territory is controlled by 33 local authorities as well as many public agencies. Transport for London, the local government body company that manages transport in the metropolis, runs what can be compared to a small state, while the municipal administration, led by Mayor Sadiq Khan, has the responsibilities and powers of a government.
Transforming this huge urban agglomeration into a smart city would seem to be an impossible task. Yet for five years now, the city has been on a path leading to innovation, despite its massive size and significant weight.
In fact, London was one of the first cities in the world to name a digital development officer in its administration programmes. In September 2017, the mayor appointed Theo Blackwell as the English capital's first Chief Digital Officer, tasked with leading the city's digital evolution and driving this economic and social powerhouse forward on the path that will transform London into a smart city.
Less than a year later, Mayor Sadik Khan launched the "Smarter London Together" roadmap, the first public plan for city reform that looks at data sharing, smart infrastructure, and technological innovation as key drivers for development.
"As Mayor, I want to ensure London is ahead of the curve in becoming the smartest city in the world," wrote Sadik Khan in his forward "Smarter London Together."
Smart city London: the technological capital of Europe
Leading London on the path to innovation was a fairly natural choice. Even before becoming a smart city, the English capital was already Europe's center for technology companies.
One-third of all Europe's technology "unicorn companies" (one-person-led start-ups worth at least $1 billion (€888 million) are in the London area; 46,000 tech companies are based there, employing 240,000 people and generating an income of £44 billion (€51 billion). In the decade 2006-2016, employment in the digital sector grew by 77%, while the number of companies increased by 90%.
In addition, London is a natural hub for artificial intelligence, with 750 suppliers working in the sector (twice as many as Paris and Berlin); for research and development; and for the presence of venture capital funds that invest in innovative startup projects.
All these features have helped facilitate London's race to achieve its goal of becoming an international smart city, offering residents the ideal contribution in terms of financial availability, skilled workforce, and widespread technologies.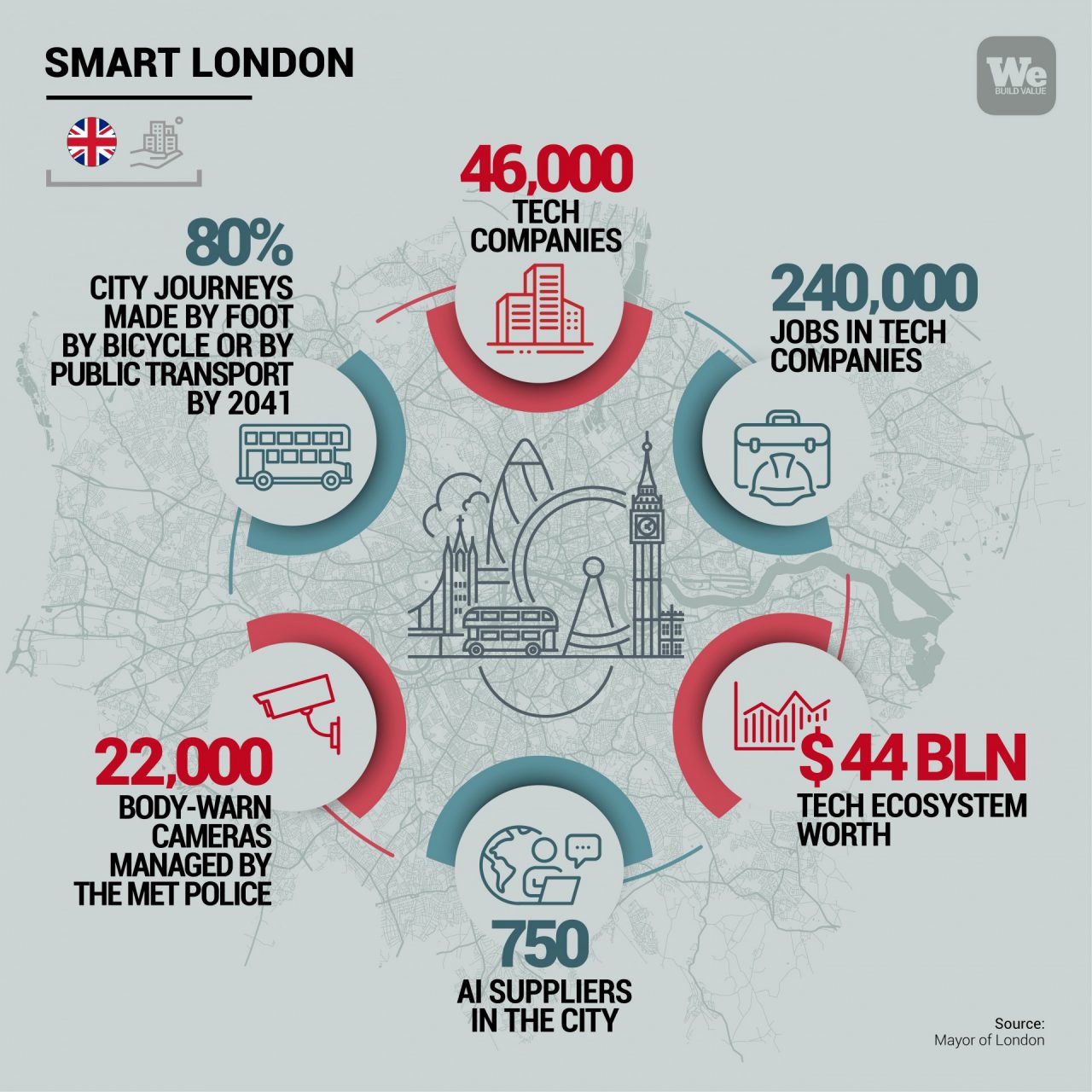 Being sustainable to become smarter
Along the path to becoming a smart city, London has decided to emphasize sustainability, in the conviction that "green" development is the most effective tool for creating a modern metropolis.
The smart evolution of the city's services and lifestyles is a feature of the urban requalification plans and sustainable mobility projects that the administration has launched in recent years. London is currently the leader in Europe for smart mobility, and has set an ambitious goal of achieving 80% of city journeys made by foot, by bicycle or by public transport by 2041. The completion of the Elizabeth Line starting in 2022, which will offer a new underground public transport route to millions of people, goes precisely in this direction.
In terms of sustainable transport, for years Mayor Sadiq Khan has supported a path of profound change that includes investment in rail transport, improving the quality of roads for pedestrians and cyclists, urban redevelopment of run-down neighborhoods with new buildings constructed in accordance with the principles of sustainability, and stimulus measures to create a "green" economy capable of generating tens of thousands of jobs.
By investing in these projects, the city administration is convinced it can achieve its goal: to transform London into a carbon-neutral city by 2050. A choice not only to preserve the environment, but also to support a new model of economic development.
The city administration has calculated that in 2018 the carbon-neutral services and goods sector was worth £39.7 billion (€46.4 billion), set to grow by at least 7% until 2022.
Growing is an imperative for London. Doing it sustainably the real challenge for the future.