Melbourne and Brisbane are two of Australia's largest and most dynamic cities, home to five million and two million residents respectively. Both have thriving economies, excellent quality of life, and an appetite for the modern and the sustainable. The only things "dividing" them are three states and 1,700 kilometres (1,056 miles). But soon, even that will be bridged: work is under progress on Inland Rail, a railway designed to be a strategic freight transport route when it is completed in 2027. In the official presentation of the project, the Australian government called it "the backbone of a modern network for a modern nation."
Australia continues to focus on sustainable mobility – subways and rail lines, first and foremost – to meet its transport demands for both people and goods. More than many other projects of its kind, Inland Rail is aiming for just that. The line will be exactly 1,700 kilometers (1,056 miles) long and will cross the states of Victoria, New South Wales and Queensland, bringing Australia's freight network full circle.
Goods traveling along Australia's East Coast
Cargo is loaded from the port of Brisbane, where it begins its long journey. It travels along the Gold Coast toward the south, leaving Sydney behind and continuing through the Victoria grasslands until reaching Melbourne, the Australian extreme that looks toward Tasmania. It's a ride through the East Coast, one of the most developed areas of the country.  Seventy percent of the Australian population lives here, 78% of the employed work here, and the area's economic activities make up 75% of the national GDP.
Freight transport is an economic development strategy for the region, a tool for bringing businesses and residents closer together, and a wealth accelerator. In a study conducted for Inland Rail, the consulting firm PricewaterhouseCoopers estimated that, by 2030, the project will increase freight transport in the area by 70%. New mobility options are also needed in light of a regional population boom – the number of residents is expected to increase by 60% over the next 40 years.
Melbourne and Brisbane seem poised to become two "megacities." Both are focused on sustainability-oriented development. From 2027, when work is expected to be completed on the project, they'll be connected via a new infrastructure with global relevance.
The benefits of Inland Rail
A better-connected, less polluting, and wealthier Australia is within reach. This is what Inland Rail is aiming for, and these goals are supported by the analyses carried out by the Australian government.
Mobility is paramount: constructing a new 1,700-kilometre (1,056 mile) direct connection between Melbourne and Brisbane will reduce the current (rail) distance between the two cities by 200 kilometres (124 miles). Additionally, the distance between Brisbane and Perth will be reduced by 500 kilometres (311 miles). (Perth is located on the West Coast and is connected to the South by another freight rail line through the city of Adelaide).
The new link will become a natural draw for numerous goods that are currently transported on highways, creating congestion and pollution. According to predictions, 2 million tons of freight will be taken off the road annually and diverted to trains once the line opens. In all, each year, nearly 9 million tons of freight will travel on Inland Rail cars – a national record. The shift from road to rail will also bring savings in transportation costs of AU$10 (€6.73) per ton, which will in turn impact the cost of the goods themselves.
Naturally, this will have an impact on trade, but employment and wealth generation are also expected to be affected. The Australian Department of Transport predicts that more than 21,500 jobs will be created when construction is at its peak, and Australia's GDP is expected to increase by AU$16 billion (€10.7 billion) in the first 50 years of the train's activity.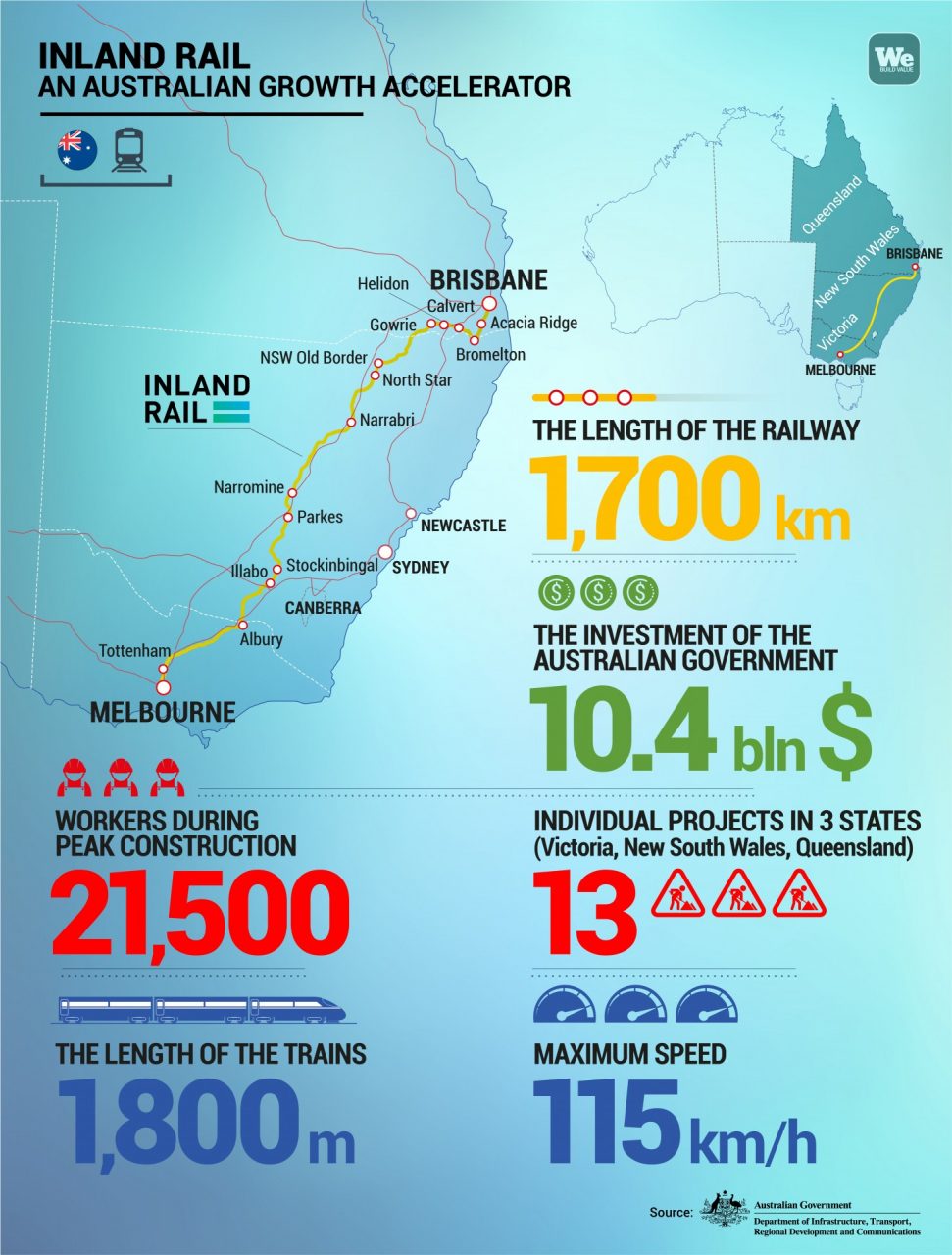 A unique infrastructure for Australia's future
The country's well-being runs on railroad tracks: sustainable transport and future-oriented mobility, designed to reduce harmful emissions, is the name of the game. This is essential in a country where transport and logistics account for 14.5% of its GDP; the supply chain sector generates AU$150 billion (€101 billion) in revenue each year. Investing in the revival of the rail network will mean investing in the growth of Australia's most dynamic regions, beginning with the East Coast, where 18 million people live and produce AU$1.1 trillion (€741 billion) in wealth.
Inland Rail is a project designed for a changing world: its complex and multifaceted infrastructure work will involve upgrading 1,100 kilometres (684 miles) of existing line and integrating it with a new, additional 600 kilometres (373 miles). Additionally, the work requires building bridges, tunnels, and viaducts to ensure smooth passage of 1,800-meter-long (5,906 foot-long) trains traveling up to 115 km/h (71.5 miles per hour). It's a colossal project, and last March Webuild Group, as part of an international consortium, was named the preferred bidder for the 128-kilometre (80-mile) Gowrie-Kagaru section.
This is one part of a major project set to unite Melbourne and Brisbane, and helping modernise the whole of Australia.