The Middle East is making sustainable mobility a cornerstone of its urban development. Major metropolises like Dubai, Riyadh, Doha, Kuwait City, and Abu Dhabi have been transformed into open-air construction sites, where rail stations now sprout up like spring flowers and tracks weave their way through skyscraper-shaded avenues.
The mania for new railroad tracks is region-wide, inspiring the moniker "Middle East Rail", used for one of the most important transportation trade conferences for the Middle East, Africa and Southern Asia. The conference's most recent edition took place in Dubai in March.
But in terms of the size and scale of the "Middle East Rail" phenomenon, it's the numbers that speak the loudest. According to figures that came out of the conference, un 2018, urban transport projects underway in the Gulf countries had a combined value of $175 billion. Additional projects worth $393 billion are also now in progress, and still others worth $322 billion are currently in the launch phase. Projects involving roads, bridges, and tunnels alone are currently valued at $140.6 billion. For a total of 890 billion, one of the highest investment in the sector in the world.
Along with giving a big-picture overview, the exhibition highlighted individual states' commitments as well as some of the most significant works carried out in recent years, destined to make their marks on the future development of this part of the world.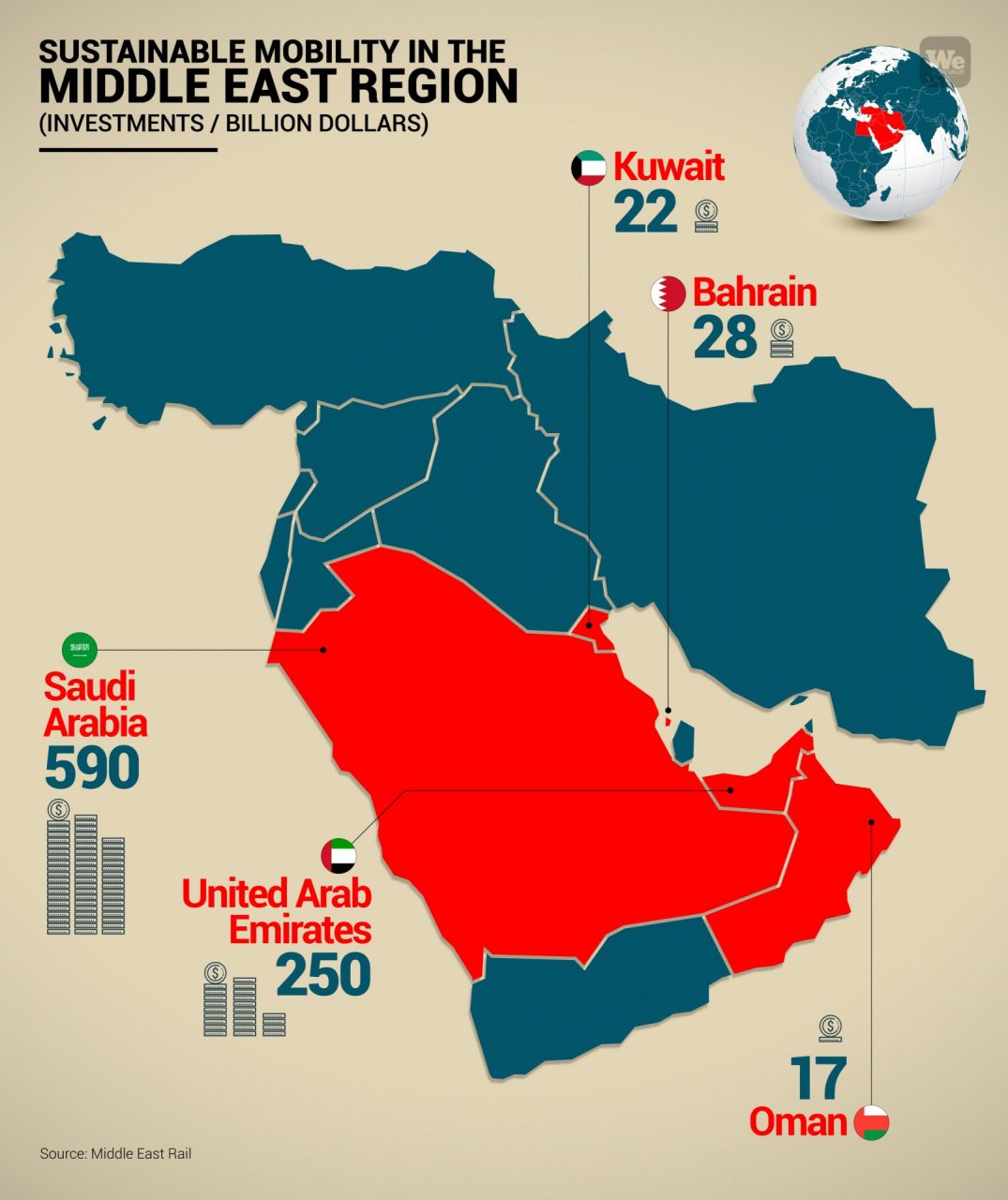 Major construction sites for sustainable mobility in the Middle East
 Sustainable mobility-wise, open construction sites and earmarked funds all around are testimony to what's happening in the Persian Gulf countries. From Saudi Arabia to Dubai from Qatar to Bahrain, almost all states in this region have launched infrastructure development projects centered on high-speed rail and city metro lines.
The dream is for a modernised transport system, and fortunately, it's a dream with practical backing – in billions in investments. Saudi Arabia alone has a $590 billion investment plan in the sector; additionally, some $250 billion is set aside for a similar plan in the United Arab Emirates; $22 billion in Kuwait, $17 billion in Oman, and $28 billion in Bahrain.
Behind these sizable allocations are ambitious projects aimed at both redesigning urban mobility in major cities and connecting different states. In addition to the metro systems of Riyadh and Doha – two colossal projects in which the Webuild Group is currently involved – there are many other projects underway in the field, as well as some slated to begin in the near future.
By August of this year, Dubai's new metro line, built for Expo 2020, is expected to be completed. Also within the year, in Abu Dhabi, work is expected to begin on the construction of a new, integrated transport network, one that will include trams, metros and new fast bus lines. Saudi Arabia has invested $16 billion in transport modernisation for the city of Mecca, while the $250 billion plan of the United Arab Emirates will soon activate tenders for 517 new transport sector projects.
Innovation and sustainability at the heart of the new projects
Most of the projects that the region's governments intend to intend to carry out embrace innovation as a fundamental principle. From the perspective of investors, transport infrastructure only makes sense if it is inspired by new technologies – hence we're seeing driverless metro lines, high-speed trains, and urban traffic management systems based on data analysis. Some projects have a particularly futuristic slant, like the one in Dubai, where automation is expected to affect 25% of public transport by 2030.
This enormous effort – which has social implications on top of the financial ones, since the region's large cities are now teeming in construction sites – has guided the unstoppable urbanisation process in a sustainable way.
Ultimately, sustainability is a key goal for these major rail transport projects, which are crucial for reducing air pollution by cutting down on car use.
Built in view of Expo 2020, Dubai's new "Green Line" alone is expected to transport 125,000 passengers a day by the end of this year, and that number is expected to climb to 275,000 by 2030.
Additionally, the Etihad Rail, a project creating a 746-mile rail link between the Emirates and Saudi Arabia to Oman, will be able to transport 16 million passengers annually once completed. And the Webuild Group is at work on Line 3 of the Riyadh metro, the largest city metro project under construction in the world to date. Its 84 stations with more than 108 miles of track will allow millions of people to travel around Saudi Arabia's capital without having to take a car, reducing traffic, pollution and improving the local quality of life.