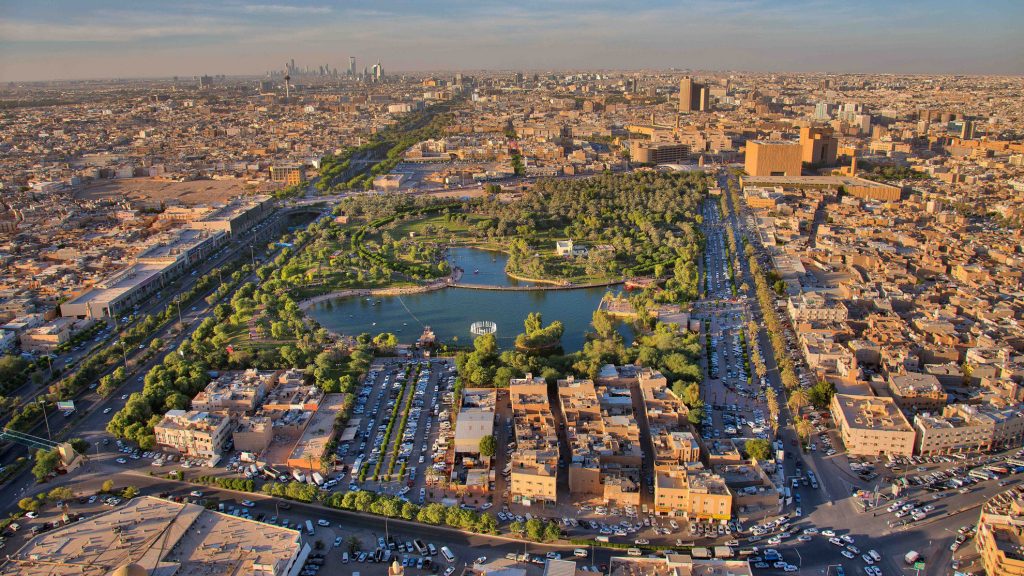 Fahd al-Rasheed, President of the Royal Commission for Riyadh City, had a message to launch at the latest World Economic Forum in Davos: Riyadh plans to become a megacity.
Riyadh is undergoing an unprecedented transformation: its population is growing by 8% year on year; it is building a new subway system from scratch; and it has promised to plant a tree for each resident. The goal is to create a sustainable city like London.
"We have launched a series of projects to transform the capital of Saudi Arabia into a megacity," said Fahd al-Rasheed, who as head of the Commission is responsible for urban planning and development. Riyadh aims to become a modern and innovative megalopolis, designed both to attract investors and to ensure a high quality of life.
Riyadh's Transformation: the Saudi Arabia capital's future
Looking to the future is becoming a habit for Riyadh. A demographic boom is driving its transformation. According to official data from the Riyadh Development Authority, the population of the Saudi capital will rise from just over 6 million to 8.1 million inhabitants by 2030. This demographic explosion creates the need for new infrastructure. The Saudi government launched four "green" projects last year calling for a $22 billion investment in the city, in addition to previously-announced projects.
This economic investment will yield a number of significant results. Use of recycled water from irrigation systems is slated to increase from 90,000 cubic metres (3.2 million cubic feet) in 2019 to 1 million (35 million cubic feet) in 2030. New water management systems, electricity grids, and mobility infrastructures will be built in the coming decade, with the goal of putting green development at the centre of the future of Saudi Arabia's capital.
Riyadh, the sustainable city
The Saudi capital's green revolution was launched in March 2019 with the aim of transforming Riyadh into one of the most sustainable cities in the world.
The Green Riyadh plan aims is to increase the city's green spaces, helping to improve air quality and reduce sweltering temperatures. The project calls for 541 square kilometres (208 square miles) of new public green areas by 2030, and for 7.5 million trees to be planted throughout the desert metropolis.
According to the government site "Riyadhgreen," this is the most ambitious urban reforestation project in the world, involving 6,000 schools, 2,000 parking lots, 1,670 government offices, 3,000 neighborhood gardens, 64 universities, and 9,000 mosques. These trees will be watered with wastewater from an irrigation network.
At the end of the project, residents will have 28 square metres (301 square feet) of green space per person, from 1.7 metres (18.2 square feet) currently.
The plan, in addition to changing the face of the city, is in line with a broader goal of achieving a slow but decisive energy transformation, freeing the country from its dependence on oil revenue. In 2019, Energy Minister Khalid al-Falih announced that by 2030 Saudi Arabia is seeking to attract $429 billion of investment from the private sector to support this energy diversification campaign. Sustainable mobility is a key part of the plan.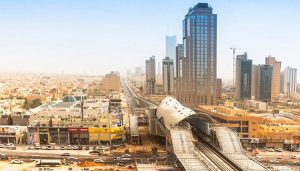 The Riyadh metro, a worldwide example of sustainable mobility
Riyadh's new subway system is definitely a cornerstone of the energy diversity strategy. Not just one line, but a complete network of six driverless lines which – once completed – will cover a total distance of 176 kilometres (109 miles). This gargantuan work should be finished by the second half of this year. It meets an urgent need: preventing congestion and pollution from making people's lives impossible.
According to the Riyadh Development Authority, the average speed of vehicles on the surface is today 45 kilometres per hour, (28 mph) but destined to drop to 18 km/h (11 mph) by 2030 if nothing is done in terms of mobility. Hence the decision to launch one of the most ambitious sustainable mobility projects in the world. Salini Impregilo is taking part, creating line 3, the longest in the network (41.2 kilometers, or 25.6 miles). The new subway network will have 85 stations, which will be accompanied by a new bus network covering a total of 1,900 kilometers (1,180 miles) for a total of 3,000 stops.
The infrastructure capital
It is no coincidence that the latest world infrastructure event was held in Riyadh. The Saudi capital hosted the first meeting of the G20 Infrastructure Working Group (IWG) on December 18-19 to discuss infrastructure-driven development.
Saudi Arabia has placed transport infrastructure at the centre of Vision 2030, its ambitious national development plan. In addition to the resources allocated to the capital, the government plans to spend $36 billion to launch a series of projects for the renovation and construction of strategic infrastructures, such as airports, railways, ports and roads. The Haramain High Speed Railway connecting the cities of Mecca and Medina was inaugurated in October 2018.
Riyadh and Saudi Arabia are determined to invest in sustainability and ambitious projects, to remain firmly in the center of the world economy.