After the success of the award-winning his Bosco Verticale, Milan's high-rise residential building blanketed by trees from top to bottom, the architect Stefano Boeri is launching a new "green" project. This time he has picked Mexico, where the Smart Forest City Cancun will be born, a "forest city" covering 557 hectares (1,376 acres, or just over two square miles) and with space for up to 130,000 inhabitants.
The project stands out for the amount of surface area it dedicates to trees and plants: 362 of the total 557 hectares will be occupied by 120,000 plants belonging to 350 different species. The impact on pollution will be exceptional. While at a global level 70% of CO2 emissions are produced by urban agglomerations, the Mexican city will not produce carbon dioxide, but will instead absorb about 116,000 tons per year.
"The Smart Forest City is designed as a green settlement, innovative and self-sufficient from the energy point of view, thanks to a perimeter ring of large photovoltaic settlements and a water channel connected to the sea by an underground tunnel system," explains Stefano Boeri, architect and urban planner, founder of Stefano Boeri Architetti. "A circular economy will develop around this water usage – a key element. Water treatment plants, food production thanks to hydroponic greenhouses, winter gardens, navigable canals, mobility hubs, desalination and capillary systems of public and private gardens intertwine as elements of innovation and design a new urban structure."
But nature and concern for human impact on the environment are not the only features of this plan. In fact, the Smart Forest City Cancun will be a highly technological and sustainable, innovative and modern city, designed to become an attractor of talent, businesses, universities, and research workers. Smart Forest City Cancun is a new way of thinking about urban development that encompasses mobility and water management, with the goal of creating a sustainable, self-sufficient community.

Smart City Forest Cancun: the project by Stefano Boeri
The idea behind the project developed by Studio Stefano Boeri Architetti is to think of a city as a large campus. Each district of the city must therefore be integrated with the others and designed to make sense in the overall urban design. The water-intensive project calls for the construction of water treatment and desalination plants. People will get around on navigable canals, but also by using mobility hubs, which will facilitate the movement of residents since all cars must be left outside the city limits.
Smart Forest City aims to be a self-sufficient settlement by using a series of innovative technologies and systems, ranging from water management to energy production through photovoltaic panels. Water will be collected from the sea through a system of canals, desalinated and treated for urban needs, becoming the heart of the city as well as used to irrigate the canals of the surrounding agricultural fields.
Desalination — as demonstrated by Fisia Italimpianti, controlled by the Webuild Group and world leader in the sector — is one of the most advanced technologies now available to help communities cope with water shortage by treating sea water.
This technology will be one of the engines of the Smart City Forest in Cancun, and an attraction for international players engaged in research and development of innovative technologies.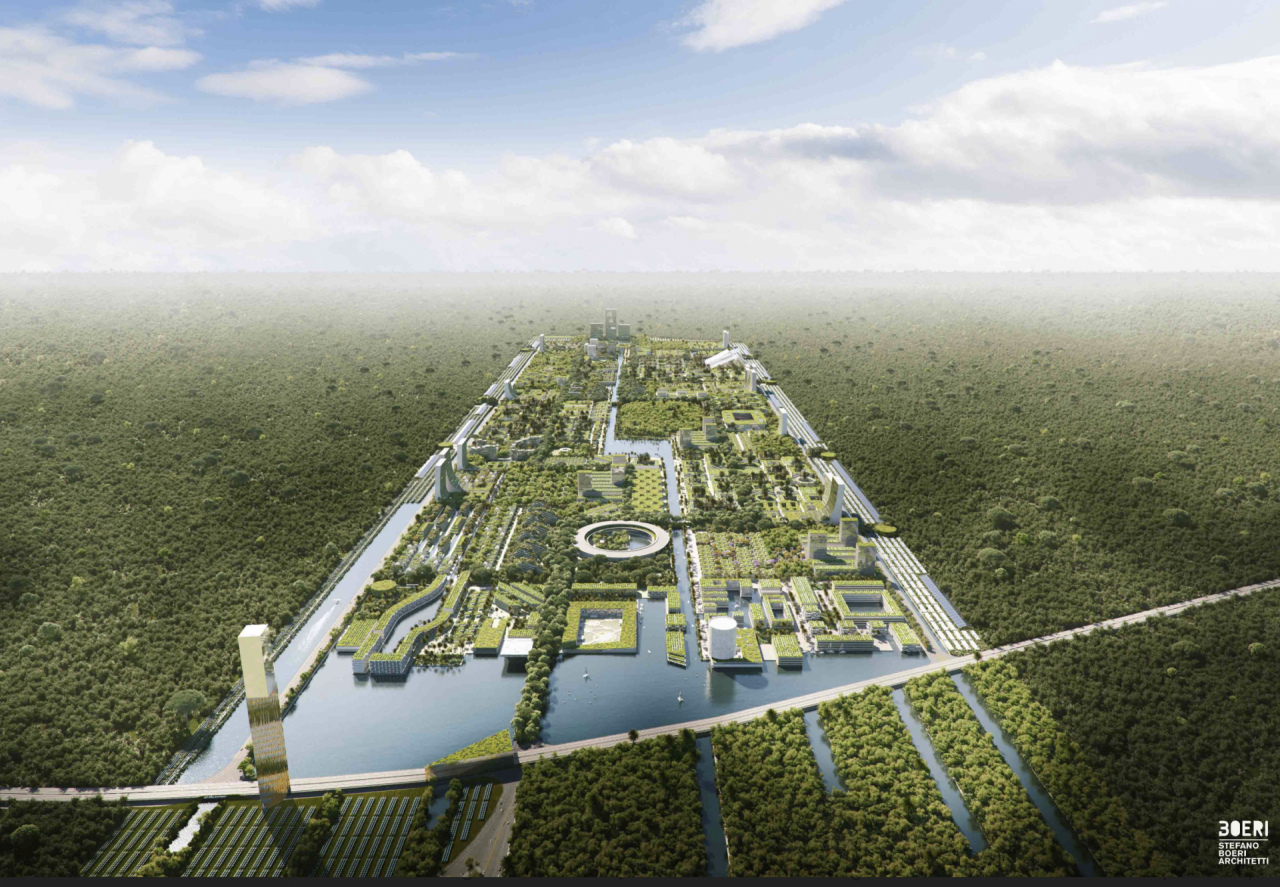 Smart City Forest Cancun: innovation and research
Creating a city that is equipped with large parks, roofs turned into gardens, and facades of buildings covered with plants is more than an aesthetic exercise. The goal is to mix of the most advanced smart city technologies with the demands of sustainability.
This mix is what should allow the Smart City Forest Cancun to immediately become a great attractor of universities, international organizations, research workers, companies with a strong propensity for investment and innovation. To promote this goal, the city plans to build a large area with the right characteristics to host research centers, as well as students and researchers from around the world.
Mobility in Smart city Forest Cancun
Mobility, in an area of 557 hectares, must be designed to protect the green soul of the city. That's why internal combustion vehicles will not be allowed in the city limits. Residents must use only electric and semi-automatic vehicles.
In addition, the city will be laid out with five large entertainment areas, hosting commercial services and shared green spaces, which will be accessible by the entire population without using a car.
An opportunity for a new Mexican development
The Smart City Forest Cancun is waiting for the final green light from the Mexican state of Quintana Roo, one of Mexico's top tourist destinations. The importance of tourism in this region famous for seaside resorts (with Cancun leading the pack) calls for new investment to rethink the development model of an area rich in natural beauty, but lacking a sustainable development project.
This was what inspired the idea of the Smart City Forest, presented for the first time in 2019 during the Climate Action Summit held in New York City. Respecting that idea would be an opportunity for Mexico to present an alternative model of urban development to the world.