Toronto is a city on the move. Already one of Canada's largest cities, it is becoming even more livable thanks to new infrastructure and real estate development projects.
The Crane Index, compiled annually by the real estate consultancy Rider Levett Bucknall, calculated city's number of active cranes. And Toronto, in 2019, had the top number of cranes of any city on the North American continent (120), followed by Los Angeles and Seattle which tie for second place.
These swinging cranes are a sign of a dynamic market and of a city renewing itself through major building projects, ranging from real estate to sustainable mobility.
Toronto's construction projects: skyscrapers that rival New York
In terms of ambitious real estate development, Ontario's capital rivals the Big Apple. Toronto's most important real estate project is Union Park Toronto. This huge area has a pricetag of CA$3.5 billion (US$2.6 billion), financed by the real estate giant Oxford Properties Group, the same company that took part in the development of the Hudson Yards complex in New York City.
And like Hudson Yards, Union Park Toronto (already the largest urban development project of its kind in Canadian history) seems destined to change the city's skyline, becoming an attraction for visitors and tourists.
Toronto's project will be a mix of skyscrapers and green areas. The plan calls for the construction of a pedestrian park that will occupy 2 acres in the Downtown area. Looming over the park will be four mega towers designed by Pelli Clarke Pelli Architects, the same studio that designed the Salesforce Tower in San Francisco and the International Finance Center in Hong Kong. Construction should start in 2023 after it gets approved by the Toronto municipal government. Some 22,000 construction jobs will be created on the site, along with 18,000 direct jobs for collateral activities in the city.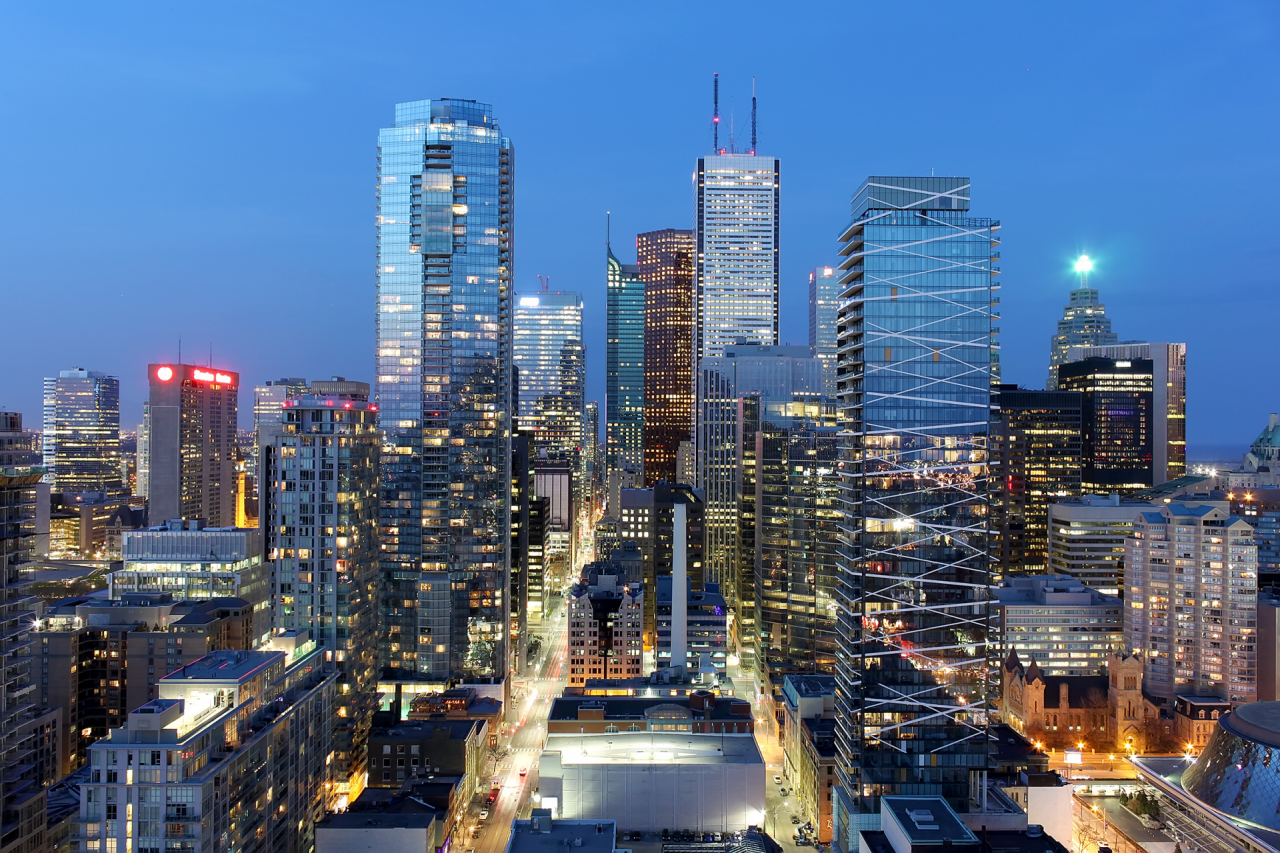 The impact of Covid-19 on Toronto's major construction projects
Although the most ambitious, Union Park is just one of many urban renewal projects underway in Toronto. Real estate consulting firm Rider Levett Bucknall estimates that there are at least 400 high-rise projects in the pipeline.
This investment is supported by the public sector. In fact, the 2020-2029 Budget presented in February by the City Manager of Toronto foresees investments of CA$43.5 billion (US$32 billion) in infrastructure and public housing over ten years, funded not only by the city administration through taxes and also by the Canadian federal government and the Province of Ontario.
However, the economic crisis and above all the uncertainties about the future linked to Covid-19 has put some projects in doubt, particularly those financed by private backers. For example, Quayside was a "smart citadel" planned by Google subsidiary Sidewalk Labs, calling to convert a 12-acre area located along Toronto's waterfront overlooking Lake Ontario into a park for startups. Sidewalk announced in May it would no longer go forward with the project because of "unprecedented economic uncertainty" due to the coronavirus. 
A major sustainable mobility project
Toronto's urban transformation has a knock-on effect for increased demand for mobility. But traffic congestion is already one of the problems that afflicts the entire area from Greater Toronto, all the way to Hamilton on the shores of Lake Ontario.
The C.D. Howe Institute research centre has calculated that Toronto area residents spend an average of 48 minutes every day on public transport and that city traffic causes an annual loss of productivity worth CA$11 billion (US$8.2 billion).
Hence the need to accompany urban development with strategic mobility projects, such as the Hurontario Light Rail Transit. This light rail metro, being built by a consortium including the Webuild Group, Astaldi and other Canadian partners, was designed to connect some key areas of Greater Toronto.
The new light rail will run for 18 kilometres (11 miles), with 19 stations connecting the Port Credit terminus in Mississauga and the Gateway Terminal in Brampton. According to the Mobilinx Consortium, which won the contract, the site will employ an average of 800 people until it is completed in 2024.
The project is also strategic because it connects the urban area of Toronto with Hamilton, serving residents, businesspeople and workers on Hurontario Street and thus increasing trade within Greater Toronto.
When finished, the new sustainable transport system will be yet another step forward in the transformation process of the Canadian city, which aims to become one of the most modern metropolises in the world.