Once again this year, Catenanuova, the small town in the province of Enna where Webuild is constructing the high-capacity railway that will connect Catania to Palermo, has achieved the record for being one of the hottest towns in Europe. The thermometer has exceeded 45°C on several occasions, and the heat, combined with drought, has even killed trees.
Drought has become a constant presence in Italian summers and winters, with the highest level of crisis reached in 2022 when the country's water availability decreased by 36 billion cubic meters, equivalent to 60 times the size of Lake Trasimeno. Besides directly affecting water resources, less water also means less energy since hydroelectric power remains Italy's primary renewable energy source. In fact, in 2022, hydroelectric energy production totaled 30.2 TWh, well below the 48.4 TWh a year recorded in the 2012-2021 decade and equivalent to the value reached in 1954 when the installed capacity of the Peninsula's plants was three times lower than it is today.
The impact of prolonged drought has been calculated in the latest report titled "Water: Actions and Investments for Energy, People, and Territories" produced by The European House-Ambrosetti in collaboration with the multi-utility company A2A.
This study analyzes data and raises questions about such a precious resource, to the extent that 18% of Italy's GDP, equivalent to 320 billion euros per year, is now generated thanks to the abundant availability of water.
Investments Needed to Counter the Water Crisis
Investing in water infrastructure means ensuring water supply to manufacturing businesses, maintaining water availability in homes, and irrigating farmland. According to calculations from the report "Water: Actions and Investments for Energy, People, and Territories," Italy should invest 32.9 billion euros in water infrastructure to reduce losses and improve their usage. These investments would result in a short-term water savings of 9.5 billion cubic meters through infrastructure efficiency. Dams, hydroelectric plants, water networks, and water collection basins are the areas where resources should be directed to overcome the crisis.
In addition to modernizing infrastructure, investing in the sector also stimulates economic activity. Every euro invested generates economic returns in related sectors equivalent to 1.6 euros. Investing 32.9 billion euros would, therefore, result in indirect economic returns of 52 billion euros.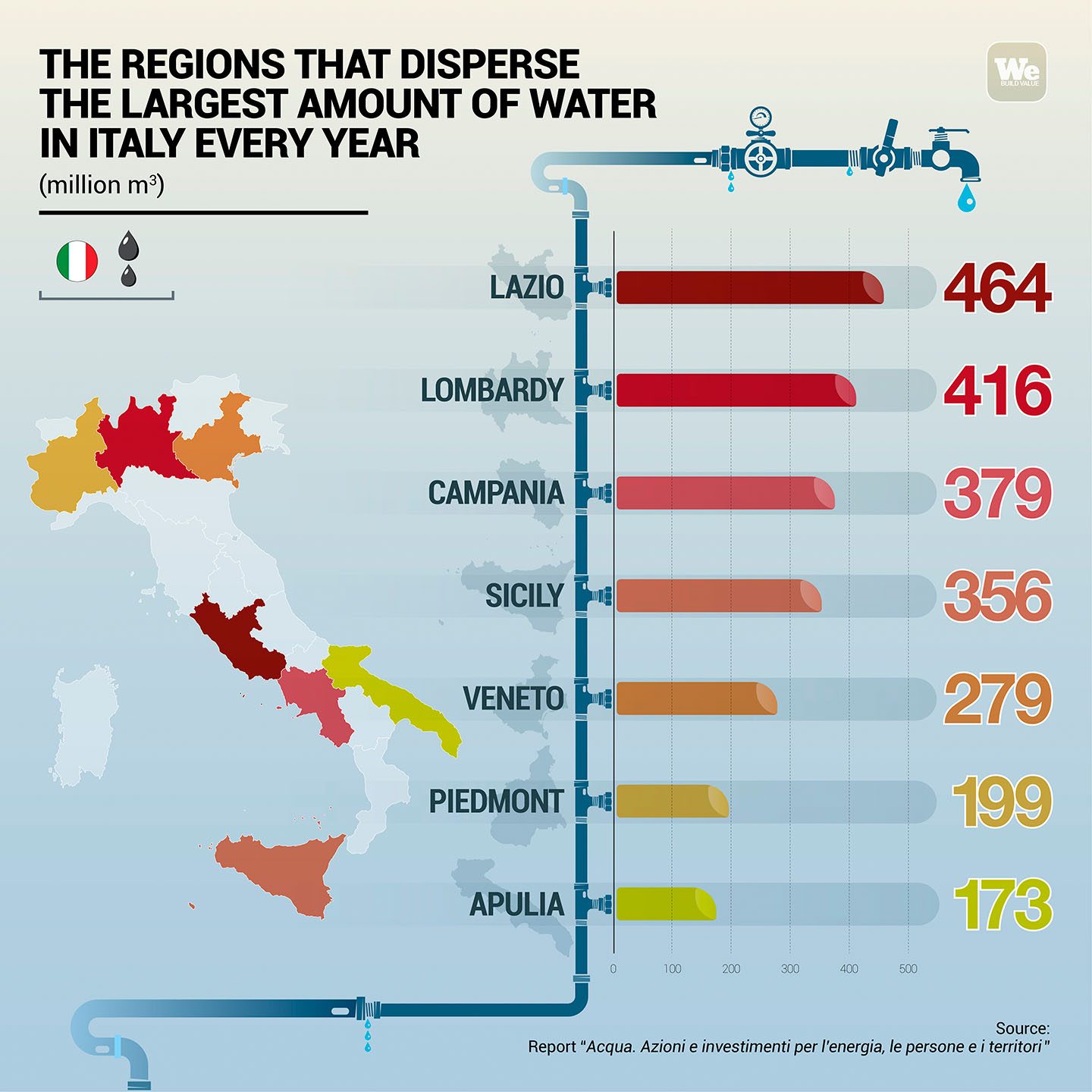 Protecting Hydroelectric Power, Italy's Primary Source of Clean Energy
Hydroelectric power is not only Italy's primary "green" energy source but also a key resource for achieving the renewable energy production goals that Italy has set for 2030. In the 2012-2021 decade, 42% of the energy produced from renewable sources came from hydroelectric power, confirming the sector's importance and the strategic value of water for the country's economy.
To put it in perspective, to compensate for the loss of hydroelectric power due to the 2022 drought, it would be necessary to install 4 million solar panels covering a total area of 58 square kilometers, equivalent to one-third of Milan's area.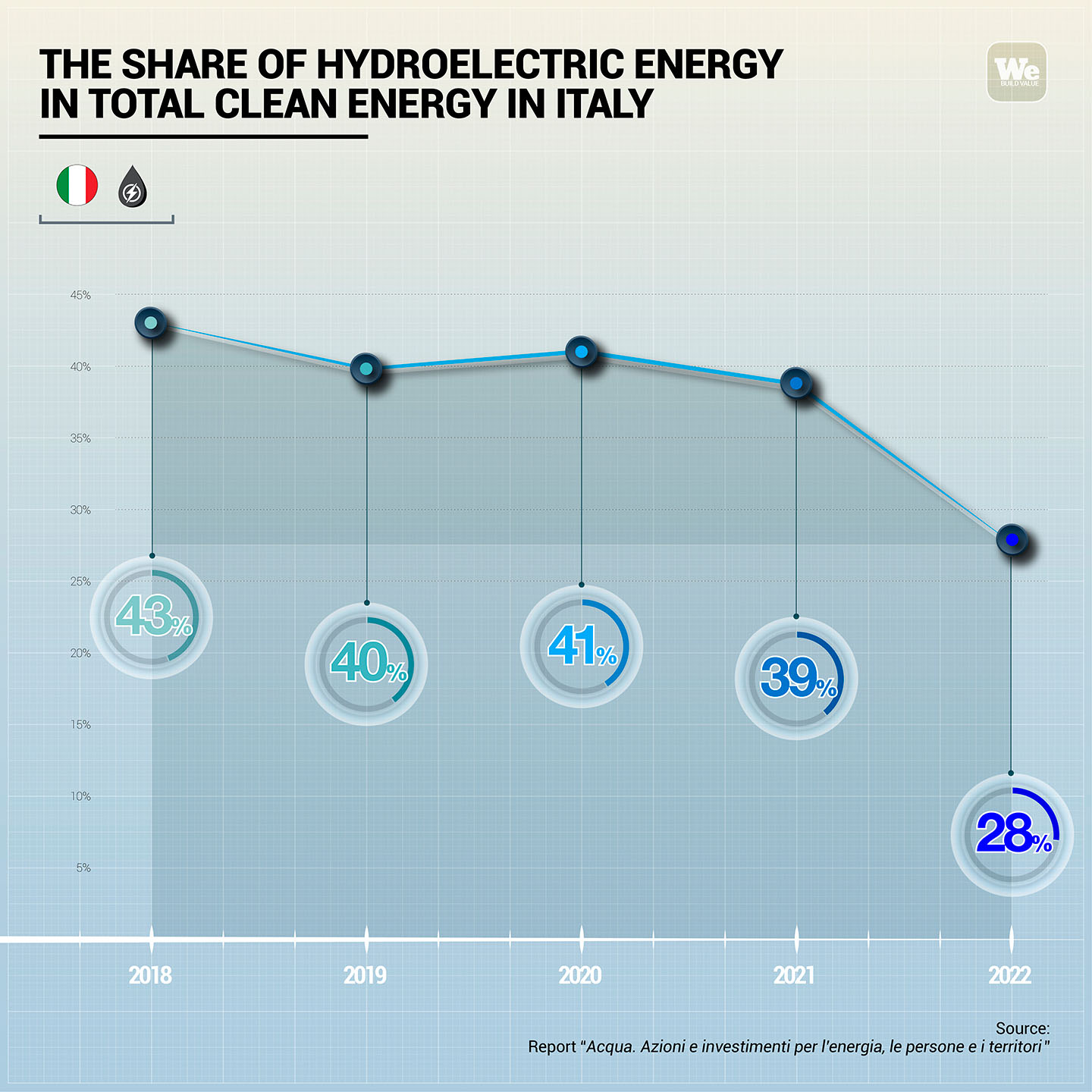 Modernizing existing facilities and building new ones is essential to reduce the impact of climate change and ensure the necessary supply level for the country. On this topic, the Webuild Group, recognized as one of the world leaders in the hydro sector, has been active for decades, with 313 dams and hydroelectric plants built in Italy and around the world. For example, Snowy 2.0, a large-scale project underway in the Australian state of New South Wales, will not only generate clean energy from water but also store it for use only when needed, securing energy supply for families and businesses. Only the hydroelectric projects that Webuild is currently implementing will provide clean and cost-effective energy for tens of millions of people worldwide, from the Horn of Africa to Central Asia and Australia. These hydroelectric infrastructure projects will also result in an estimated reduction of 14.5 million tons of CO2 emissions annually. Protecting and efficiently using water, in Italy and elsewhere, remains the most effective solution to continue on the path of sustainability.